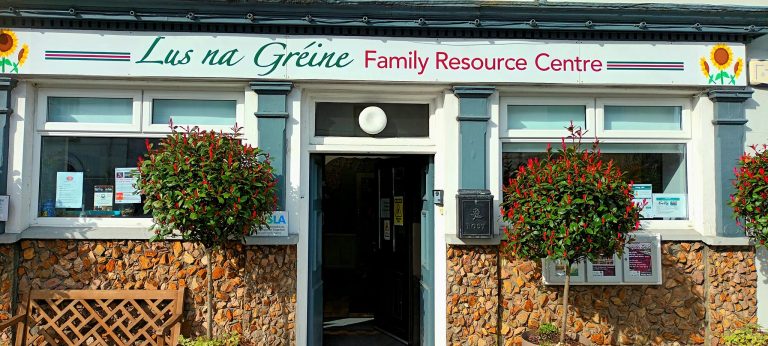 On 8th March some of the team travelled to Granard, Co.  Longford as part of our Leave No One Behind series 3 project. 
We met with a group of participants, volunteers and staff from Lus Na Greine Family resource centre.  Working with a small group of 5 we had a friendly introduction, where we told the group little about ATD Ireland and the purpose of the Leave No One Behind project.  This group had worked with ATD before so it was nice to reconnect with some of the staff.  The main purpose however was to find out a little more about them, what actions are important to them and what is meaningful to them in their lives.   It was not about finding personal details about people' lives but try in general to answer the question: what measures can help to support people? What intervention the government could one day have?   Instead of having a formal discussion about all of this, we asked if the group would be willing to take part in a creative workshop.  Simply using paints and canvas we asked the group to draw/ paint or write something which was important to them in their lives.  This allowed themes and concepts to come out which may not have otherwise.  Art can enable people to portray feelings and messages which they may not have the words for- or may not feel comfortable expressing with words.  People can explain to the extent that they wish.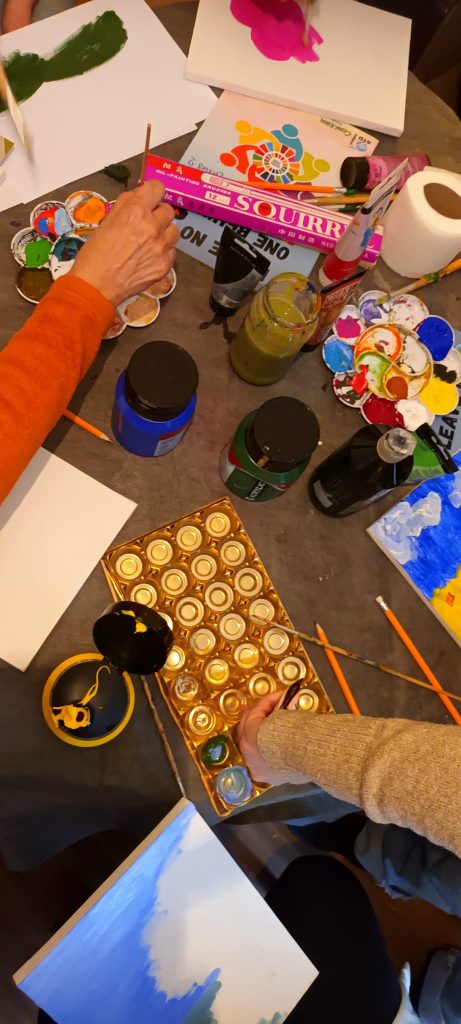 Some interesting dialogue sprung from the workshop. People shared their thoughts on some mindful hobbies. One woman enjoyed gardening every night and found that it brought peace to her mind and was satisfying to see the garden come together. 
Some heavier issues brought up were drug addiction, isolation and systemic barriers. The conversation of drug rehabilitation proved to bring up thought provoking strands in conversation. There was questioning of how the system works and how blame is often put on drug addicts. Particularly in the case of prison systems, it can sometimes perpetuate the drug problem.  
Another topic discussed was how Ireland often does not recognise foreign qualifications. This blocks immigrants chances of being employed in what they trained for. This is disheartening and degrading for many jobseekers.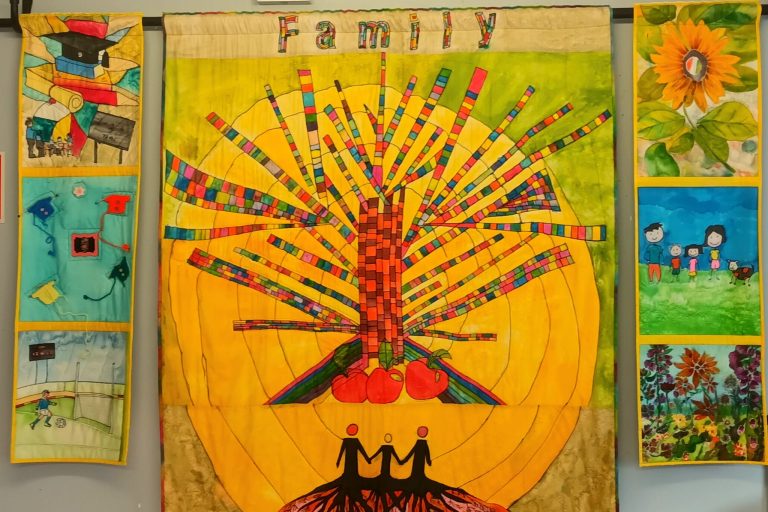 Isolation can be a common issue in rural communities like Granard. As mentioned, the participants referred to how important it is to have the family center.
The group at Lus Na Greine are very busy on a daily bases working providing a number of different services working with local families.  Some of the activities carried out there include counselling and psychotherapy services, family support, youth group and different social groups, etc.  This allows for a community to grow and a safe place available for individuals and families. 
The day before some of the group had enjoyed a pamper day together and they also sometimes have an art group.  They also spoke to us about how some of them got together to do yarn bombing- as a way of raising awareness about mental health.  According to one of the volunteers- this is something a lot of people around Granard are struggling with.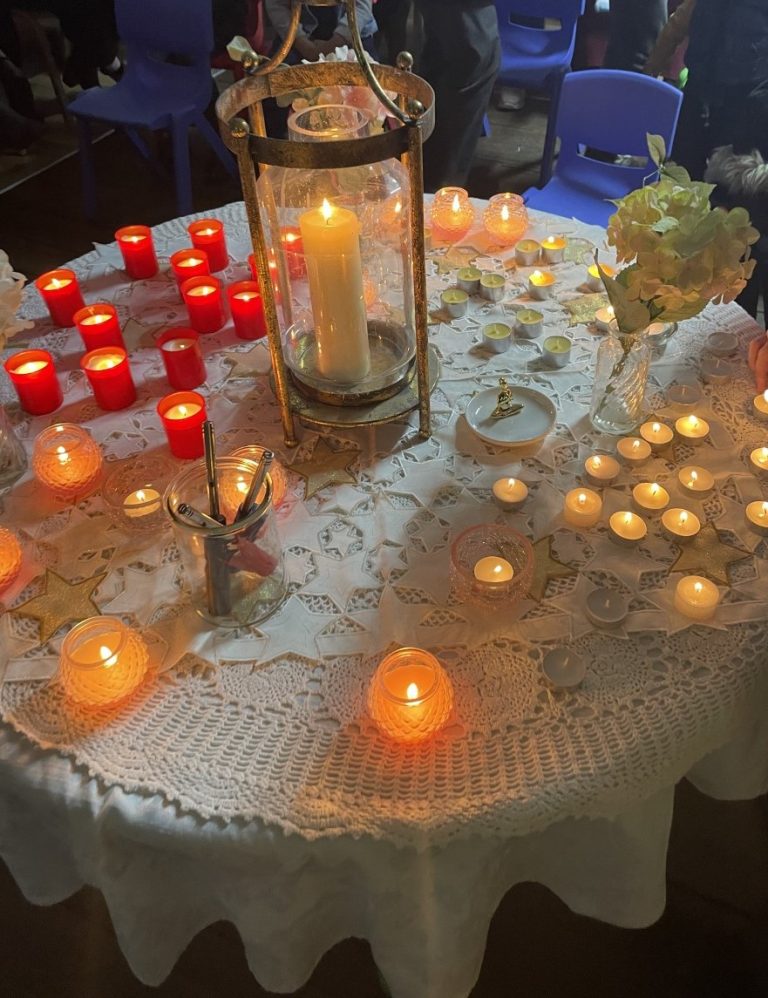 One special event which happened recently which they would like to highlight is a remembrance event they held for victims of the Syrian/ Turkish earthquake and their families and communities- with donations going towards the Red Cross.  This was a very moving but uplifting occasion for all involved.  Ultimately it gave a moment for the Syrian and Turkish people living in Granard to grieve together after this tragedy.  According to the organiser of the event, it was significant as it helped remind some of the attendees of home- even if just for a moment.  A Syrian musician living in Leitrim came especially for the day which added a layer of joy to the occasion.   People sang and danced together which was especially enjoyed by some of the children.  We discussed the importance of music as a universal language.  This event was also important as an intercultural event and a way for different nationalities living in Longford to come together.  Many of the activities carried out at Lus Na Greine are geared toward bring people together and giving people from different backgrounds a chance to bond on a personal level.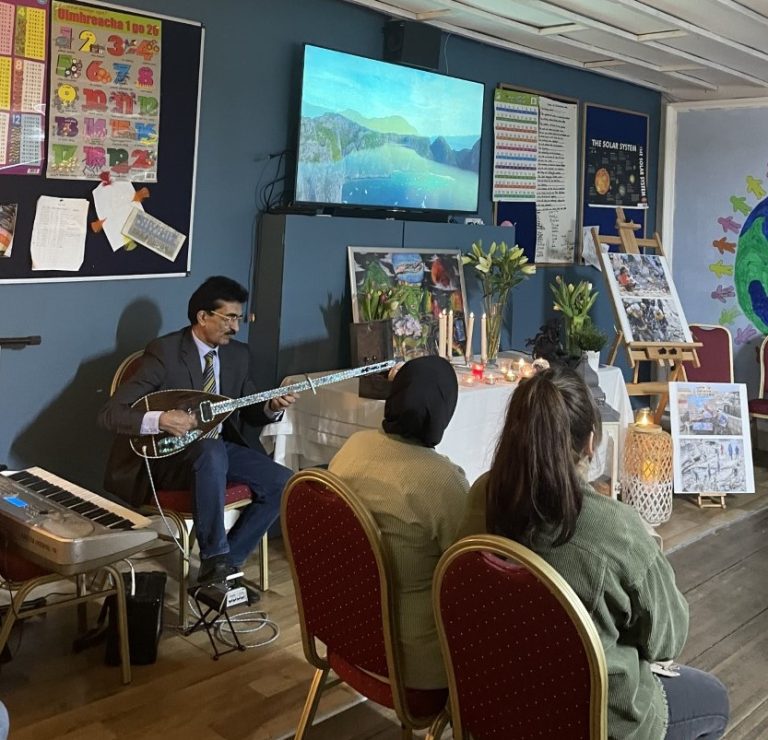 The team talked specifically about some issues faced by some of the families they are working with.  For example, how those living in direct provision often do not have access to a proper kitchen or cooking facilities and the restrictions this can place on people, even things like the lack of a printer. We got a better understanding of some of the more specific issues impacting refugees and the things which make it more difficult to feel at home and integrated into Irish society. 
The paintings were well done and powerful.  We really appreciate the group for being so willing to get involved in this piece of work.   See below for some of the impactful artwork which came from the day.  It was interesting to see how some of this artwork conceptually intertwined with the remembrance event- all linked to giving people space to express what home means to them while finding community and connection in Longford.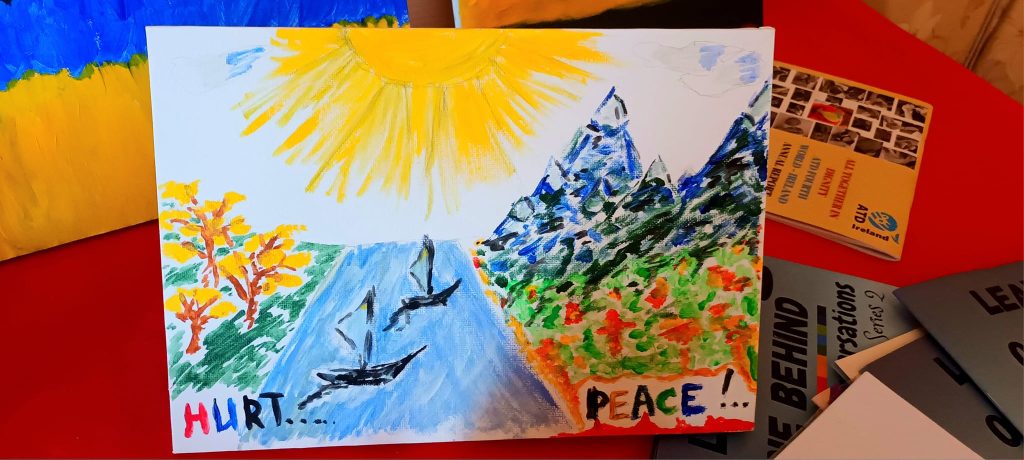 Hurt …. Peace : The beautiful nature of the Ukraine (home) a river and boats; an image of what they miss about home and the pain of the conflict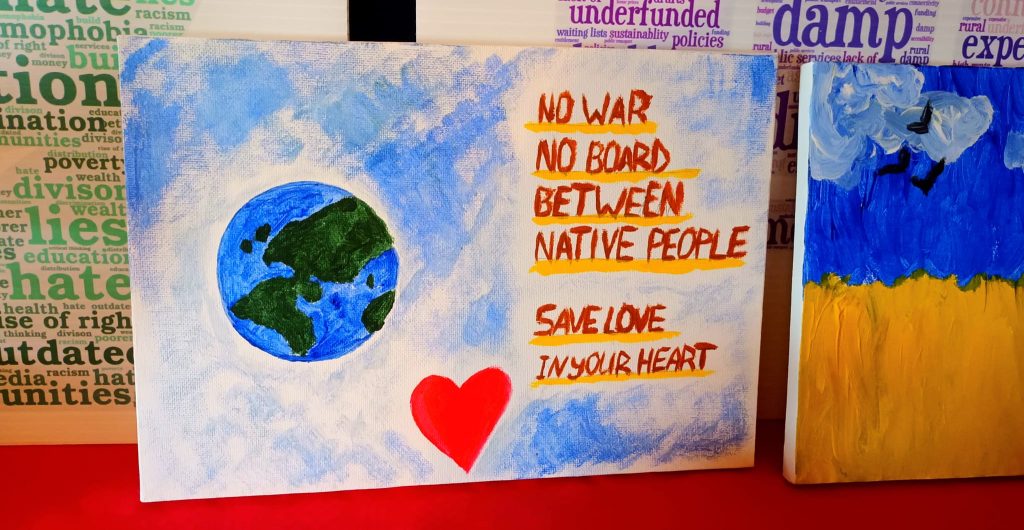 Save Love in your Heart: A beautiful painting of the Earth and a Heart with the text; No War, No Board (er) Between Native People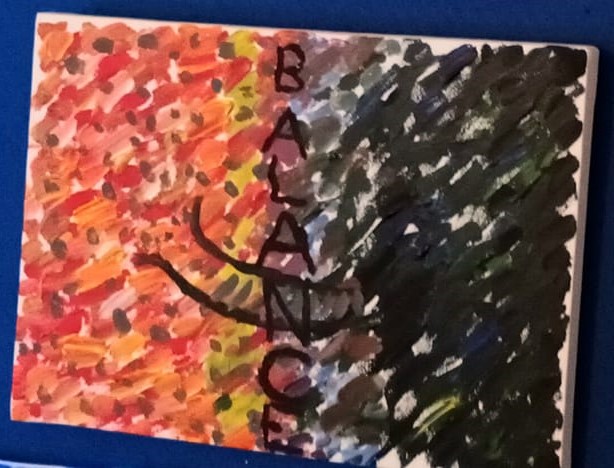 Balance: A dramatic painting of colours and shades; this represents going from the darkness to the light. This is full of hope, even thing can be hard with time things can improve.  It also portrays the need for balance in all aspects of life.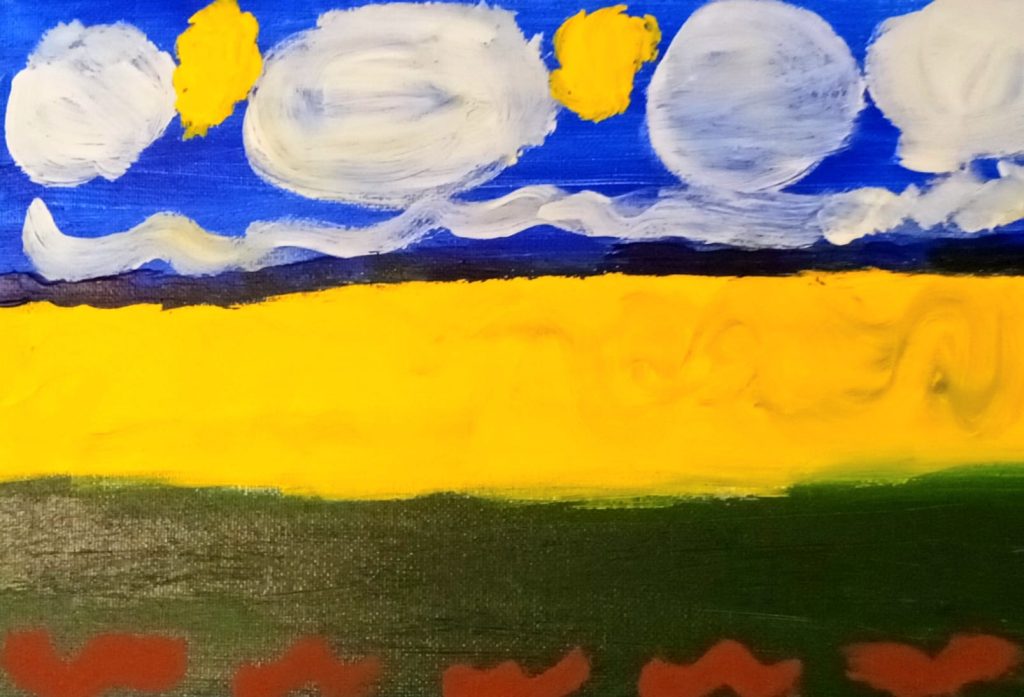 Animals & Nature: The beautiful painting shows us the importance of nature in all its inclusion from the fields, mountains and animals.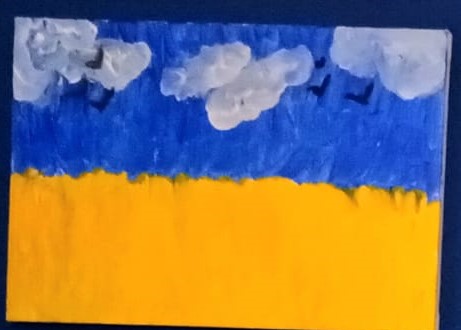 Cornfields of the Ukraine: This insightful piece started as a Flag of the Ukraine (blue and yellow) then over time the artist developed the painting into the cornfields and summer sky that we miss in our homeland.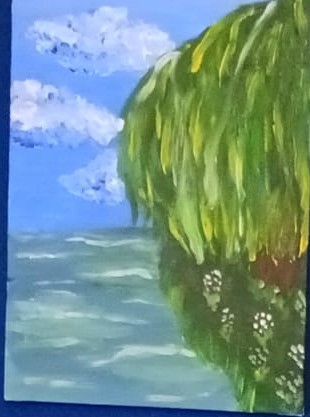 This tranquil painting shows the national tree of Ukraine by the water.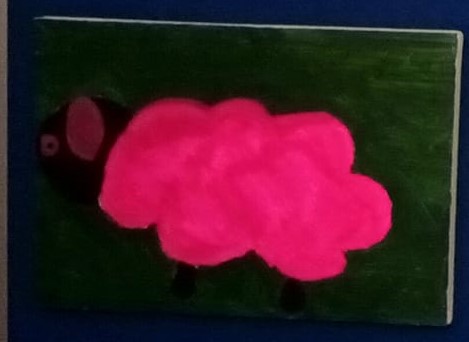 Pink Sheep: This bright painting came from seeing the sheep amongst the rural landscapes which could be seen on the journey from Dublin to Longford.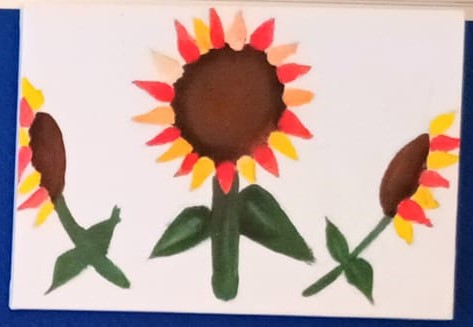 Sunflowers: The sunflowers were inspired by the Lus Na Greine logo, and also as the National flower of Ukraine.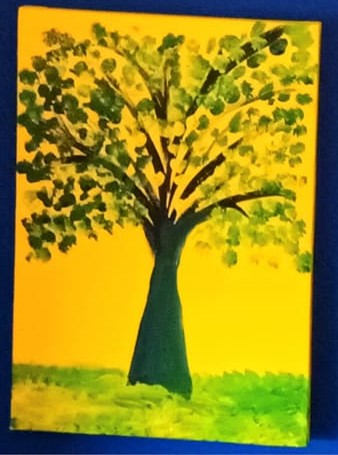 Tree on Yellow Sky: The brightly coloured art piece represents the importance of potential in all of us. 
Thank you very much to all at Lus Na Greine who took the time to participate in the LNOB workshop.  It was wonderful to meet everyone there and hear about the important work that it taking place.  We look forward to working with you again in the future and promoting your work at our launch event.