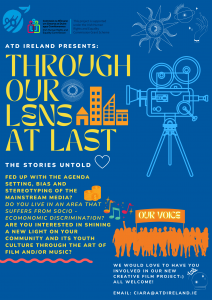 ATD Ireland are in the process of undertaking a new youth film project; 'Through Our Lens at Last: The stories untold'.  The aim of this project is to shine a new light on communities which are too often cast with a bad light and are subject to shame, stigma and socio – economic discrimination.  In particular the young members of these communities often carry the brunt of the blame and do not have the opportunity to share their views on the issues which impact them.  We also rarely get to hear the many positive traits and characteristics of impoverished communities and the wonderful contributions made by young people living in poverty.
Participants will have an opportunity to get involved and learn new skills both in front of and behind the camera and also show off their personal skills and interests such as music or other creative outlets.
If you would like to get involved in the project or are part of a group working in similar areas please contact ciara@atdireland.ie, tara@atdireland.ie or dann@atdireland.ie.  We would love to hear your thoughts and ideas!