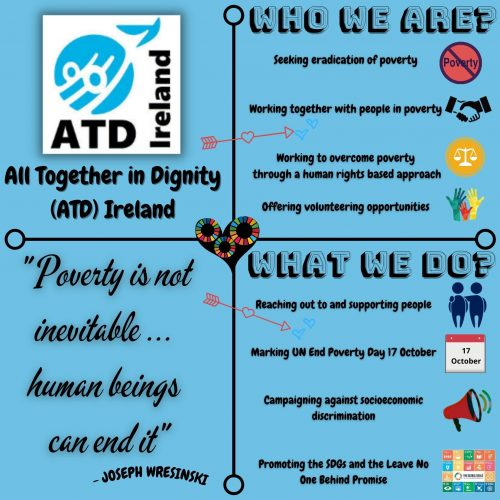 ATD Ireland (All Together in Dignity) is part of the International Movement ATD Fourth World, ATD Fourth World – All Together in Dignity to overcome poverty (atd-fourthworld.org), a movement of solidarity among and in collaboration with the most disadvantaged and excluded families around the world, with more than sixty years' experience of tackling inequality and promoting social justice.
We hold a vision of a world without poverty, a society where each person is respected. Poverty is an affront to human dignity, and people in poverty have unique knowledge and experience that can lower the barriers separating people and communities.
Founded in 1957 by Joseph Wresinski, ATD Fourth World brings together people from all cultures and social classes and is active in 34 countries throughout Europe, the Americas, Africa, and Asia.
It is an international non-governmental organisation with no religious or political affiliation. It works with affiliated organisations in 90 other countries and has over 100,000 members worldwide
Many of our ATD team member around the world form part of the international volunteer corps- Read more here.
VISION AND MISSION STATEMENT
OUR VISION is of a world without persistent poverty, where everyone is valued, can participate fully in society and fulfil their potential.
OUR MISSION is to contribute to building a network of people, groups and organisations committed to overcoming persistent poverty with people with a lived experience of poverty, through a human rights approach, and with a focus on leaving no one behind.
For the past 20 years, ATD in Ireland has been close to family members facing persistent poverty and struggling daily to live in dignity.  ATD welcomes everyone. It unites people whatever their origin, social status, culture or beliefs to fight against poverty. In building trust, solidarity and friendship, all have a place to realize their full and best potential. By working together and learning from each other, everyone is free to express themselves without being judged. Our efforts focus on supporting families and together influencing policy.
Through our community visits, cultural and nature outings and workshops we build relationships with the most vulnerable and excluded families. With time, space, and resources, they build upon their strengths, develop their support networks and can access public services in their community.
We support access to culture, art, history and nature through our activities, these essential actions are so often restricted for people struggling with poverty.
Through our advocacy work with families in crisis, we foster conditions that allow parents, children and professionals to better understand one another and collaborate.
Through public participatory projects aim to empower people with experience of poverty to express their views and offer solutions to the problems affecting their lives, while offering policy makers, practitioners and people in positions of power an invaluable insight into overcoming poverty from the bottom up.
OUR AIM is To support families and individuals living in persistent poverty: to get through times of crisis, to pursue their goals and aspirations, to develop their skills, confidence and knowledge; and to get together with others in situation of poverty and with people from all walks of life committed to change things with them.
Create the conditions for a partnership with other members of the public, including professionals, academics, and policymakers: to raise awareness of persistent poverty, to counter prejudice and socioeconomic discrimination and to improve policy and practice.
OUR VALUES are Reaching the hardest to reach: Many target led services fail to reach the most disadvantaged people. We believe that families and individuals who have the most difficult lives hold the key to understanding and overcoming persistent poverty. They are at the heart of everything we do.
Taking people seriously: When people are in difficulty the focus is often on their problems or perceived short comings. Our approach is to recognise the strength, determination and resourcefulness it takes to just get by. We build on the important roles people play in their family and community as they help one another. We support them to realise their dreams and aspirations, encouraging them to contribute their experience, thinking and aspirations to the fight against poverty.
A long-term commitment: Whereas persistent poverty is enduring, complex and deep-rooted, much of the support society offers is short-term, narrow and results driven. We are committed to accompanying people over the long run, moving forward with them at their own pace and building our projects around their hopes and ambitions.
Giving people a voice: The socio-political debate on poverty rarely includes those who are the most affected, even though their knowledge and insight is vital. We believe that everyone's voice matters and that people living in persistent poverty should have the chance to speak out on issues that concern them and the wider world.
Working collaboratively: We are a membership organisation, not a service provider. Our members include full-time core workers, families living in persistent poverty, supporters and volunteers. All are encouraged to get involved in every aspect of what we do, from project planning to evaluation, from fundraising to campaigning, from administration to governance.
2022- 2026 Strategic Goals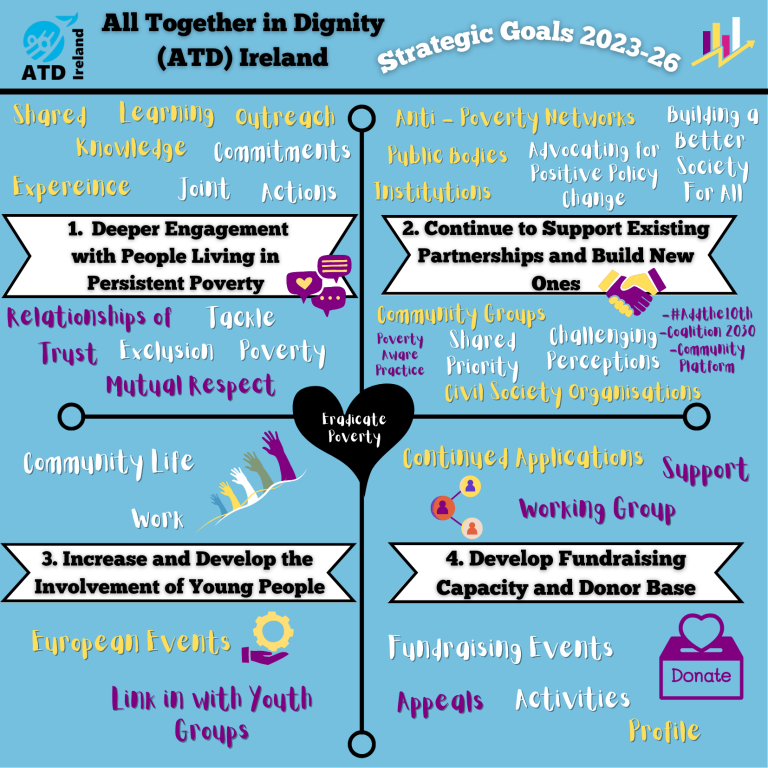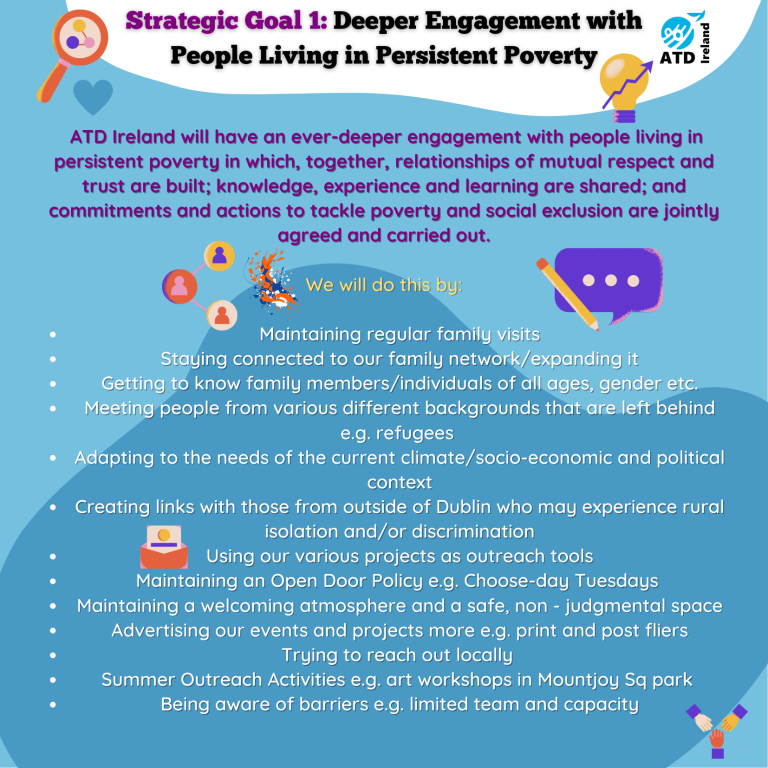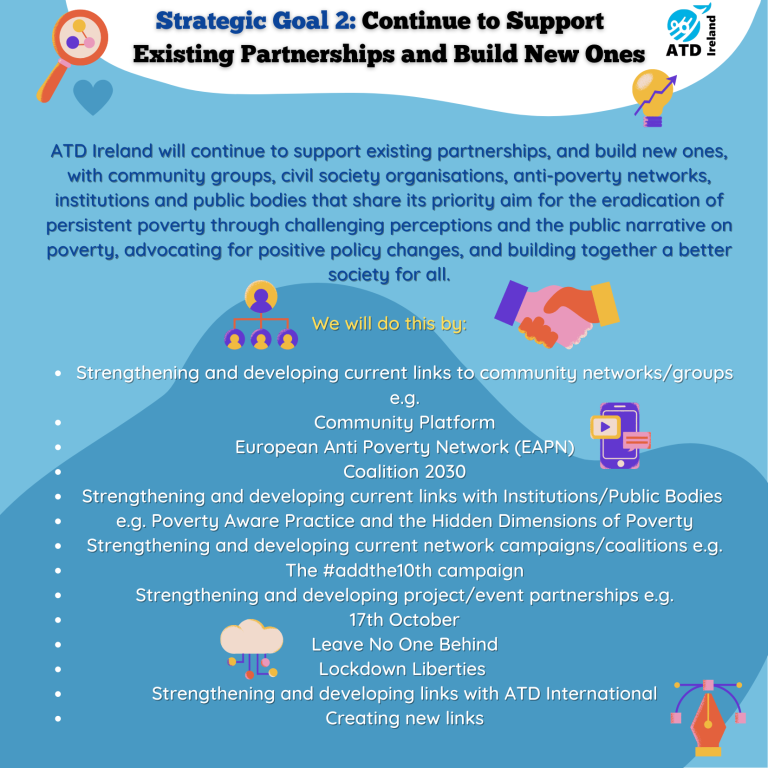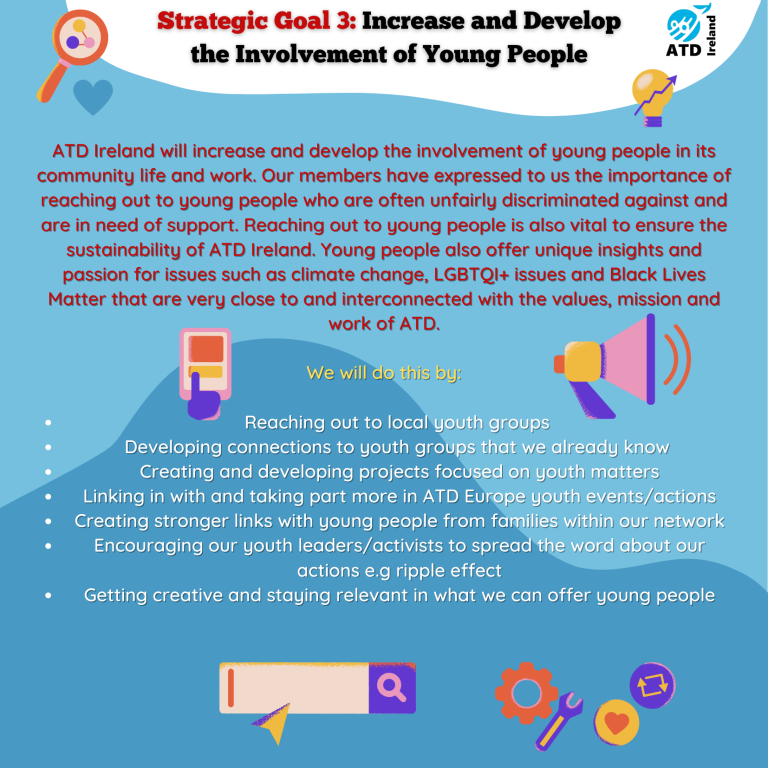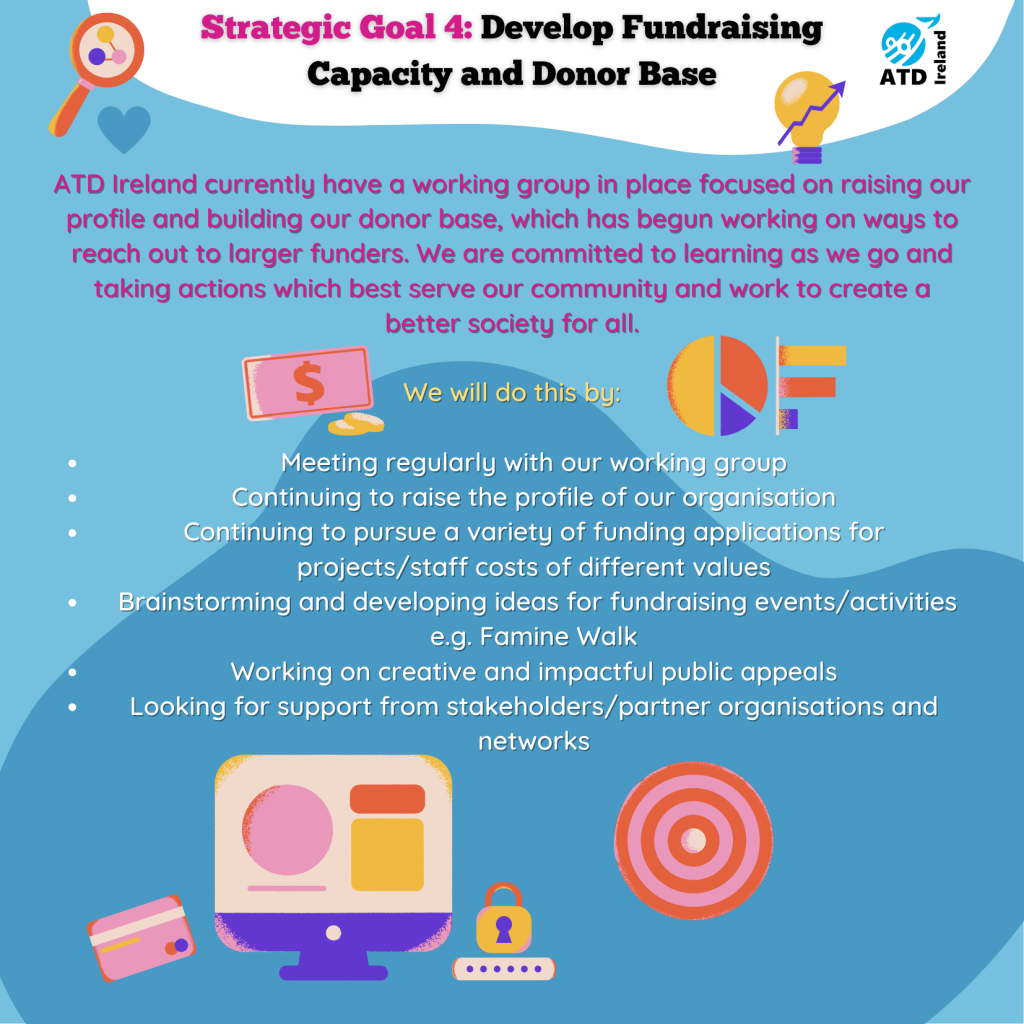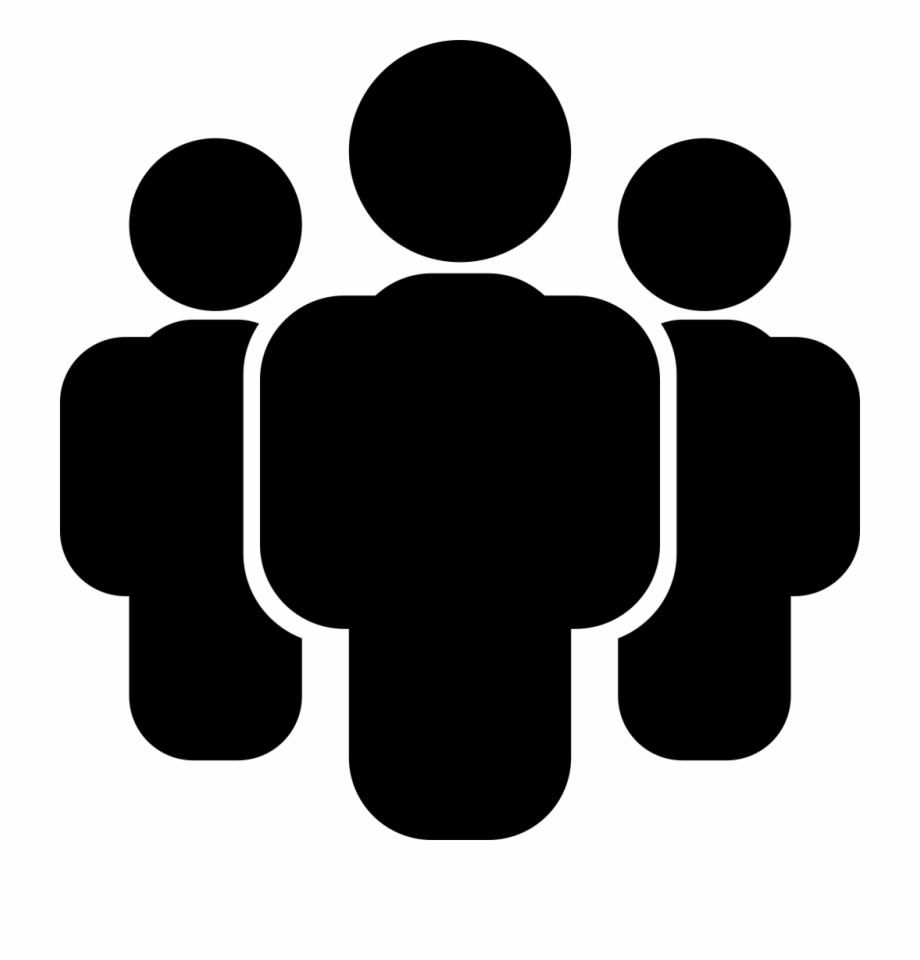 ATD Ireland Dublin Team
Dann Kenningham (National co-ordinator), Mary McMurchie, Stewart McMurchie, Ciara Margolis, Paul Uzell and Tara Doherty. Thank you to the many volunteers who support us over the years
ATD staff members (all are members of ATD International Volunteers Corps) agree on a salary that is decided upon together and which is the same for everyone within the same country, regardless of seniority or responsibility. For Ireland this salary is the minimum legal wage.
In order to contribute to the advent of a society where everyone may be included, ATD Fourth World provided
itself with reference features that stem from its long term commitment to the poorest populations. Some of
these characteristics specifically direct its financial ethics
Read more: ATD Charter of financial ethics
Promoting the wider campaign to have socioeconomic discrimination recognized as a tenth ground of discrimination in the Irish Equal Status Act
The project entitled 'Does it Only Happen to Me?' contributes to the wider campaign to have socioeconomic discrimination recognized as a tenth ground of discrimination in the Irish Equal Status Act. Our Socio-Economic Status (SES) project offers a platform for members and volunteers of ATD's network to provide a space for people who experience socioeconomic discrimination to communicate their stories. We are beginning to see our hard work pay off as the campaign to end socioeconomic discrimination continues to be picked up and spread by individuals and agencies throughout Ireland. Equality must prevail! #10thground
ATD Ireland has made significant steps in completing its journey to full compliance with the Charity Regulator Governance code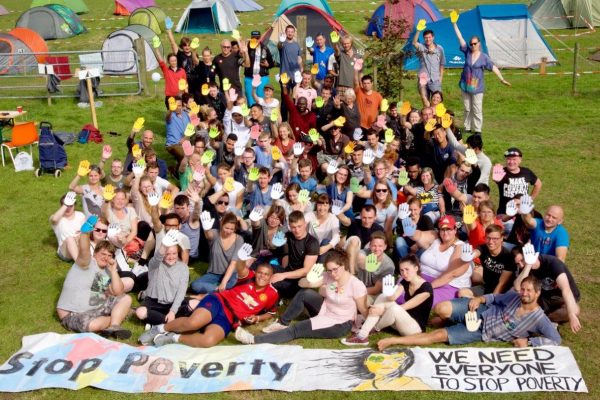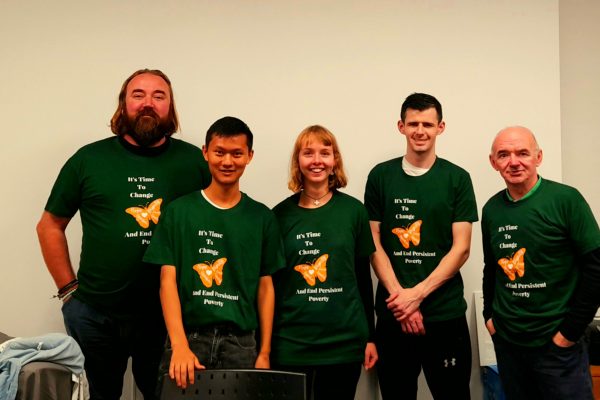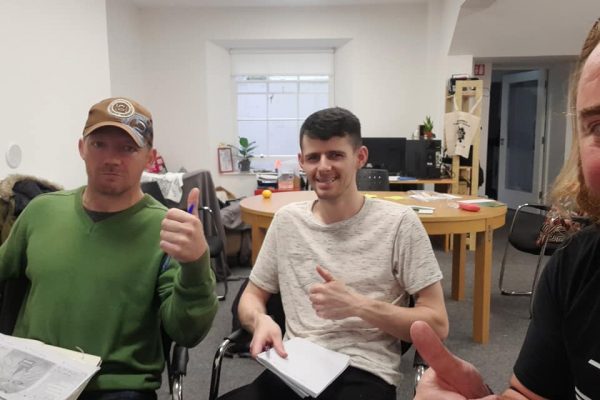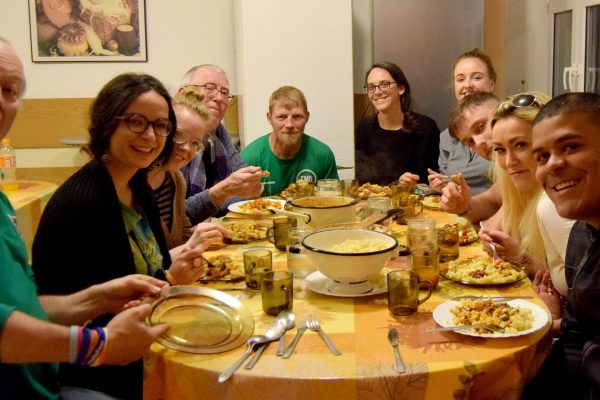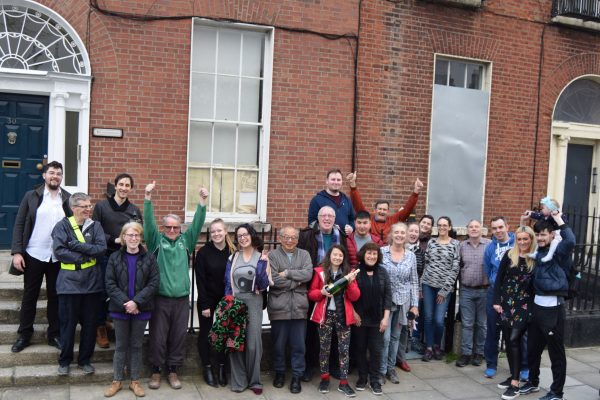 Directors:
Juliette Pechenart (Chairperson), Pat O' Gorman (Treasurer), Marie Williams (Company Secretary), Elaine Phelan, Isabelle Pypaert-Perrin (ATD International), Bernie Brown, Hugh Frazer, Robbie Gilligan and Brian O'Toole.