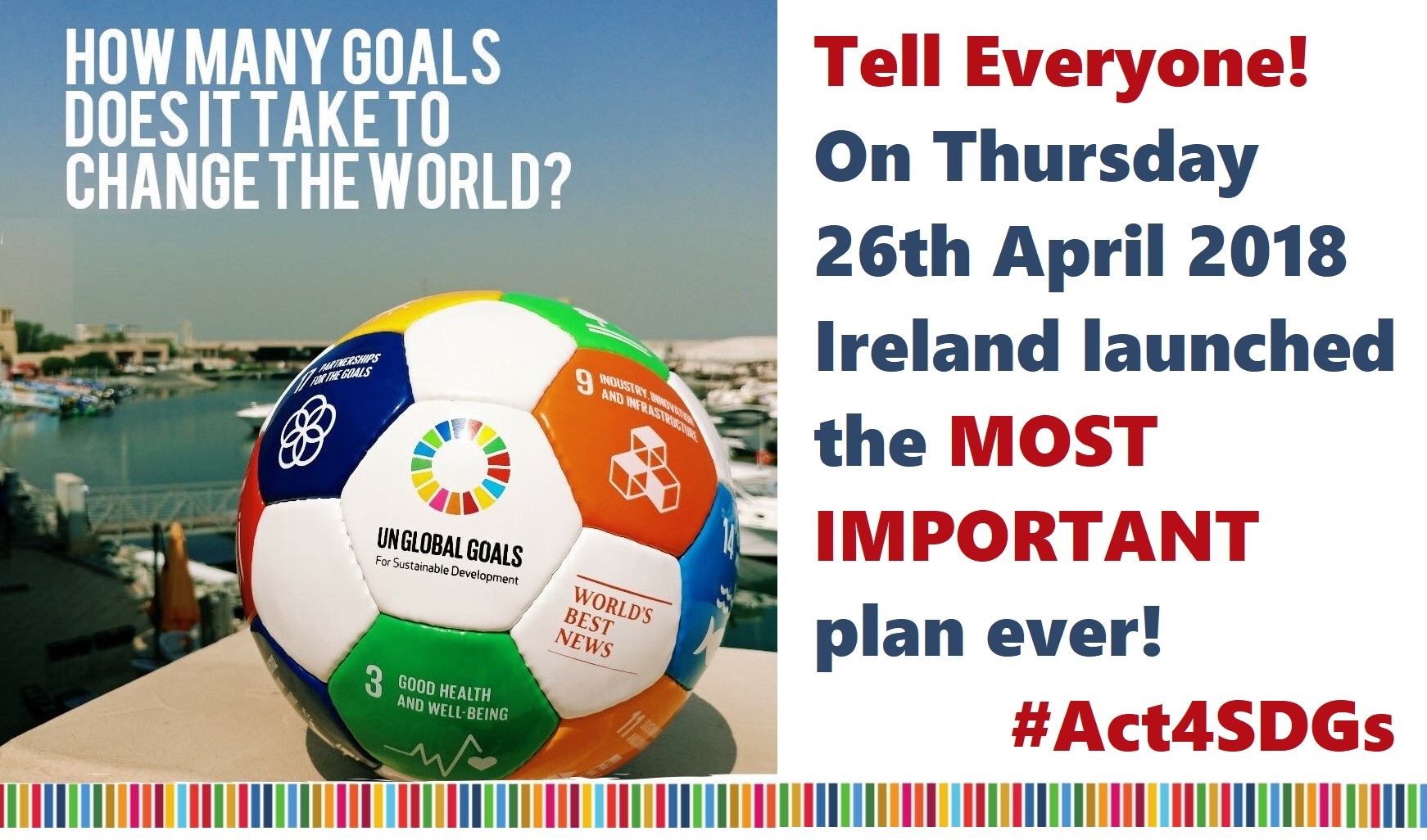 On the 26th April 2018, Minister Denis Naughten launched The Sustainable Development Goals: National Implementation Plan 2018-2020, which sets out how the Irish Government will implement the SDGs in Ireland and support countries around the world to do the same. The National Implementation Plan provides for a whole-of-government response to the SDGs and addresses the need to raise public awareness of, and engagement with, the SDGs.
The Sustainable Development Goals (SDGs) are the global community's response to the urgent economic, social and environmental problems facing the world today, from climate change to global poverty and inequality.
The 17 SDGs set out a bold vision for achieving a more sustainable world by the year 2030. Ireland has a particular interest in the SDGs, as our former Ambassador to the UN, Mr David Donoghue, acted as co-facilitator to the intergovernmental negotiations through which the Goals were agreed.
The Plan identifies four strategic priorities to guide implementation:
Awareness: raise public awareness of the SDGs;
Participation: provide stakeholders opportunities to engage and contribute to follow-up and review processes, and further develop national implementation of the Goals;
Support: encourage and support efforts of communities and organisations to contribute towards meeting the SDGs, and foster public participation; and
Policy alignment: develop alignment of national policy with the SDGs and identify opportunities for policy coherence.

 
No One Left Behind in this new Irish National Plan for Sustainable Development?
All Together in Dignity Ireland welcomed the launch of this Sustainable Development Goals National Implementation Plan 2018-2020 by the Minister of Communications, Climate Action and Environment Naughten. It is particularly encouraging to see a foreword from the Taoiseach in the document. We value his commitment to lead Ireland in our pursuit of the targets and ideals of the Sustainable Development Goals and his recognition of the importance of the promise to Leave No One Behind in the process.
The Taoiseach writes "Having proudly facilitated the international negotiations leading to the Goals, this National Implementation Plan represents a further important step in Ireland's efforts to honour the vision underpinning the Goals, and to ensure no one is left behind "
Indeed the Plan's commitment to the Leave No One Behind Promise on top of working towards achieving the 17 Goals of Agenda 2030 is quite happily a recurring theme. The promise is highlighted not only by an Taoiseach, but crucially in the Vision Statement as well as the section outlining Ireland's National Approach to reaching the targets of the 17 Goals.
ATD looks forward to seeing action on public engagement and awareness of the Goals and the Promise. At grassroots level, here in ATD Ireland we are spreading awareness of the Leave No One Behind Promise with our Leave No One Behind Conversations campaign which consists of thought-provoking workshops imploring people to examine the necessity for a Leave No One Behind Promise as well as the challenges which are inevitable in delivering on such a transformative statement.

The creation of a National Stakeholder Forum is a critical next step in the implementation of the Irish Plan.  ATD believes that it is crucial that of the Forum delegates representing communities, delegates from the most marginalised communities be invited and their participation supported, thus ensuring that we fulfill the commitment to "Reach the furthest behind first" and listen to the needs of and interests of those who are too often silenced or voiceless. The Agenda 2030 has to deliver for them.

ATD Ireland is member of the Coalition 2030: www.ireland2030.org