ATD Annual Activity Reports
Click here to read Annual Report 2018
Audited Accounts ATD Ireland
Irish and UK Publications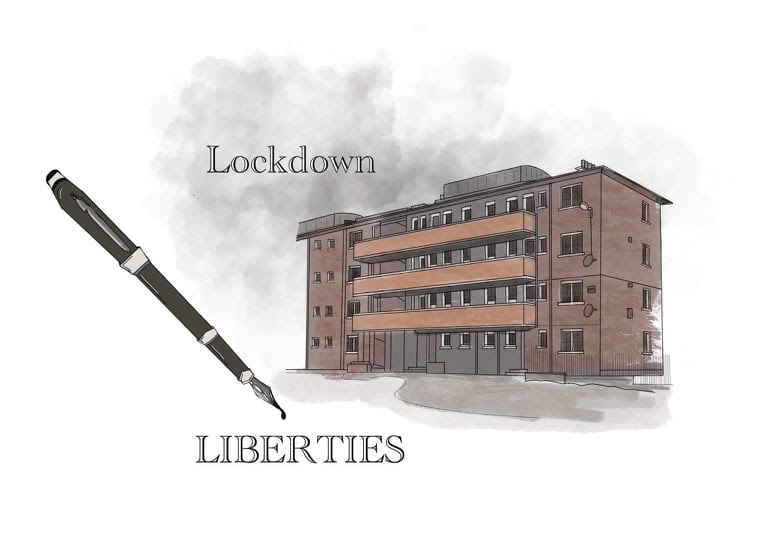 Lockdown liberties was a project undertaken during the early stages of the pandemic in order to keep connected with one another during those trying days. People were able to find hope through the creative process of writing. This group is important in giving the participants avenue to express their deepest thoughts and feelings, and share stories particularly with those who often have difficulties in doing so. Those involved found a personal growth throughout the project and gained confidence, not only within the writing but also within themselves.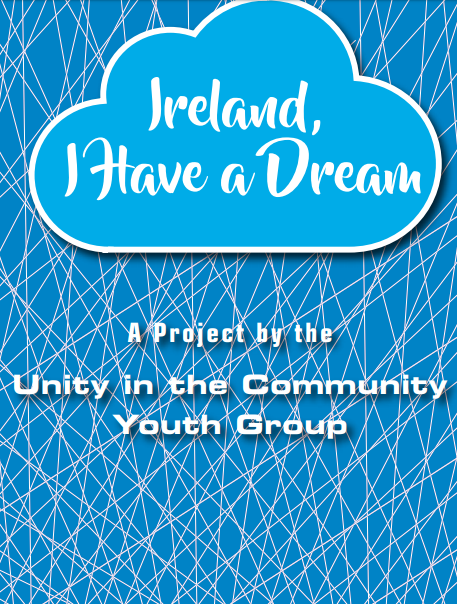 The book chronicles the story of the ATD Ireland 'Unity in the Community Youth Group', the project itself, the youth groups they visited, workshops, and partners. The core of this publication is a collection of over 30 'Dreams' written by young people. The dreams are represented in spoken word, rap, poetry and speeches.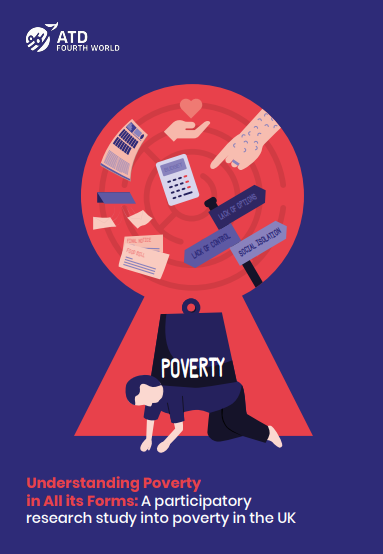 ATD Fourth World UK carried out participatory research on 'Understanding Poverty in All Its Forms'. The research has been part of a global research project, which is a collaboration between ATD Fourth World International and the University of Oxford.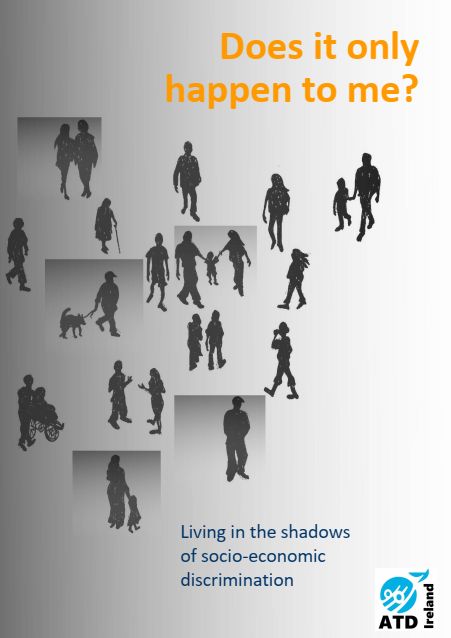 This report provides an insight into the daily lived experience of people suffering from socio-economic discrimination in Ireland. The report calls on the Government and the Oireachtas to speed up the passage of the Private Members Bill introducing the recognition of a tenth ground of discrimination in the Irish Equal Status Act.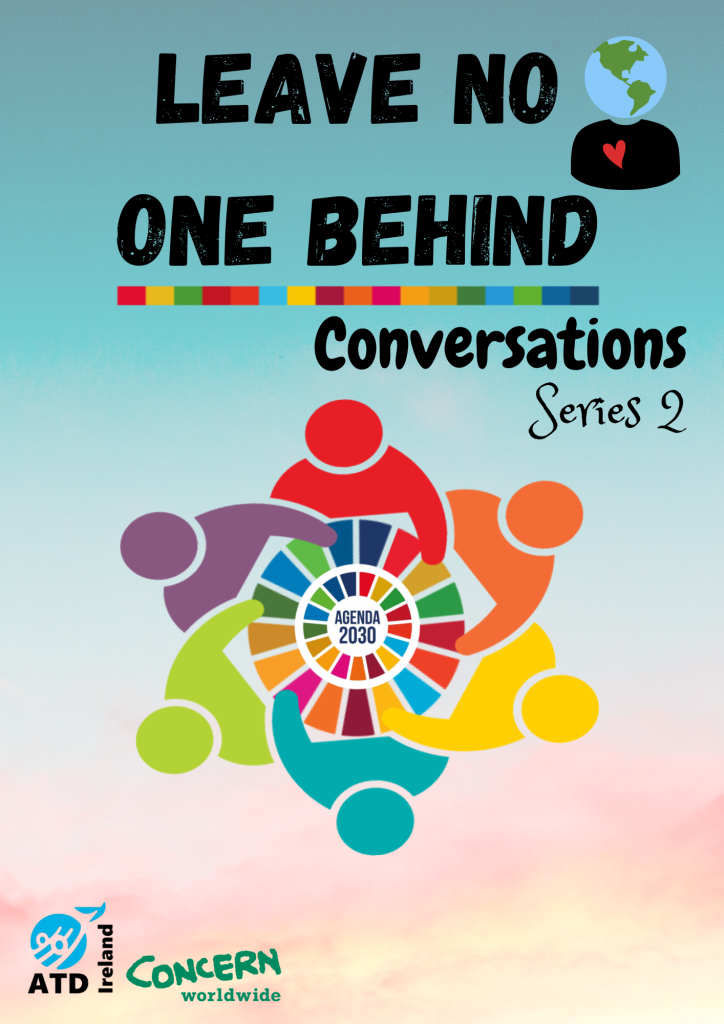 The 'Leave No One Behind Conversations' Series 2 is an ATD Ireland project supported by Concern Worldwide. We want to empower marginalised groups to actively contribute to dialogue in Ireland around the Sustainable Development Goals by valuing their knowledge of social exclusion issues based on lived experience.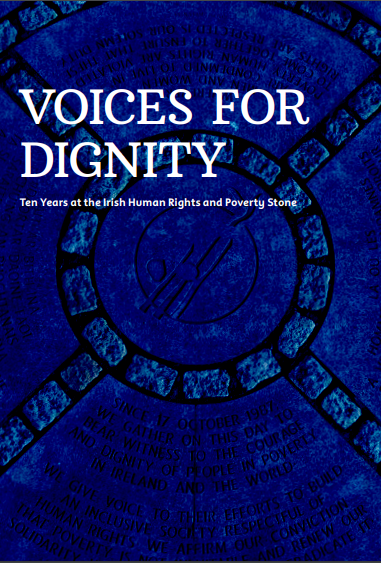 This book presents a collection of testimonies that reflect a variety of recurring themes throughout the years. Themes include; the right to education, the right to housing, the right to health,the right to decent work, the fight to keep families together, and the right to dignity. The testimonies also highlight the diverse and wide range of different organizations that have been actively participating in the UN Day for the Eradication of Poverty since 2008.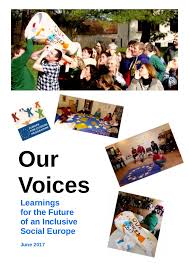 "Our Voices" is a 2016-2017 "Europe for Citizens" project aiming to deepen discussions on the future of an inclusive Social Europe. This project involved 100 citizens from 3 Countries: Spain, Poland and Ireland. This document presents some of the learnings from the project. It was launched on the 15th of June 2017 at the European Parliament in Strasbourg during a meeting of the MEP Intergroup on Poverty and Human Rights.
International Publications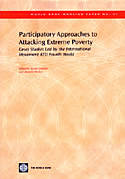 This book explores what type of knowledge is needed to fight extreme poverty. It is also part of the World Bank Working Paper series. These papers are published to communicate the results of the Bank's ongoing research and to stimulate public discussion.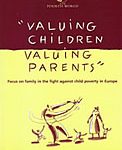 This study provides an insight into how families living in poverty can be supported to meet their needs and aspirations. It gives an extensive overview of reaserch and practice on poverty, child poverty, child protection and family support in 10 countries in Europe, including the UK.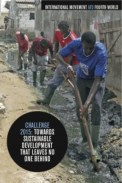 Report is the result of ATD participatory research on the Millennium Development Goals. It brings the voices of people in poverty to the sustainable development debate (over 2,000 participants from over 20 countries, a majority of whom came from a background of poverty or extreme poverty).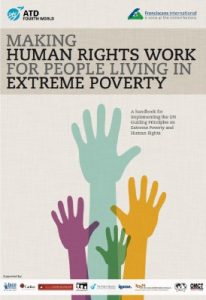 This handbook is for local actors, both those who work for the state such as social workers, community organizers, teachers, and urban planners, as well as those who work for non-governmental organizations and religious or community groups.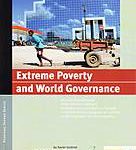 This proposal paper, written for the Forum for a new World Governance, sets out, firstly, to place the eradication of extreme poverty at the heart of the international community's political goals. Secondly, it argues that the participation of the poorest members of humanity in elaborating new principles for shaping world governance is an essential condition to the success of the enterprise.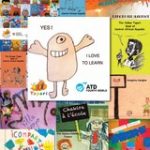 This is a book that compiles messages from children about their learning experiences. Although they learn as an essential part of their daily lives, nevertheless many factors impede their learning. Nevertheless, many factors impede their learning. The children, who come from many walks of life, including those living in extreme poverty and social exclusion, explained that they do not learn just in school.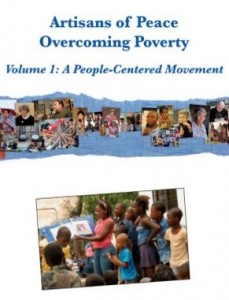 Volumes 1, 2 and 3, introduce partners in peace-building whose efforts have too often remained unrecognized. This series of books is rooted in participatory research that ATD Fourth World members conducted on the violence of extreme poverty and that showed just how much people living in poverty do to search for peace, to go beyond violence, and to build a sense of community.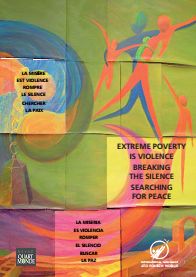 Over a period of three years, the International Movement ATD Fourth World conducted an action-research project on the connections between extreme poverty, violence and peace, involving more than a thousand people from all over the world. The Final Report of the 2009-2012 Action-Research Project & International Colloquium Conclusions are available in the file underneath.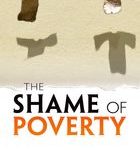 This book invites the reader to question their understanding of poverty by bringing into close relief the day-to-day experiences of low-income families living in societies as diverse as Norway and Uganda, Britain and India, China, South Korea, and Pakistan. Author Robert Walker (Social Policy Department – Oxford University) will be in Dublin to present its work on 16 October 2015.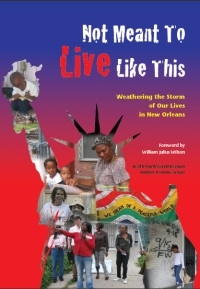 Weathering the storm of our lives in New Orleans In the months following Hurricane Katrina's devastation of the Gulf Coast in 2005, ATD Volunteers based in New Orleans traveled the southern United States to reconnect with displaced members and re-establish a network of support. The book features contributions from families with lived experiences of poverty, other ATD Fourth World members in Louisiana, academics, and social scientists.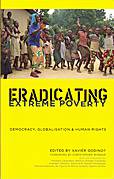 After decades of failed development policies, this book outlines a radical new approach rooted in the experiences, capabilities and strategies of those living in extreme poverty themselves. Aimed at policy makers, researchers, students and academics, it uses life stories from Burkina Faso, France, Peru and the Philippines to show that people trapped in chronic poverty must be involved in their own liberation.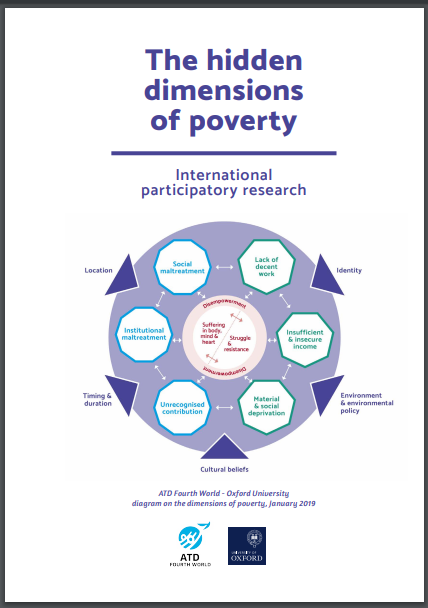 This report was launched by the (OECD) in Paris on May 10th which fundamentally challenges global conceptions of the nature of poverty. This international participatory research report unveils the 'Hidden Dimensions' of poverty through a methodology called 'merging of knowledge'. The six-nation study demonstrates that nine, not the usual three dimensions of poverty (material deprivation, poor health and low education), must be considered if poverty is to be properly measured and successful poverty-alleviation strategies devised.