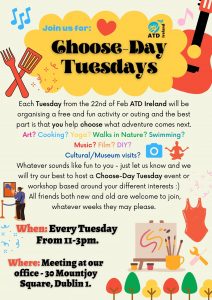 We are currently having an open office day every Tuesday 11- 3 pm.  Each week we will be doing a different free and fun activity together such as art & DIY, fitness, cooking, nature walks, singing, etc.
We will also provide some lunch and a safe community space for nice chats to happen over a cuppa.  Take part in what you choose!
Recently we have been colouring mandelas, singing and we have just began woodworking workshops making flower window boxes, and hope to soon go on some nature and cultural outings!
All welcome and please let us know if you have any ideas for a Choose- day Tuesday activity!