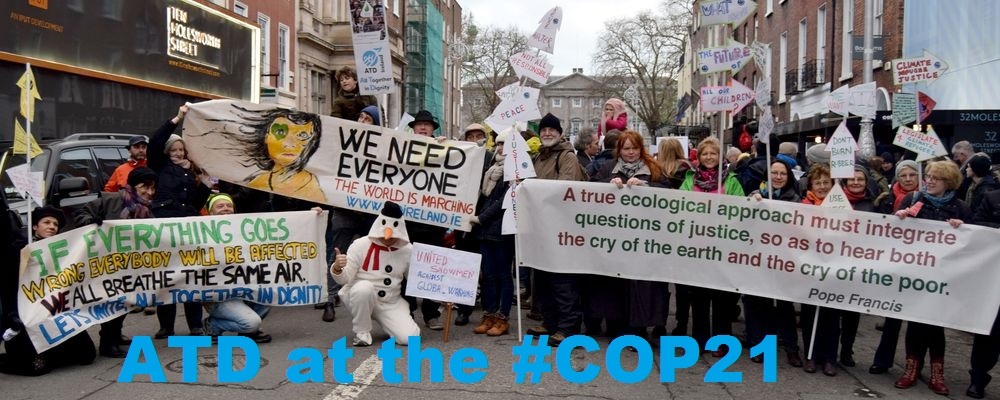 Discover how ATD will be involved in #COP21 in Ireland and in France:  ATD's #COP21 programme!
Follow ATD International advocacy at the #COP21: Linking climate action and sustainable development – never without, or against, people living in poverty.
Encouraging all stakeholders to exploit synergies between climate change responses and sustainable development strategies, ATD Fourth World's international advocacy emphasizes 5 key recommendations:
Place a special emphasis on the bottom 20% to make sure that no one is left behind. In other words, targets should be considered achieved only if they are met for all relevant income and social groups, including the most vulnerable.
Tackle climate change together with people in poverty and as part of an effort to eradicate extreme poverty and develop provision & delivery of human rights.
Ensure that climate change finance is directed to the most vulnerable populations, in order to foster climate justice.
Implement social protection floors.
Ensure that people in poverty are able to benefit from training and job creation in the context of transitioning to a green economy.
More updates and news below:
A Call for a Human Rights approach of the Climate Actions

On 9 October, ATD, with 97 other organisations and networks, called for a Human Rights approach of the Climate Actions:  "Parties at COP should, in all climate change related actions, fully respect human rights." Read full letter on Human Rights & Climate Action here.
ATD Ireland awarded the official COP21 label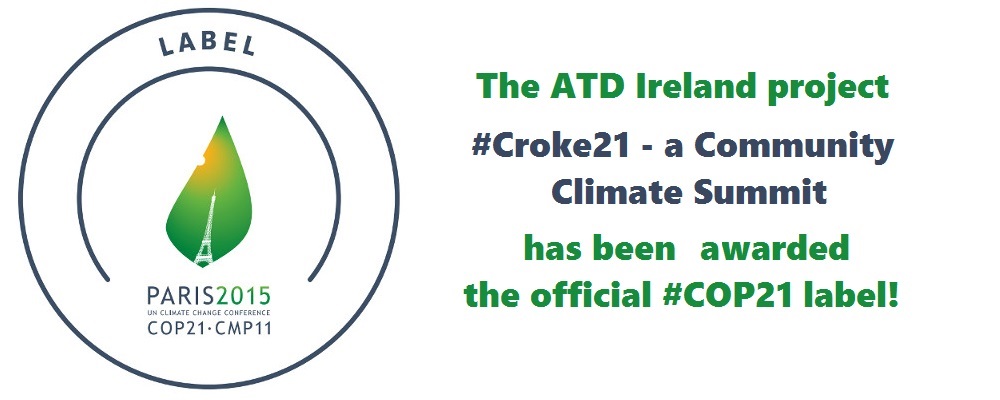 On 1st October 2015, French Minister for the Environment Ségolène Royal awarded the ATD Ireland project "#Croke21 – a #COP21 Community Climate Summit" the official COP21 label
ATD's calls for #ClimateJustice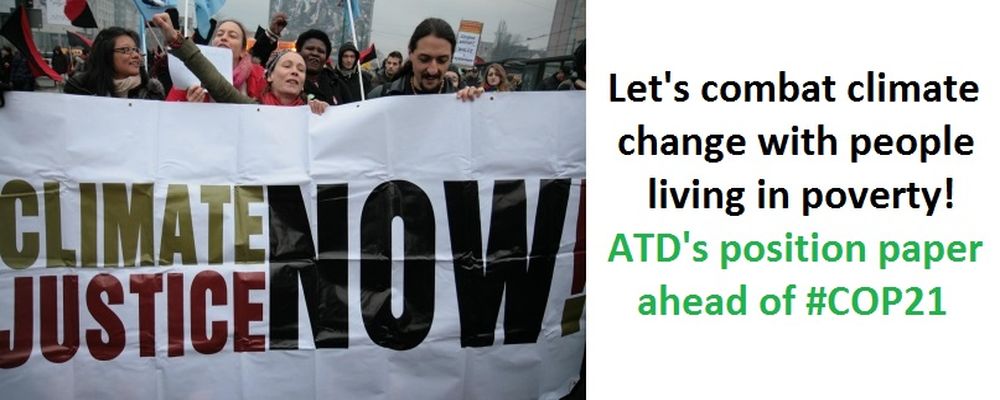 Text below is the draft English translation of a Press Release published by ATD France on 7th July 2015 at the occasion of the "Our Common Future Under Climate Change" conference at UNESCO in Paris.
Read also full position paper by ATD international.

The United Nations, governments, civil society and regional public bodies have been preparing the COP21 for several months.
This large international gathering will take place in Paris from 30 November to 11 December 2015 and aims to achieve an international agreement on climate, which would keep global warming below 2°C.
Stakeholders involved in the negotiations have acknowledged the link between the fight against extreme poverty and the fight against climate change. The poorest populations have the smallest carbon footprint, yet they tend to be the most affected by the consequences of global warming. However, the fact that these populations can also suffer from the measures taken to fight global warming, has so far been insufficiently recognized.
In the United-States, social housings have been suppressed as a result of a natural disaster, preventing the poorest to return to the city center.
In the Philippines, populations living in hazard-prone areas of the capital city have been displaced, and as a result cut from their livelihood activities.
Elsewhere, efforts for a better thermal insulation are increasing the cost of housing for the disadvantaged.
Everywhere, it is said that global warming will create employment – but for whom?
There is nothing automatic about connecting the fight against extreme poverty and the fight against climate change, it is however possible.
On the occasion of the three upcoming international conferences in 2015 (International Conference on Financing for Development in Addis Ababa in July, Summit for the adoption of the post-2015 development agenda in New-York in September, and the United Nations Climate Change Conference COP 21 in Paris in December), ATD Fourth World will intend to express concrete proposals around three main benchmarks :
1- Evaluate the impact of programmes, not only considering the average population, but taking into special account the poorest 20% of people.
2- Ensure that themost disadvantaged populations, who are often voluntarily or not excluded of the decision-making, are associated to the elaboration, the implementation and the evaluation of programmes.
3- Set-up social protection and training systems in order for these populations to be able to benefit from the employment created by the shift to a "green economy".
Development will only be sustainable if no one is left behind.