Philip Kenny, from Dublin Ireland and a member of ATD Ireland, wrote this poem to read out at the Famine Memorial and Poverty Stone on world hunger day 16th October 2020.
As an active contributor to the 'Liberties Lockdown Writing Corner', Philip engages the reader with this vivid poem.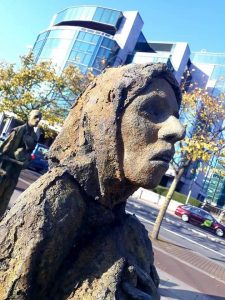 Black 47
The crop is bad.
No spuds to be had.
Outlook bleak.
Hungry and weak.
The crop is bad.
The plague is here.
A sigh and tear.
For hunger and fear.
The crop is dead.
Blackend is the beet.
Hungry dying in the street.
With nothing to eat.
Corn for the rich.
The impoverished suffer, impoverished suffer
By Philip Kenny 
Dublin, Ireland