Under the Charites Governance Code all registered charities are required to complete this Charities Governance Code Compliance Record Form every year. ATD Ireland currently has a working group in place commissioned by the board to coordinate governance issues and the strategic work plan. The group decided on these four interrelated strategic goals through several discussions and in consideration of the concerns and wishes of all members.
These goals were approved by the directors at the board meeting and the draft goals were on display and discussed with members over a number of weeks prior to the AGM.
Following are the draft goals for 2022- 2026
Goal 1: The ATD Community in Ireland will have an ever-deeper engagement with people living in persistent poverty in which, together, relationships of mutual respect and trust are built; knowledge, experience and learning are shared; and commitments and actions to tackle poverty and social exclusion are jointly agreed and carried out.
As always ATD Ireland remain committed to building and maintaining relationships with those who are struggling the most from poverty. In particular we are committed to make a renewed effort to reach out to people in the context of coming out of Covid- 19 restrictions. Further it is important that the throughline of building these relationships is the empowerment of people and finding ways for them to have their voice heard.
In 2022 we started to put these goals into action. In terms of goal 1 we have been continuing our family visits and aim to continue to visit more people. We have also begun to organise more outings focusing on giving people an opportunity to step outside of their everyday surroundings. We have begun a weekly open office day 'Chooseday Tuesdays'. Each week we offer a different free and fun activity together such as art & DIY, fitness, cooking, nature walks, singing, etc. We will also provide some lunch and a safe community space for nice chats to happen over tea, depending on what people are interested in. We try and maintain a welcoming atmosphere and a safe space, as always, for new people to drop by and get to know us.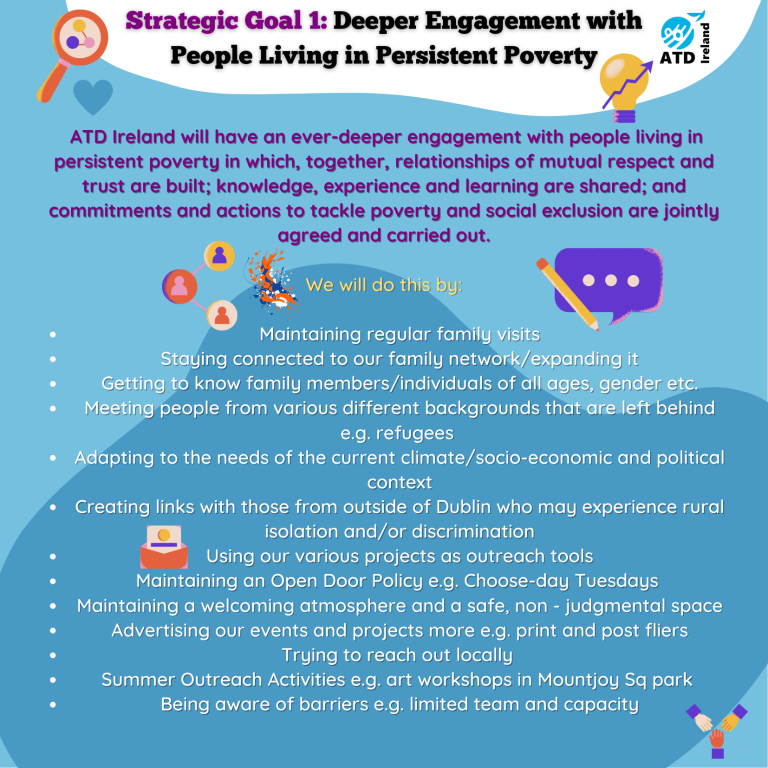 Goal 2: ATD Ireland will continue to support existing partnerships, and build new ones, with community groups, civil society organisations, anti-poverty networks, institutions and public bodies that share its priority aim for the eradication of persistent poverty through challenging perceptions and the public narrative on poverty, advocating for positive policy changes, and building together a better society for all.
ATD Ireland aim to continue to break barriers between all sections of society and create spaces for those with an experience of poverty to have a dialogue with institutions who may have previously felt out of reach. Through this we hope to promote the idea of shared learning and valuing different types of knowledge.
We have recently carried out a poverty aware practise module with Trinity college. We have also begun to make links with academics and who will support us in the #Addthe10th campaign in an upcoming project, designed to define socio- economic discrimination, currently in preparation.
ATD Ireland are part of the #Addthe10th alliance, a group of NGO's, community and voluntary organisations working to have socio- economic status recognised as the 10th ground in the equality legislation.
We are also part of the 17th October Committee which organises the Dublin event for the UN Day for the Eradication of Poverty every year.  As part of the 17 October Committee we also reach out to local groups across Ireland who are having their own events to mark the 17 October.
We will also be making an active effort to be a collaborative organisation and uplift the work carried out in other local groups and learn from them, particularly through our upcoming Leave No One Behind series 3 project.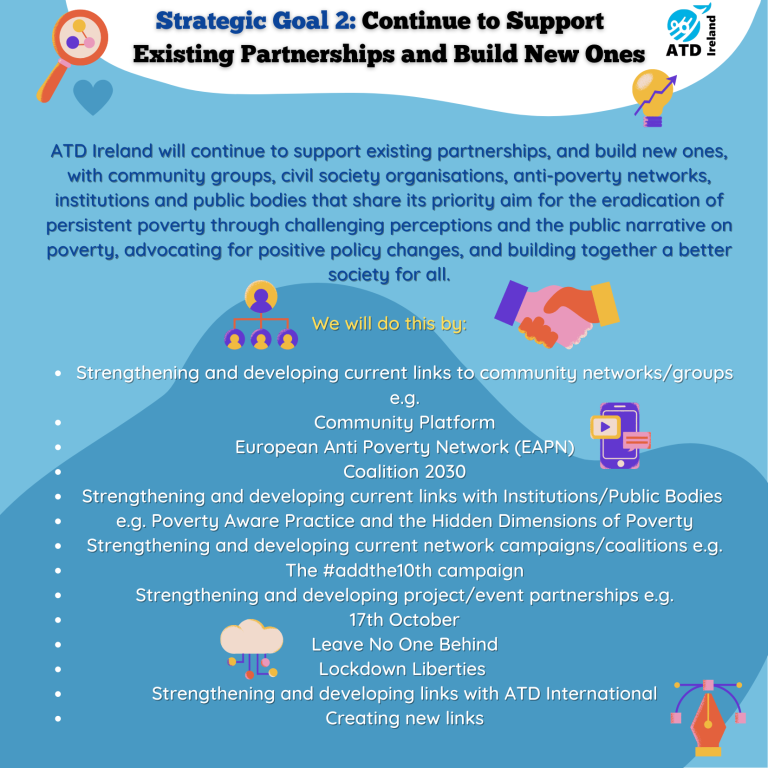 Goal 3: ATD Ireland will increase and develop the involvement of young people in its community life and work.
Our members have expressed to us the importance of reaching out to young people who are often unfairly discriminated against and are in need of support.

Reaching out to young people is also vital to ensure the sustainability of ATD Ireland. Young people also unique insights and passion for issues such as climate change, LGBTQI+ issues and Black Lives Matter that are very close to and interconnected with the values, mission and work of ATD.

We have decided to make youth a primary focus of our upcoming film project on socio- economic discrimination; Through Our Lens at Last: The untold stories of socio- economic discrimination. In support of this we have begun reaching out to local youth groups to offer a chance for them to be involved. We also have been taking part in youth actions and events carried out by ATD Europe.
Goal 4: ATD Ireland will develop its fundraising capacity and a donor base
We currently have a working group in place focused on raising our profile and building our donor base, which has begun working on ways to reach out to larger funders.


We hope to continue working on these goals over the next few years with the active involvement of everyone in ATD. We are also committed to learning as we go and taking actions which best serve our community and work to create a better society for all.