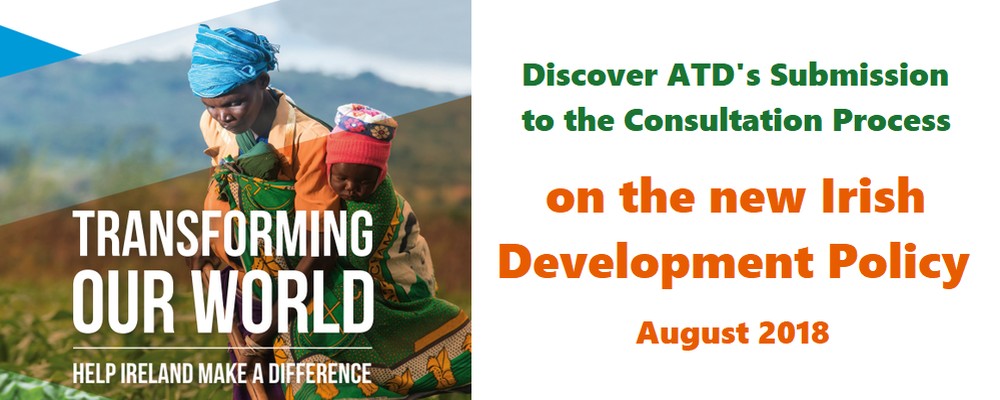 On budget day 10 October 2017, Minister Simon Coveney, T.D., Tánaiste and Minister for Foreign Affairs and Trade announced  that Ireland will produce a new international development policy in 2018.
On 12 July 2018 Mr. Simon Coveney, T.D., Tánaiste and Minister for Foreign Affairs and Trade and Mr. Ciarán Cannon, T.D., Minister of State for the Diaspora and International Development launched a public consultation process, inviting written submissions in response to the public consultation paper, and encouraging participation in public meetings to take place in September and early October.
The global context has evolved significantly over the past five years. A series of new international policy frameworks under the Sustainable Development Goals provide a comprehensive framework for international cooperation and global policy making for development and humanitarian action.
Ireland is recognised internationally for its commitment to the reduction of poverty and vulnerability.
The policy development process is an opportunity to bring the Irish public into the discussion, to engage them on the global challenges facing Ireland and developing countries, and build a whole of society approach to international development.
The public consultation will take place from July through early October 2018. There will be opportunities for the general public, the development community in Ireland, and partners and stakeholders in developing countries to give input to policy development.
At the end of August 2018, ATD Ireland submitted a first contribution in the consultation process. This submission is entitled:
Prioritising and supporting the active participation
of people with lived experience of poverty
to strengthen Ireland's contribution
to a more equal, just and sustainable world.
Download ATD's submission here!

Key Documents of the Consulation Process
Public Consultation Paper
Sets out proposed directions for Ireland's new policy on international development in 2018, and information to guide public submissions.
Global Ireland – Ireland's Global Footprint to 2025
Outlines the Government's initiative to double the scope and impact of Ireland's global footprint in the period to 2025.
The Global Island: Ireland's Foreign Policy for a Changing World
Ireland's 2015 foreign policy review sets out how we safeguard our peace, security and economic prosperity, and promote reconciliation and cooperation at home. At its core are the protection of our citizens and the promotion of our values abroad.
One World One Future
Ireland's 2013 Policy for International Development sets out the vision of a sustainable and just world, where people are empowered to overcome poverty and hunger and fully realise their rights and potential.