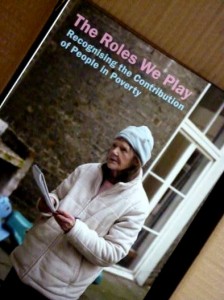 ATD UK www.atd-uk.org, in partnership with artist and photographer Eva Sajovic, is proud to present work from new book:
The Roles We Play: Recognising the Contribution of People in Poverty
This new collection of photographic portraits and self-written biographies explores the roles played by those living in poverty within their families, communities and society at large. The aim is to highlight their efforts, validate their achievements and challenge the negative attitudes often held towards vulnerable and excluded families in the UK.
The Roles We Play: Recognising the Contribution of People Living in Poverty, will be officially launched on UN Day for the Eradication of Poverty (17th October 2014 – see www.17october.ie) at 6.30pm at 198 Contemporary Arts & Learning (198 Railton Road, London SE24 OJT).  Copies of the book will be available and refreshments provided.
The work will be presented in a context of a multimedia exhibition based upon material taken from the book, along with video stations and the opportunity to join ATD UK's interactive digital campaign instagram.com/rolesweplay
The Roles We Play multimedia book project was made possible by support from the Big Lottery Fund Awards for All.
Twitter: @ATDFourthWorld #RolesWePlay