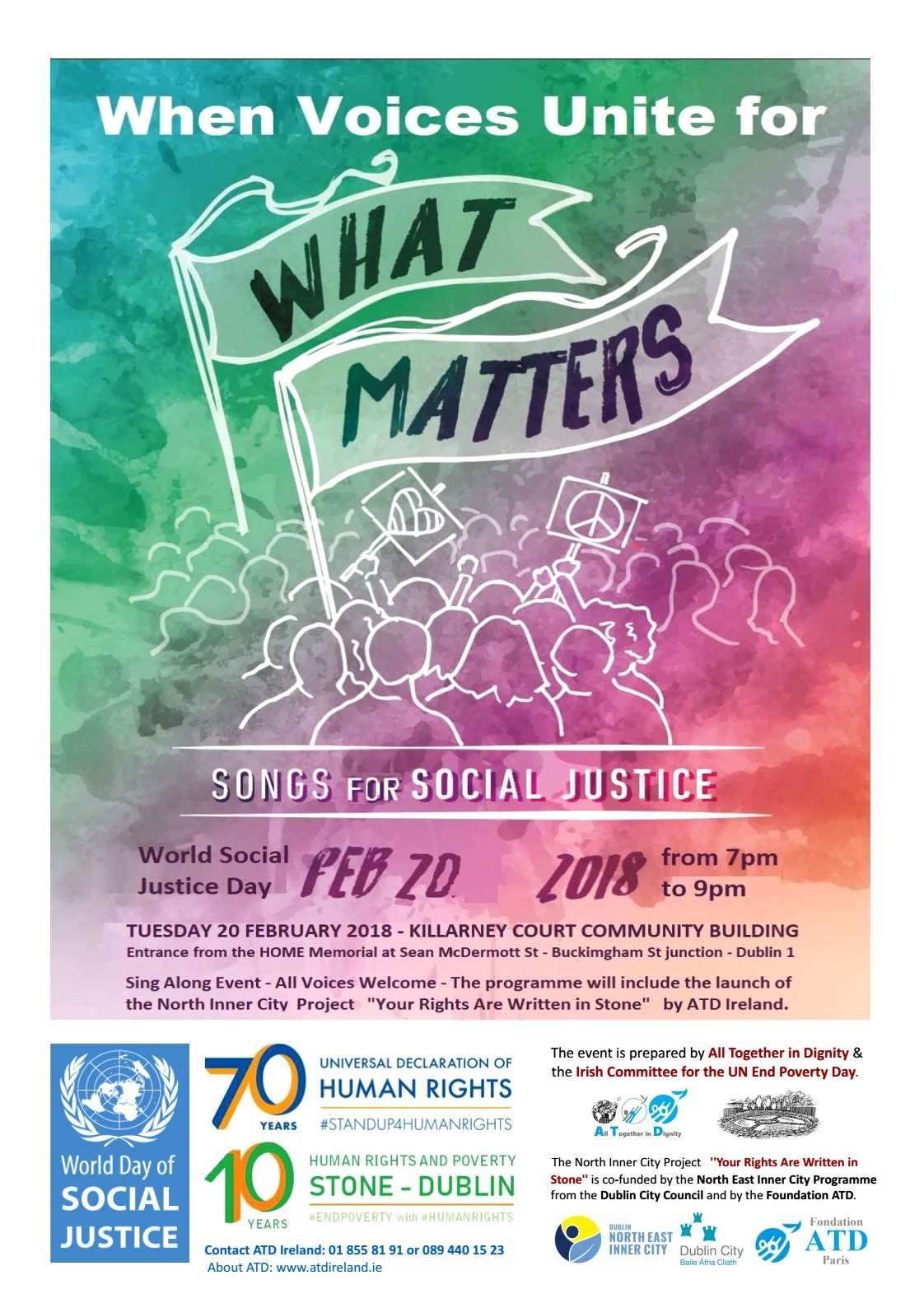 Sing Along Evening – Tuesday 20th February, 7pm to 9pm
In the Hall of Killarney Court
Community Building- Dublin 1
Entrance to the venue via the "Home" memorial plaza
at the junction of Buckingham St and Sean McDermott St
On World Social Justice Day, All Together in Dignity (ATD) invites you to join a "Sing Along Evening" and raise your voice in songs of hope and dignity.
The evening is an informal get together with karaoke, guitars and readings of inspiring texts for social justice activists.
As 2018 marks 70 years since the proclamation of the Universal Declaration of Human Rights (10 Dec 1948, Paris), the evening will also be the opportunity to launch "Your Rights Are Written in Stone", a project by ATD in the North Inner City of Dublin.
Join ATD volunteers and community activists to sing together "We shall overcome", "In the name of love", "how can a poor man stand such times and live", "Keep your Eyes on the prize"… and many more social justice songs!
RSVP for this event: www.eventbrite.ie
Invitation poster to post and share here: Invitation Poster
If you want to prepare yourself to join the songs… here a few recordings performed by our friend Elaine who will help us to sing on the day!
We may also sing "Molly Malone", "Lean on me", "Let it be" and "Something Inside So Strong"
Dirty Old Town
Pride (In the name of Love)
We Shall Overcome
Keep Your Eyes on the Prize
How Can a Poor Man Stand Such Things and Live
Glory
Oró Sé do Bheatha 'Bhaile
Be also ready for a German-French…and almost English song:
And the great finale with Glory!