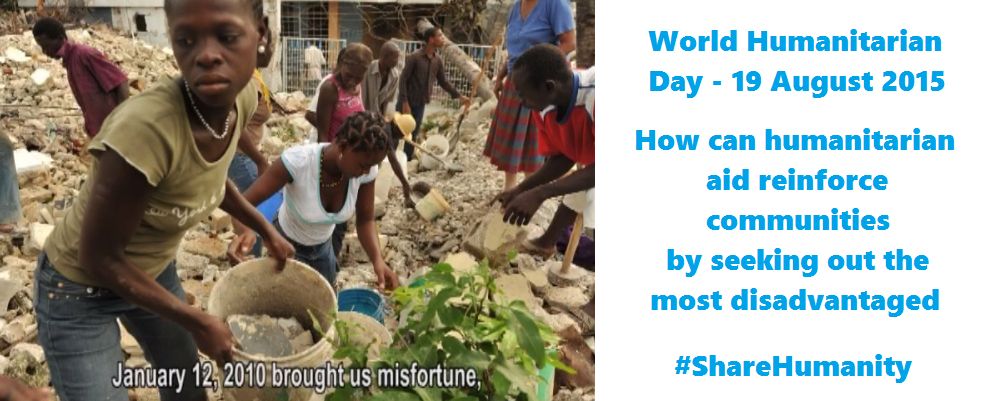 The World Humanitarian Day 2015 will be commemorated on August 19th.
.
On this occasion, ATD presents its contribution to the ongoing international consultation process ahead of the World Humanitarian Summit to take place in May 2016 in Istanbul.
This first World Humanitarian Summit is managed by the UN Office for the Coordination of Humanitarian Affairs UN OCHA and will bring together governments, humanitarian organizations, people affected by humanitarian crises and new partners such as the private sector.
Four main themes have been guiding the consultation process: (1) humanitarian effectiveness; (2) reducing vulnerability and managing risk; (3) transformation through innovation and (4) serving the needs of people in conflict.
If ATD is not a humanitarian organization, it has gained experience of the issues facing the humanitarian world through its long lasting engagement in countries experiencing humanitarian crises such as Haiti, Ivory Coast and the Central African Republic.
ATD is thus calling for:
– A real inclusion of local communities (and not only local leaders) in the decisions affecting them.
– An increasing allocation of aid to local actors to make sure that they drive humanitarian responses based on their experiences.
– A slowdown of the aid process in order to draw constructive lessons from previous dysfunctions, and the adoption of a differentiated approach to humanitarian crises, tailored to local differences.
– A distribution of aid taking into account and reinforcing community solidarity in order to improve the security of both humanitarian workers and affected communities.
– An integration of accountability to local community members in order to support long-term development needs.
.
Click here to read ATD's full position paper! And here to read the Irish recommendations paper.
.
Discover more... Watch this video, prepared by over 100 members of ATD Haiti, telling of the strength and resilience of communities in poverty after the 2010 earthquake. It's a film about promises made and about real changes that have taken place.  The International aid that didn't reach everyone, but people in extreme poverty struggled, working to participate and contribute to building a better future for their country.
In the wake of the 2010 earthquake, people were forced to seek shelter with their neighbors and to accept help from people they didn't know. Entire neighborhoods lost their homes and had to live on the streets, relying on solidarity to survive. It is this solidarity between people living in such difficult conditions that gives people the strength to carry on today.