On Thursday, November 17th, ATD Ireland headed to University College Dublin to teach a two-hour module to social work students. This module is called 'Poverty Aware Practice' and aims as always to center those with experience with poverty and social workers. Four community activists joined us: Paul, Gavin, Lorraine, and Andrew.  The purpose of the module is to give students an insight into what good practice in social work looks like.  This module has been designed to be structured to an extent, yet with some flexibility.  It consists of presentation slides which guided the conversation, however, it was not restricting. The activists had the freedom to explore other topics as they pleased. This is important as ATD encourages the activists to say how they feel in the moment, rather than the testimonies or answers being too scripted. It gives a chance for the activists to respond to the individual student and not follow a strict response. However, they have the safety net of their testimony.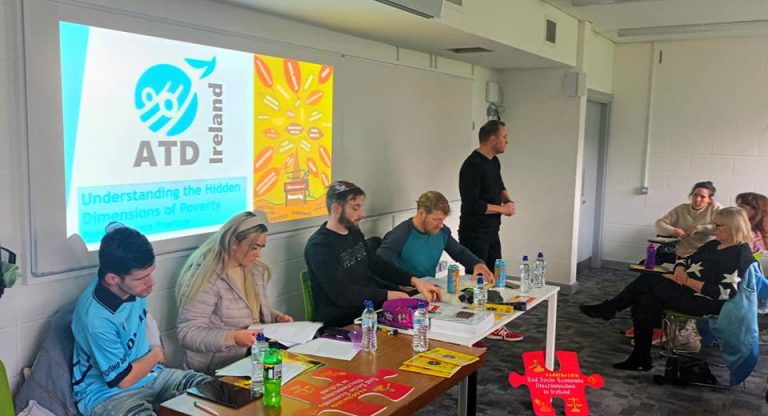 It started with a brief introduction to ATD and then we asked the students to write down a response to the question: What does poverty mean to you? Many answers they came up with included a lack of choices and the other effects of poverty such as on mental health.  We often use our own work as evidence to support an answer to a question.  Andrew, cleverly referred to the Hidden Dimensions of Poverty tree in response to the negative connotations of poverty. He used this to highlight that poverty is not always a gloomy topic and the report found many bright aspects to poverty.  Andrew says "when going through challenging times poverty gave me the tools to cope. It also gave me a purpose in life, to use my experiences to help others"
We also used the "What does poverty mean to you" film to compare to some answers that students gave. 
Along with lived experiences of the social work system, this module is based upon the hidden dimensions of poverty international research.  See here to learn more about our hidden dimensions of poverty educational resource.  See here to read the full international research report.  This research was carried out using methodology in which people lived experience, practitioners and academics work on equal footing as co- researchers.  We recently developed a toolkit to help others interested in conducting similar participatory research.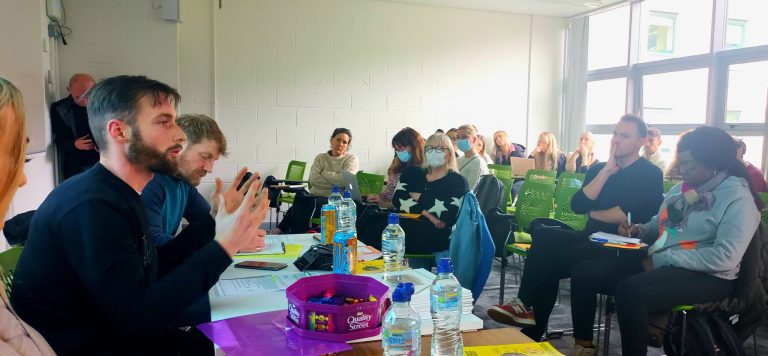 We heard real-life statements about poverty and socio-economic discrimination. Gavin explained his story about the strawberry fields, from If Only You Knew book of short stories. When given the proper care and resources, the strawberries can grow beautifully, but without those resources and care, they are unable to flourish. Andrew also shared a metaphor about a ten-euro bill: even if it is crinkled and stepped on, it is still money and therefore still valuable. The same is for humans, even having experienced bad situations, humans are still human, and therefore should be valued. Lorraine while expressing her personal difficult interaction with social workers as a new mother also expressed empathy and understanding towards the students. " You know it's really important for you as social workers to mind yourself also.. ".  Meeting other students gave her a new perspective on the social work system and showed her how not all social workers are the same.  It has been a real positive experience for her to be able to meet with student social workers who do placements in community organisations.
"The same negative vibe that people have against the social work system, how that makes you guys feel. We feel like that too."
See below a clip of Lorraine outlining her experience of socio- economic discrimination
We also discussed recent learning from community activist Kye who has shared his experiences from the care system.  "When you're a child growing up in care, you mightn't have that like authority figure constantly throughout your life. So who do they turn to?"
See below a clip of Kye from our new film project "Through our lens at last: the stories of socio- economic discrimination untold. 
Andrew explained the #AddThe10th campaign and then we had a break.  It is necessary to pause here to allow the students a time to quietly reflect on the real-life experiences shared with them.  During the break, students, and others who had come to listen were also able to take pictures with the puzzle piece to express their support for the campaign.
After the break, we went over some learning points from recent discussions.  The purpose of this part of the module is to understand the link between the personal testimonies and collective experiences. These included: positive practice, time to build a good constructive relationship, power, feeling judged, and fear.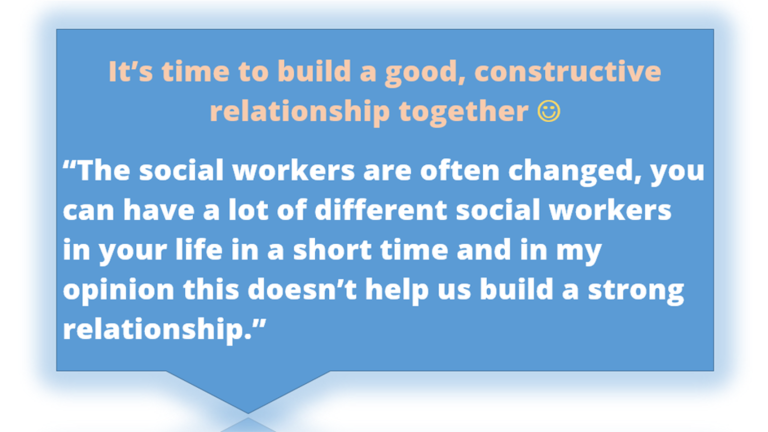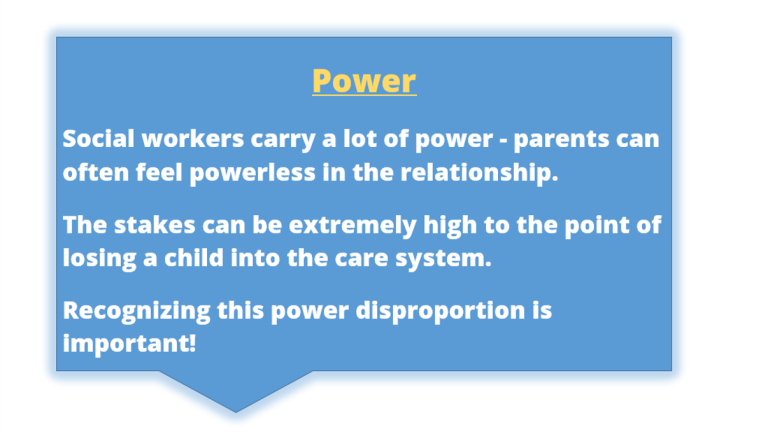 We then asked students to reflect on these two questions: What can you take from today to inform you in future practice? And what are you taking away from today's discussion?  Conversation with the students is encouraged during this final section to allow space for an authentic, natural dialogue to occur.  It is intentional to have the Q& A section at this time when the panel are answering questions based on collective themes.  It is important the activists are not open to be critically questioned during the moment of personal testimony.  Poverty can be a sensitive topic for many people. The activists deserve a safe space to share their stories without judgement and this session achieved that with the methods used to ensure a respectful environment.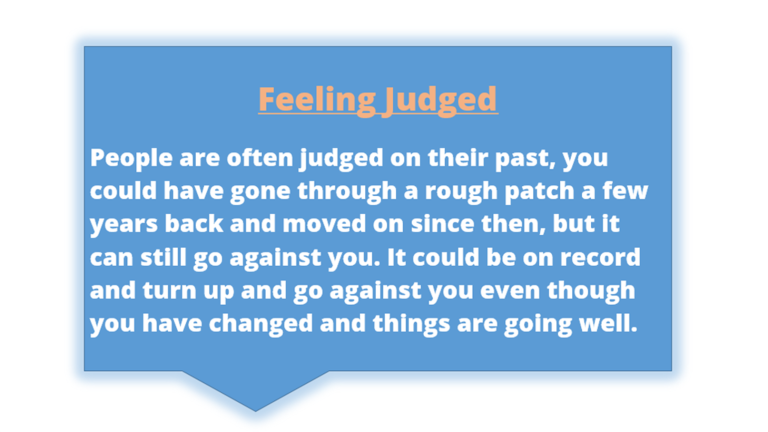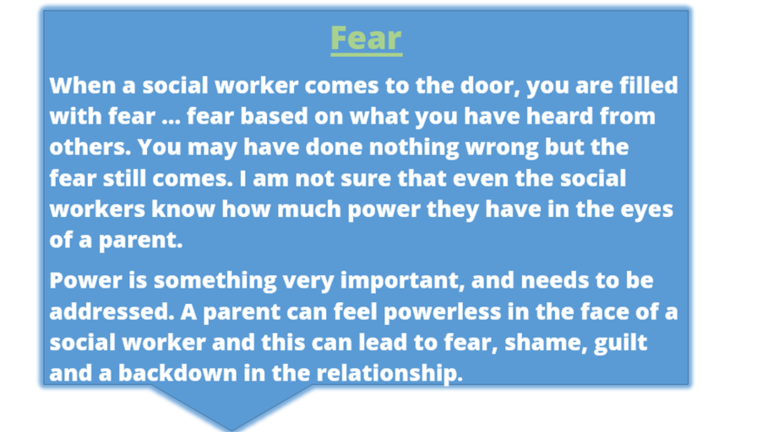 The open flow of conversation created a positive energy around the room. It enabled other topics to come up or for the activists to elaborate on certain questions. it eradicated the lecture format which students are used to and encouraged active participation and listening. 
It was positive to hear that many of these learning points overlapped with what was being already discussed in the class.  We also had further discussions about how social workers can better interact with young people, the stigma attached to the title 'social worker' and the changes to the profession since its inception and the need for social workers to return to an advocacy role.  We also spoke of the reluctance of the media to promote positive practice- we discussed the idea of writing a joint academic article with people with lived experience and students/academics to highlight this positive practice.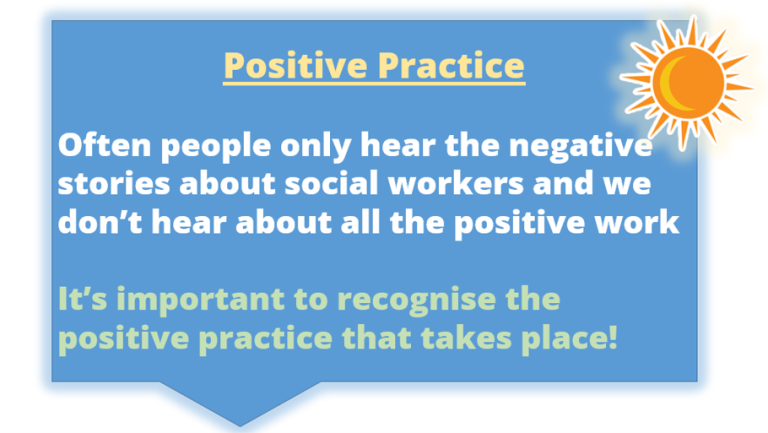 We received lots of positive feedback about the event:
"It really resonated with what we're trying to impart in class and I think the students really got a lot from it. Sincere thanks to Gavin, Paul, Lorraine, and Andrew for the time and insights… invaluable."
Dr. Joe Mooney said: "Students coming back already saying they found it excellent, insightful, and moving."
See below for further reading materials in relation to our poverty aware practice
On 15th November members of the team also presented ATD Ireland's work at TU Blanchardstown at a conference organised by Afri Hedge School and the department of Community Development and Youth Work.  We also gave an introduction to our Poverty Aware Practice' module.  The theme of this conference was 'War and Displacement' and 'Housing and the Cost of Living'.
We also recently presented our Poverty Aware Practice session at an IASW conference.  Read more here. Further, see a short film of us carrying out the poverty aware practice session with students in Trinity college Dublin below.
Thank you very much to UCD, TU Blanchardstown, IASW and Trinity College for collaborating with us and also for supporting the #Addthe10th campaign.  We look forward to hopefully working with you more in the future.  We hope to return to UCD to present a second installment of the module after the social work students have gone out on placement.  Thank you so much as always to the community activists for taking part in these events.
If you are interested in having us carry out the poverty aware practice or hiddens dimensions of poverty module within your organisation, contact dann@atdireland.ie for further information.