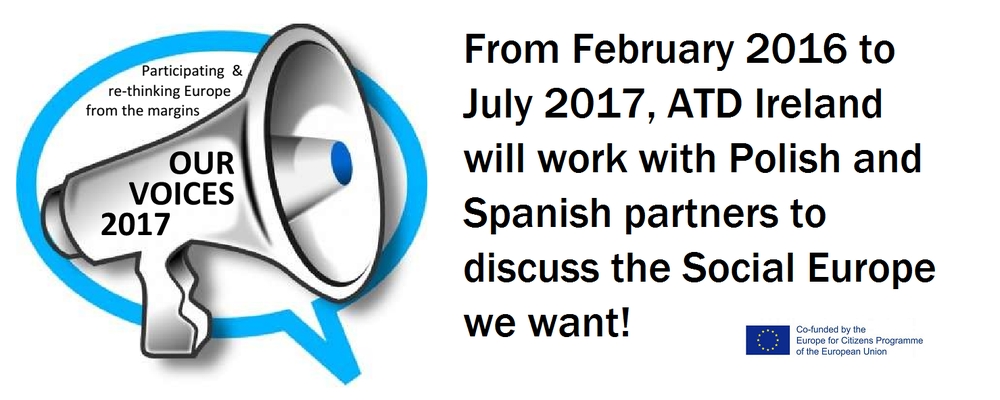 ATD Ireland is pleased to start a European project co-funded by the Europe for Citizens Programme.  "Our Voices 2017" is a project aiming to deepen discussions on the future of Europe, underlining the idea of an inclusive social Europe, which is emphasized in the European Social Charter (ESC) and the EU Charter of Fundamental Rights (CFR) and enhancing participation of people living social exclusion situations on those debates.
The relevance of the project is related to the increasing distance from European Union Institutions which a lot of the population in different European countries are experiencing, especially among those who live in poverty.  It is essential to open a process in which people struggling with poverty and social exclusion can discuss the social and human dimension of the European construction and contribute to a better promotion and implementation of two of the fundamental European agreements (ESC and CFR).
The objectives of "Our Voices 2017" are:
 To promote a participatory process on EU social principles including people living in social exclusion and/or poverty.
 To spread the contents of CFR and ESC and the work of the EU Agency Fundamental Rights and the European Committee of Social Rights.
 To produce collaborative knowledge on social difficulties and policies in EU countries as well as proposals  to overcome  them.
 To develop effective recommendations and proposals to build a more inclusive Europe for everyone.
1 Project – 3 Countries – 4 Partners
The partners of ATD Ireland are:
Download the Full Presentation of this 18 months project! 
Like the project Facebook Page! Follow the project Twitter feed!