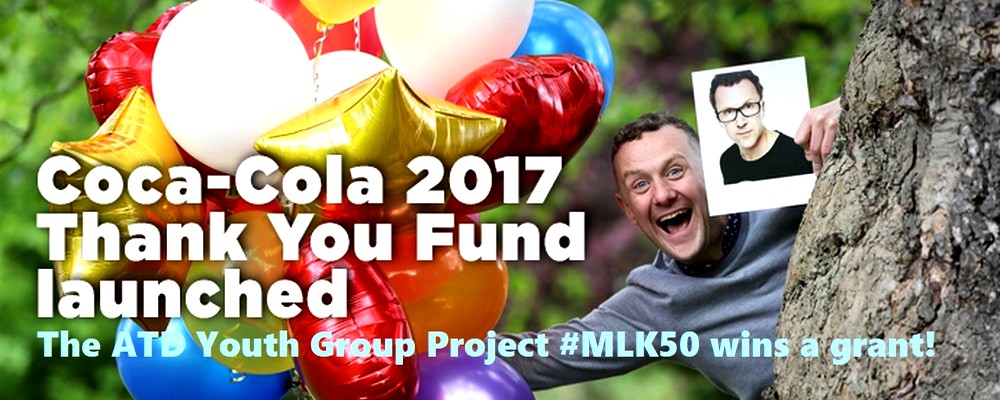 'It's about giving young people a voice' said PJ Gallagher at the Thank You Fund 2017 launch. 'Coca-Cola's objective was to find projects that would inspire and support young people, and there is no doubt the recipients will do exactly that. I am humbled by the people working in communities throughout the island of Ireland," he added, "and believe that the impact of the work they do with young people has an immeasurable impact on our society"
On 12 October 2017, comedian and Thank You Fund Ambassador, PJ Gallagher awarded ATD's Youth Group with a grant of €5,000 to run the project "Ireland, I Have A Dream"!
Coca-Cola has announced the recipients of its 2017 Thank You Fund, a €100,000 purse which recognises the work of community organisations, non-profits and other groups in Ireland and Northern Ireland. The presentations were made at Zeminar, a youth conference event taking place at the RDS in Dublin. 14 groups in total received funding, for their innovative projects in supporting and inspiring young people. Among the groups arwarded are: The Little Museum of Dublin, An Cosán, Leave No Trace Ireland, Oasis Caring in Action Antrim.
We are proud to announce that the ATD Youth Group (the new UC youth Group – Unity in the Community) has been chosen too!
Here is a video the group prepared to pitch for their project:
About the project
'Ireland, I Have a Dream' will invite young members of deprived communities to write a speech inspired by Martin Luther King's legacy.
4th of April 2018 marks the 50th anniversary of MLKs death and although he is most famous for his work in civil rights he was also an anti-poverty activist.
Through this creative writing process we want young people to find strength in sharing their experiences, finding their individual and collective voice with the aim of empowering participants and inspiring others to keep fighting to stop poverty.
Martin Luther King was a role model and leader to millions. His speeches empowered people to find their voice and come together to take action. There are far too many young people living in persistent poverty in Ireland. The  project is to help young people to learn about MLK and use his legacy as a source of inspiration and empowerment.
We aim to encourage them to find their own voice, share their dreams, become leaders and ultimately role models for others through the active participation in a creative writing exercise. Participants will be encouraged to write about the dreams they have to stop persistent poverty in Ireland through the context of their own story.
During 'Ireland, I Have a Dream' the Youth Groupe "Unity in the Community" will empower other young people living from deprived communities, facilitate a series of creative writing workshops and organise an  event on 4th April 2018 to present all the "Ireland I have a dream speeches".