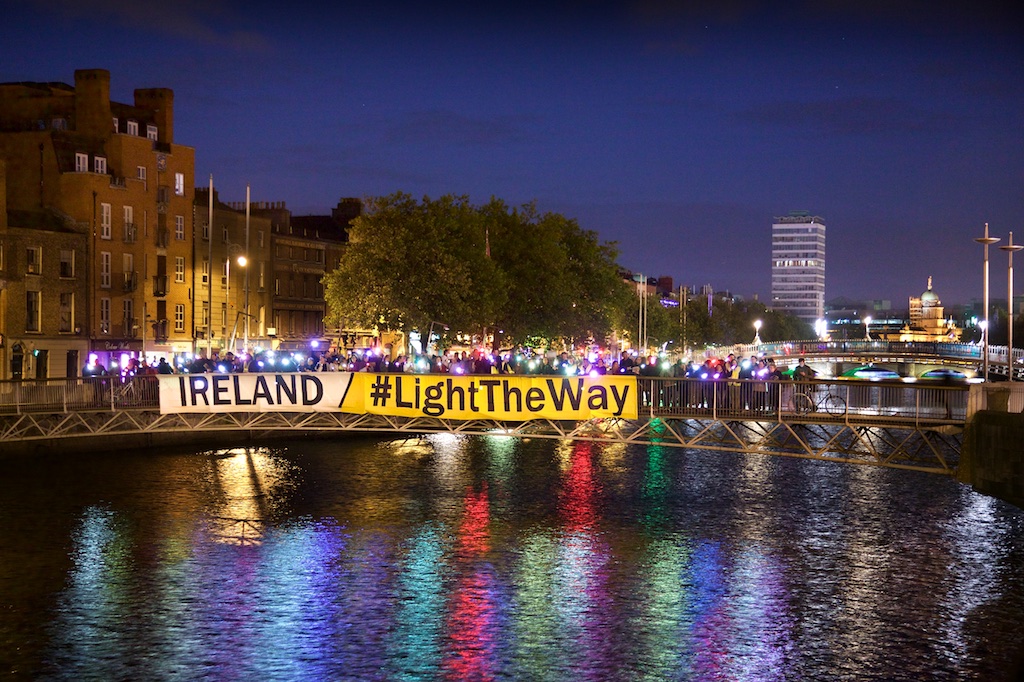 Over 150 people from all walks of life gathered on the Millennium Bridge in Dublin at 8:00pm on Thursday 24th September to join citizens around the world in calling on governments to commit to the new Sustainable Development Goals and tackle the most urgent issues of our time – poverty, inequality and climate change.
The event was one of over 150 taking place in cities globally as part of action/2015's #LightTheWay action ahead of the historic gathering of world leaders in New York, on 25 September, for the adoption of the Global Sustainable Development Goals.
Ireland has played a key role in the process of negotiating these new "Global Goals", acting as co-facilitators with Kenya of the high level international negotiations in New York over the past year.
In a message of support the President Michael D. Higgins said: "It is my hope that by 2030, we will look back on the 25 September 2015 as a decisive moment in global history. It is the task of all of us – elected representatives, NGO workers, students, activists and concerned citizens – to ensure that governments genuinely implement the post-2015 sustainable development agenda and the interlinked climate action plan that will emerge from COP21 this December in Paris, and that they put monitoring in place that will enable us all to turn the agreements into a reality for this and future generations."
The Minister for Overseas Development, Trade, and North South Co-operation, Seán Sherlock TD said: "The new Sustainable Development Goals can mark a turning point for humanity. They provide us with a comprehensive plan for a fairer world for all, while caring for and protecting our planet. I am immensely proud of Ireland's role in this process – as co-chairs (with Kenya) of the final negotiations. The new Goals were informed by citizens of many countries; and it is only through continued citizen engagement that the Sustainable Development Goals will be achieved. I am therefore delighted to see so many gathered at this Light The Way event. I join you in welcoming the Sustainable Development Goals, and calling for their full implementation."
Eoin O'Liathain, one of Ireland's first ever UN Youth Delegates who will participate in the UN Summit in New York said: "These new global goals affect and unite us all. Their adoption is a momentous and proud moment in world history. For a planet where more than half of the world's population is under 30 years old, young people in particular will have an essential role in bringing about the transformative change which the goals promise. Failure to act will have grave consequences for all our futures. These new goals are lighting the way forward, everyone must work to make them a reality."
Speaking on behalf of the coalition who organised the event, Robin Hanan, Director of the European Anti-Poverty Network Ireland, said: "We are on the brink of something historic. This is a once-in-a-generation agreement to tackle the most pressing issues of our time, poverty, inequality and climate change. It is crucial that our leaders commit to these Goals and take urgent action to deliver an equal, safe and secure future for all citizens both here in Ireland and worldwide.''
The #LightTheWay action involved tens of thousands of people and was backed by high profile figures such as Desmond Tutu, Malala Yousafzai, and Stephen Hawking. Events took place around the world throughout the day. The gathering in Dublin was the last in Europe before the final light show `under one sky' in Dag Hammarskjold Plaza, a stone's throw from the UN building in New York.
Full message from President Michael D. Higgins
ATD's  open letter to Taoiseach Enda Kenny for the occasion of the UN Summit for Sustainable Development
Message to the members of ATD worldwide for the occasion of the adoption of the 2030 Agenda
Members of the coalition supporting #LightTheWay include: Dóchas, Irish Development Education Association (IDEA), Challenging the Crisis, Trócaire, Oxfam, the National Youth Council of Ireland (NYCI), All Together in Dignity (ATD) Ireland, European Anti-Poverty Network (EAPN) Ireland, Age Action Ireland, Comhlámh, Claiming our Future, 350.org, People's Climate Ireland, Just Forests, Shamrock Spring, Amawele Ireland, Tearfund, WorldWise Global Schools, and Global Schoolroom.