Two young people have recently completed internships with ATD Ireland and spoke about their experiences and the knowledge they have gained.  Initially, being drawn to ATD arose from a passion for human rights and equality and a desire to have more enriching experiences with people from diverse backgrounds.  "Attracted by diversity and fascinated by multiculturalism, I applied for an internship with ATD Fourth World".
Courage and generosity of activists
An internship with ATD exposes the courage of community activists and those in poverty in sharing the intimate details of their stories and life experiences in the hopes that their honesty might benefit others. "I was really impressed by the courage of activists who stand up to talk about poverty and their experience of it in front of students, teachers and even ministers!"  The activists show such generosity in sharing these details, and this generosity in many cases also extends to their time, energy and knowledge. "Many of the people are incredibly motivated to give back to their communities and this is a rarely acknowledged aspect of poverty and disadvantaged communities".   This is all the more remarkable when you begin to learn and understand how draining the experience of poverty can be. This also reflects the confidence building aspect of ATD and mutual trust built with activists over a long- term sustained period of time.  This shows how sometimes, "there can be more value in fostering long- term relationships with a few people rather than consistently focusing on expanding the organisation".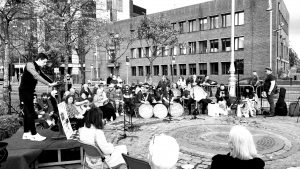 Art and literature
The art and poetry projects were important for gaining a different perspective on poverty and discrimination. Art is a method of translating the emotive experience of poverty such as the trauma, stress and shame, which is often unrecognised.  'It was a great chance for me to let myself be inspired by their words to paint some quotes. Some of them still resonate in my spirit "How the beauty of a poem can free one from hell" "You see the man on the corner all he wants for Christmas is to be warmer" "Choose to wear a smile"'.
These projects also set out the importance of recognition in art and changed our understanding of what artistic and cultural spaces could and should look like.  "It was inspiring to know that you can create something valuable even if it's not something you feel that you are very knowledgeable in or never had the opportunity or confidence to engage with before".  This allows art to become more accessible to all and allow more people the opportunity to find art that they can connect with and feel validate their experiences. "Those with an experience of poverty have the right to comment on their own lives but also to set out their perceptions on society as a whole".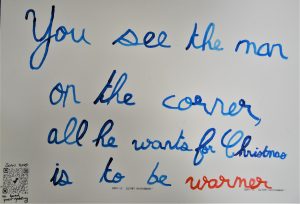 Inclusion and participative democracy
The way that ATD operates could be considered a framework to be replicated by society as a whole.  Those with an experience of poverty have an opportunity to be involved in all stages of a project- from the ground up, often taking the lead.  One example of this is the hidden dimensions of poverty research which involved people with an experience of poverty co- designing the research.  "I previously would not have considered bringing people into the research design process beyond including them as research participants".  A core aspect of ATD is inclusive decision making, creating a pleasant work environment and this in turn leads to more effective outcomes.  This philosophy could really transform society and reduce inequality if adopted at a larger scale such as in law and policy making.   "How can we make good policies to fight against poverty without hearing from people who have experienced poverty?"
Merging of knowledge
An important aspect of this is empowering people with the knowledge that they have a role to play in improving society.  The fact that everyone's opinions are encouraged including interns, volunteers, team members, coordinators, community activists and families alike creates an environment where we can collectively learn from one another.  "This can boost confidence, not just for those with an experience of poverty". Recognising different types of intelligence and skills goes a long way towards that empowering process.  These skills can be gained not only despite living in poverty but also as a result of living in poverty.   "ATD recognises everyone's knowledge coming from their background", in particular that those with lived experience are the true experts on poverty.  Similarly, ATD takes a wholistic approach to the work from family support to policy work to creative projects.  "Rather than being separate endeavours these projects are carried out in conjunction with one another and each informs and progresses the other".  Working in a grassroots organisation allows for the opportunity to become involved in a variety of different tasks and develop skills in a number of areas.  This also creates a dynamic and interesting work week.
17th October
Participating in the 17th October event was a powerful experience for the interns.  "The testimonies of people who experienced poverty were really emotional and touching".  It acted as a reminder to always keep the human impact of poverty front and central.  It was also incredibly inspiring and motivating to see the solidarity between individuals and groups across Ireland.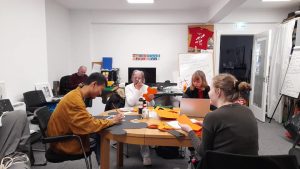 A lasting impact
Ultimately whether, it was a short or long- term encounter with ATD, the experience and connections made will have a long-term impact on the interns.  The wisdom gained has made a lasting impression upon worldview and will certainly impact on future endeavours.
Click here to learn more about getting involved with ATD Ireland