ATD is organising a number of different events to mark Human Rights Day 2015, which falls on 10th December.
In the lead-up to Human Rights Day, ATD will welcome two special international guests to Ireland, who will be involved in the organisation's events between 7th and 9th December: : Janet Nelson – who, after many positions within UNICEF, recently became Vice-President of ATD International; and Bruno Tardieu, a member of ATD International Volunteer Corps, who has worked in the USA and France, and is the author of a new book about ATD.
To kickstart ATD Ireland's programme of events for Human Rights Day 2015, there will be a special informal meeting between Janet Nelson and Bruno Tardieu on Monday, 7th December 2015, at 5pm at ATD's office, 26 Mountjoy Square East, Dublin 1.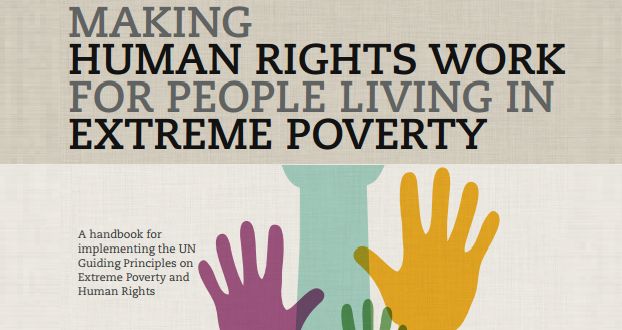 Main event of the programme will be the launch of the international Handbook "Making Rights Work" at which Emily Logan, Chief Commissioner of the Irish Human Rights and Equality Commission, will deliver a guest address.
In partnership with Misean Cara and the SVP Ozanan House, ATD will host the Irish launch of a new handbook, 'Making Rights Work for People Living in Extreme Poverty'.
The handbook is focused on the implementation of the UN guiding principles on extreme poverty and human rights, and was launched internationally in Geneva in September (you can read more about the Geneva launch here).  It is intended as "a practical tool for social workers, policymakers, civil servants, law enforcement officials, teachers, healthcare providers and human rights advocates working at the local level to ensure that public policies reach the poorest members of society and respect and uphold all their rights".
The Irish launch of the handbook will take place at Ozanam House, 53 Mountjoy Square West, Dublin 1 from 11am to 1pm on Tuesday, 8th December.  Emily Logan will deliver a guest address at the event, alongside:
Heydi Foster-Breslin – CEO in Misean Cara and Human Rights and Equality Commissioner
Janet Nelson – Vice-President of ATD International
John Mark McCafferty – Head of Social Justice and Policy – SVP
Cecilia Forrestal – Director, Community Action Network
To register to attend this event, click here.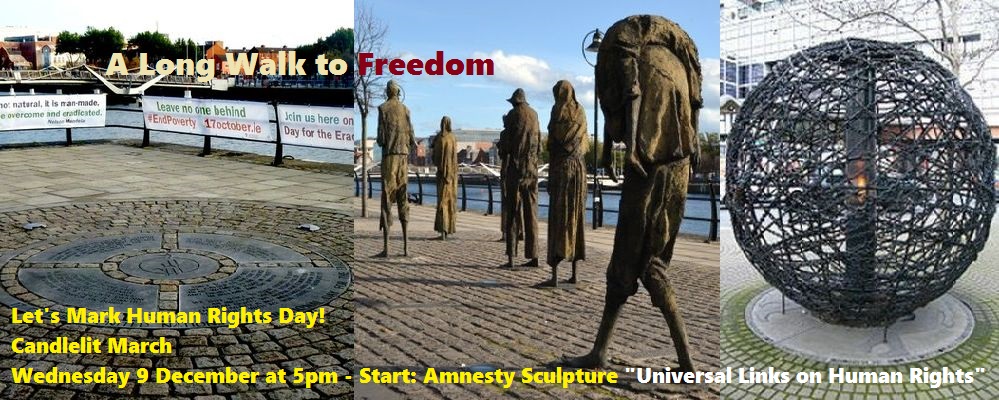 Later, on the eve of Human Rights Day 2015, ATD is inviting citizens of Dublin to join them for a symbolic 'Long Walk to Freedom' with lights and LED candles.
The walk will start at 5pm on Wednesday, 9th December, at the 'Universal Links on Human Rights' (on the traffic island at the junction of Amiens Street and Memorial Road, close to Busáras and the Customs House in Dublin 1).  The walk will proceed to the Famine memorial statues on the north quays, and will end at the Human Rights and Poverty Stone.
The walk will #LightTheWay on the 17 #GlobalGoals of the #2030Agenda. The 15 years journey to achieve the Goals will be a long journey to free all human beings from the fear of Poverty! For all of us they will be a long journey to freedom, as noboby is is free until we are all free! The #GlobalGoals are for sure part of the legacy of Nelson Mandela! He will be marching this  symbolic 'Long Walk to Freedom' with us wherever he is!
Updates about the walk here.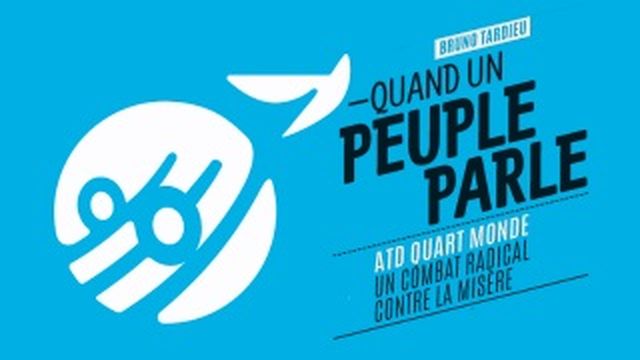 A fourth and bilingual (French / English) event is planned on the previous day, Tuesday, 8th December.  Bruno Tardieu will discuss Human Rights and Climate Change issues when presenting his new book about ATD, 'Quand Un Peuple Parle' ('When A People Speak') at the Alliance Française, Kildare Street, Dublin 2 at 6.30pm.
Updates and registration for this talk here.
More news and suggestions to mark 2015 Human Rights Day in Ireland are available on www.makerightsreal.ie