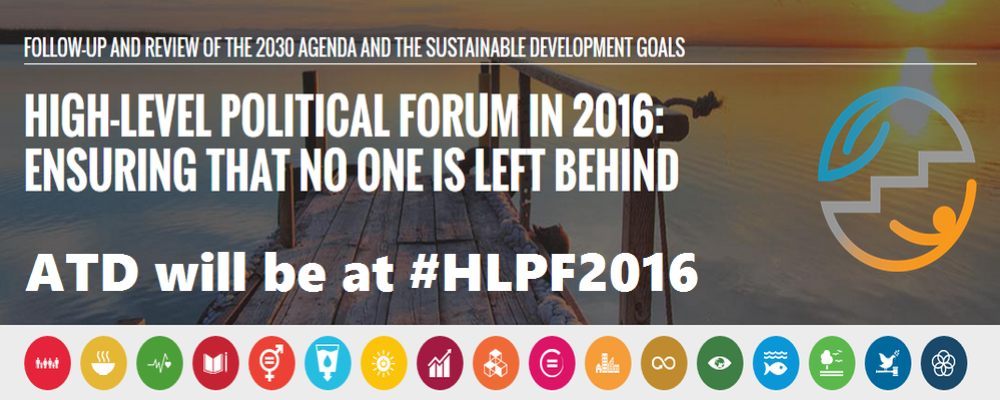 The High-level Political Forum on Sustainable Development (HLPF) is United Nations central platform for the follow-up and review of the 2030 Agenda for Sustainable Development and the Sustainable Development Goals, adopted at the United Nations Sustainable Development Summit on 25 September 2015.
The HLPF will take place from Monday 11 to Wednesday 20 July 2016 at the  New York in New York.
The Forum, which adopts a Ministerial Declaration during the Ministerial days from 18 – 20 July, is expected to start effectively delivering on its mandates to provide political leadership, guidance and recommendations on the 2030 Agenda's implementation and follow-up.
ATD International prepared a "Leave No One Behind" Statement ahead of the HLPF.
ATD also contributed to the preparation of the official programme events and some side-events:
Wednesday 29 June:  Leave No One Behind Dialogue Series
Monday 11 July:  ATD spokeperson at the UN Cristina Diez will speak at the "Ensuring that no one is left behind – Lifting people out of poverty and addressing basic needs" debate. (8pm Dublin time) – Read her presentation here.
Friday 15 July: Informal working breakfast "Genuine stakeholder engagement for effective implementation and review: the national level lens".
ATD will also take the floor at events on:
Monday 18 July:  "Walking the Talk: Transformative Pathways for Achieving the SDGs" co-organised by UNRISD, the Permanent Mission of Sweden and the Permanent Mission of Uruguay.
Tuesday 19 July:  "Ensuring no one is left behind: the importance of policy coherence for sustainable development" organised by Government of Sweden and Mexico and a coalition of think tanks which includes the World Resources Institute (WRI), Organisation for Economic Co-operation and Development (OECD), European Centre for Development Policy Management (ECDPM), European Environment Agency (EEA) (tbc), German Development Institute (DIE)
In Ireland, ahead of the HLPF, ATD focused on the call on Irish TDs to take steps towards a  national implementation plan of the 2030 Agenda!