"We at All Together in Dignity Ireland aim to promote a sense of community by extending the values of respect, empathy and dignity to all and in particular to those with direct experience of poverty.

ATD welcomes everyone. It unites people whatever their origin, social status, culture or beliefs to fight against poverty. In building trust, solidarity and friendship, all have a place to realize their full and best potential. By working together and learning from each other, everyone is free to express themselves without being judged.

With this in mind, we strive to create a safe, open and creative environment for individuals to join hand in hand in harmony and help to realize that no matter how dark the cloud may seem, they are not alone.

There is always HOPE."
Team members, Ciara Margolis and Paul Uzell, were delighted to represent ATD Ireland with a stand at the Health Promotion Fair organised by ICON on Friday, 7th of June. This event took place at St Agatha's Hall, Dublin 1 and was open to the general public.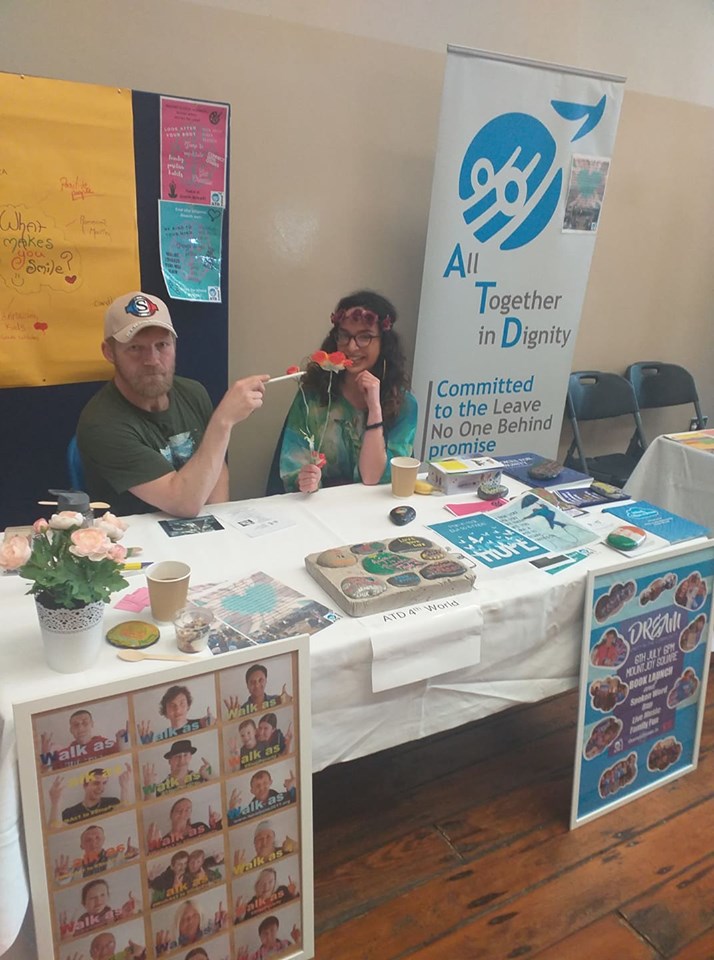 Whilst the focus of the day before had been on physical health (with several free health checks as well as acupuncture and physiotherapy available), the fair on the 7th was very much about mental health and the promotion of mental well-being.
There were a number of stands which catered for free self-care services, such as haircuts, eyebrow threading, manicures and Indian head massage. These were busy and bustling throughout the day, but were also very efficient – with the co-ordinators making sure everyone who wanted, got their turn. It was a great idea to offer these feel-good services, free of charge in order to encourage positive mental health for all. Everyone deserves to feel groomed and well-maintained no matter what's going on inside their mind or how little money they have in their pocket.
The other stands consisted mainly of N.G.Os and charities that wanted to advocate for the importance of a healthy mind through both verbal and non-verbal information. Although ATD Ireland is not primarily a mental health organisation like some of the other organisations participating, it does place an importance on uniting people in their struggles and providing resources that encourage them to come together and stand strong. Through our various projects that mainly revolve around individuals from the most marginalised areas in Dublin, working alongside  others to get their voice heard – we aim to emphasise the importance of community. Though creating a warm and non-judgmental atmosphere, led by empathetic people we also aim to emphasise the importance of openness. These were the two core ATD values we led with at our stand.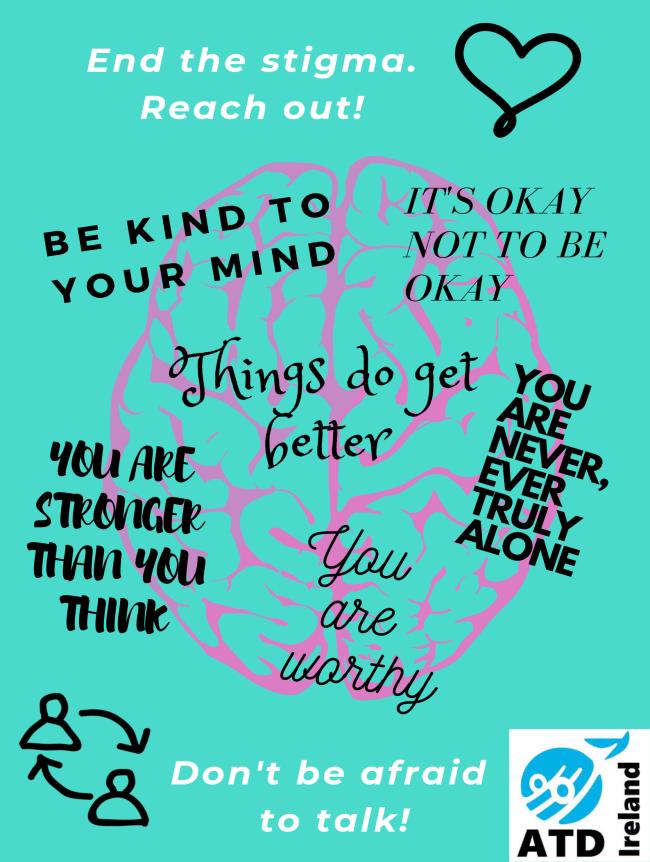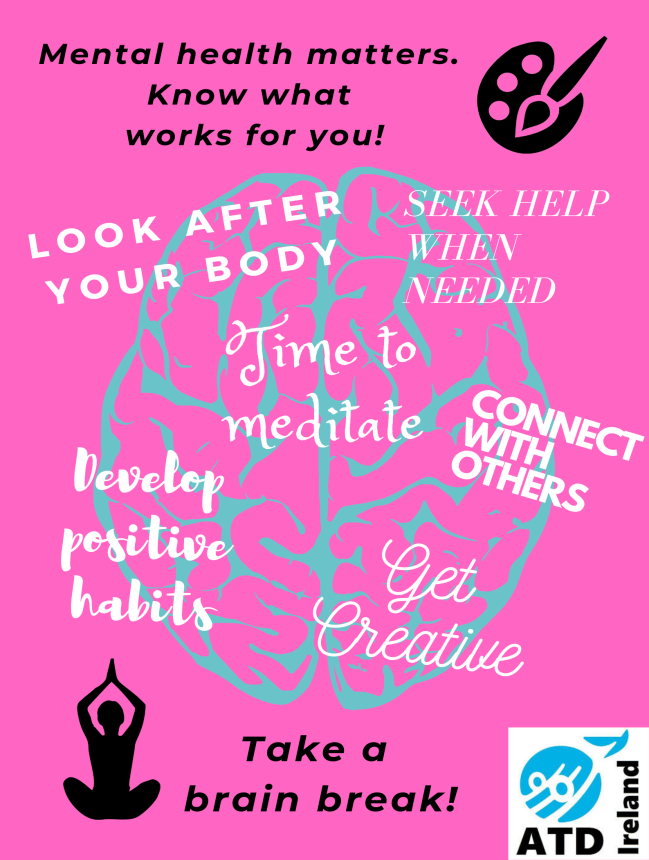 We created two main posters to help spread our message, which were laminated and stuck up on the wall behind our stand. On the first poster, we gave examples of positive quotes and affirmations for people who may be struggling to remember e.g. – 'You are stronger than you think'. On the other poster, we gave examples of positive ways for these people to help feel better e.g. 'Look after your body'. These were related to the strengths we believe ATD has when it comes to promoting better mental health e.g. connecting with others and being creative whenever possible.
Alongside printouts of our main posters, we also printed 15 different, motivational quotes/pictures that people interacting with us could take, depending on which one's they liked/ related to most. On the back we wrote simply – "You are so special, Love from ATD', in order to remind everyone how unique and important they really are.  By the end of the day, all the posters were gone, with many people taking some to decorate their walls at home with.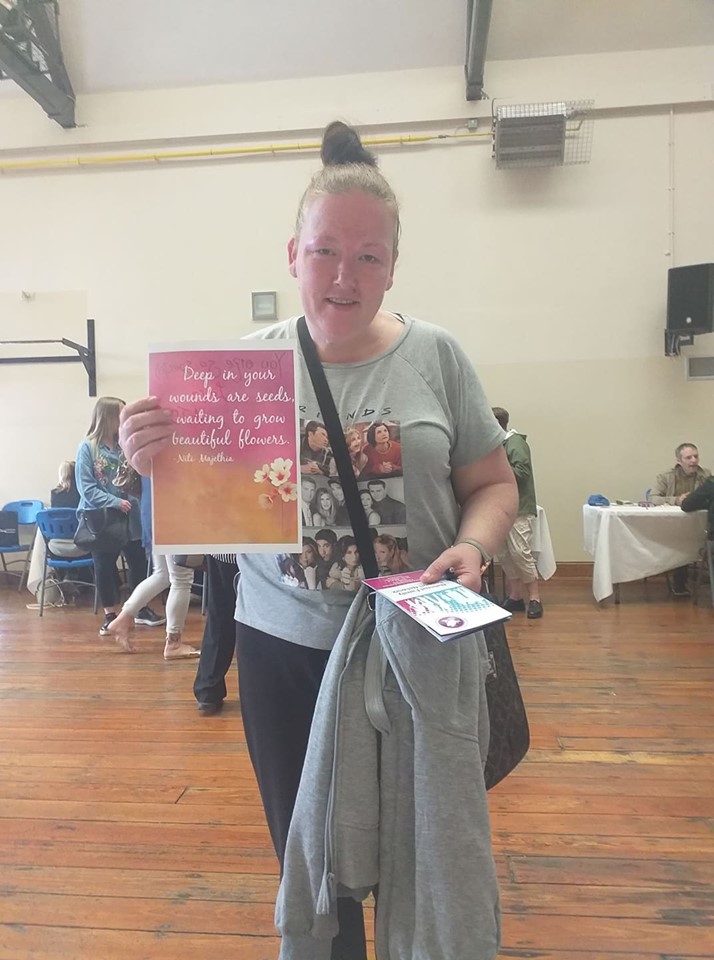 In order to further express how the work of ATD connects to the core values of openness and community, we took along with us 'two' main examples of previous ATD projects which brought people together and got them talking. One was the 'I Have a Dream' booklet which consists of stories, poems, spoken word etc. created by a wide range of young people in Ireland (mainly from disadvantaged areas) describing their hopes, dreams and aspirations for the future. This was led by the Unity in the Community Youth Group of ATD Ireland in 2018. The other was a sample of a stone slab containing several written/drawn on stones, created (by over 600 people, over several years) as part of the 'Your Rights are Written in Stone' project  of ATD Ireland. In this program, we brought together many different types of children/adults, through many different events, to share messages of hope and resistance – through the medium of stones.
All in all it was a very successful and enjoyable event.  Our stand proved popular, with the public eye being drawn to our colourful display and open demeanours. Whilst many conversations were light, bright and informative, several of the conversations held with regards to mental health were also long, deep and emotional – meaning that bonds were being made and real connections being formed! We also had a large piece of paper hung up behind us, with the words 'What makes you smile?' in the middle, leading people to think of and share with us the positive things in their life, which mainly seemed to revolve around 'family'.
We look forward to continuing to promote mental health awareness and positive mental well-being, wherever we go. The stigma must end!