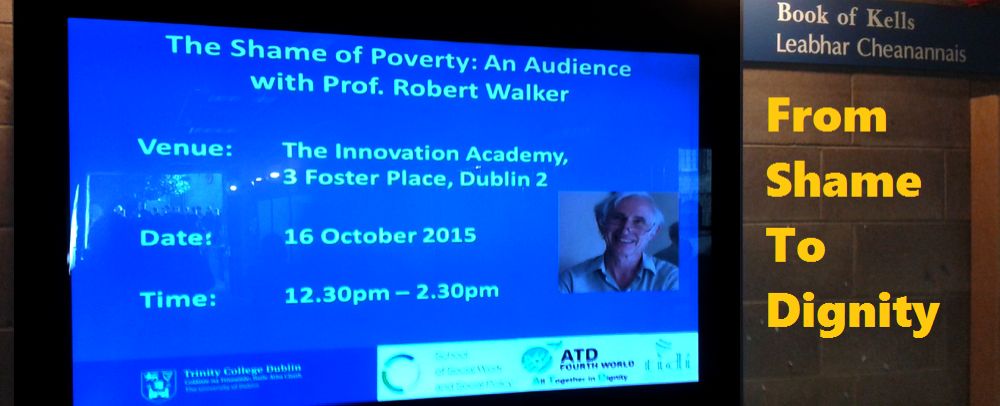 Book now here!
To mark International Day for the Eradication of Poverty, the Trinity International Development Initiative (TIDI), in partnership with the School of Social Work & Social Policy, TCD  & All Together in Dignity will host eminent Oxford Professor of Social Policy, Robert Walker, to give a keynote address on his recently titled book 'The Shame of Poverty'.
This will be followed by a conversational-style interview with RTE's Religious and Social Affairs Correspondent, Joe Little and will feature short films along this theme.
Prof. Robert Walker's research challenges conventional thinking on poverty and finds that the emotional experiences of poverty worldwide tends to be similar across cultural traditions, political landscapes and material well-being.
His research examines the experiences of living in poverty in a range of countries: in Norway and Uganda, Britain and India, China, South Korea and Pakistan.
His research explores Amartya Sen's concept of 'shame', which Sen contends is the core common experience worldwide for those living in poverty. This concept of shame can have negative consequences which go far beyond material and physical well-being and can lead to mental health difficulties and even extreme consequences for some; it may in fact contribute to the continuing cycle of poverty.
How can this cycle be broken? Do current public policies work? How can they be less focused on stigmatisation and more on agency, which would promote the dignity of those living in poverty? If the global experiences of poverty are the same, how can we change the global conversation around poverty to be more respectful and considerate?
These are some of the questions, which Prof. Walker will address in his presentation and which he will explore further in conversation with Joe Little.
Venue: The Innovation Academy, 3 Foster Place, Dublin 2.
Date: Friday 16 October 2015
Time: Registration and coffee: 12noon – start 12.30pm to 2pm – coffee and sandwiches to 2.30pm
Book now here!