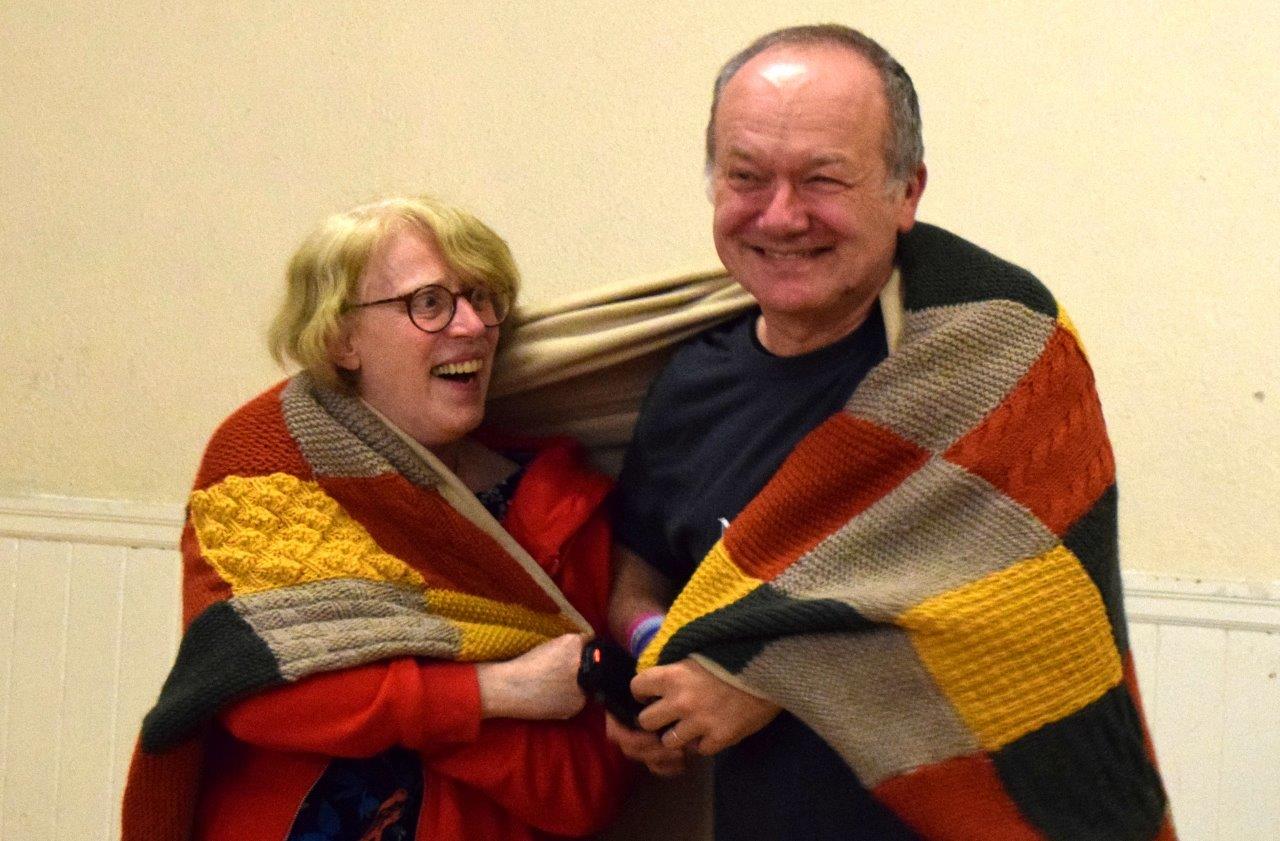 On Bank Holiday Monday, 3rd June 2019, ATD held an evening party which was open to all in Ozanam House, Dublin 1. The event marked the European Sustainable Development Week and also enabled people to come together and celebrate Pierre and Fabienne Klein's commitment and work to ATD Ireland during the last 6 years. The evening included a variety of speeches, games, presentations, and farewells. A raffle in aid of ATD was also held, where the 1st prize of a beautiful forest painting done by Fabienne proved very popular – meaning many tickets were sold.
A special thank you to those who contributed to the making of the "ATD Community Blanket.' Under the organisation of Juliette Pechenart and Charlotte Tiffoin, an "Army of Knitters" was mobilised which resulted in the creation of a beautiful tapestry of colours. Experienced knitters and complete beginners met from December 2018 onwards to knit or learn to knit in order to complete small squares that would be later assembled as a blanket. Clandestine meetings were held in the ATD Office when Pierre and Fabienne were away, in Ballymun and in cafés near the office. They were always fun and allowed for great chats among friends of ATD, members of the permanent team and of the Board. The secret was kept until June 3rd when [It] the "Community Blanket" was presented to Pierre and Fabienne by friends and families of ATD in recognition of their work in Ireland.
The day was enhanced by the musical contribution music by Cathal & Áine Holland who shared everyone's joy at the event through their song. People sang songs together, while others went solo or rapped their way through what was a truly memorable evening.
The next day, in the spirit of wet Irish weather, the ATD team (along with a team of helpers) waved goodbye to Fabienne and Pierre as they embarked on their journey by van and boat from Dublin to France, where they will continue their work with ATD Europe, and with the ATD Volunteer Corps.
Finally, a huge thank you to all of you for joining us at our farewell gathering to celebrate all the hard work, passion, and dedication that Pierre and Fabienne Klein brought to ATD Ireland throughout the years. It was a joyful celebration with the ATD community; a truly 'Great Show'!
We will miss you both very much.