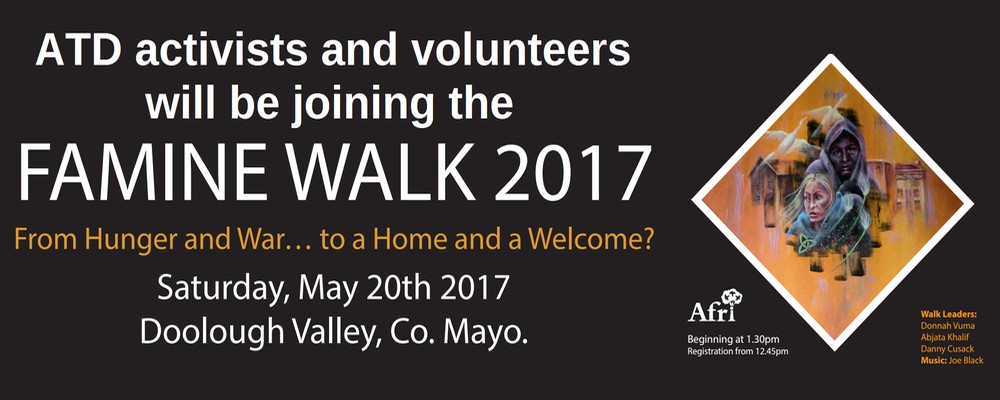 On Saturday the 20th May, ATD activist and volunteers will join volunteers from Afri in the Famine Walk 2017 "From Hunger and War…to a Home and a Welcome?".
2017 is a special year for both ATD and Afri as it marks the 30th Anniversary of this famine walk and also the 30th Anniversary of the UN Day for the Eradication of Poverty.
For 30 years Afri has walked the famine road through the Doolough Valley in County Mayo. People from all over the country have walked this road over the last three decades, sharing their experiences with one another.
This year's walk will link the experience of Irish people who were forced to flee on coffin ships during An Gorta Mór in the nineteenth century with refugees crossing the Mediterranean today, some of whom, if they survive, may end up in Direct Provision Centres in Ireland.
Irish people have travelled all over the world in search of a safe place to call home; to escape poverty, fear and exploitation. Today Ireland is in a position to take a lead role in addressing the situation of refugees; one of the biggest issues facing our world today. Drawing on our own experience of famine and immigration, we must tackle this critical issue as well as tackling the forces that are causing it.
For ATD, 2017 marks 30 years since our founder, Joseph Wresinski, initiated the first, of what is now known as the UN Day for the Eradication of Poverty on the 17th October.
This is a very important day in the ATD calender as it as a platform for those who have been affected by the violence of poverty to use their voice and for that voice to be listened to. For the 30th Anniversary ATD are running a year long campaign called Stop Poverty. This is a campaign to show the world that by coming together in solidarity with those who are most affected by poverty, we can overcome it.
ATD activist and volunteers marching on the 20th May in Mayo will invite all participants to support this campaign.

To find out more about this campaign visit www.poverty-stop.org.
So join us on this special year as we march together to create a just and equal world for all.
More on the Famine Walk here!