ATD held an artistic exhibition in the EPIC centre in Customs House Quay Dublin from the 27th– 31st October.  This exhibition featured works from the Lockdown Liberties book and the clay pieces from the SED art workshop.  It was also used as an opportunity to highlight the campaign to recognize socio- economic status as the tenth ground of discrimination in the Irish Equal Status Act. This exhibition was officially launched on Thursday 28th October 2021 at 4pm.  This launch was attended by members of the general public, the authors and artists featured in the exhibition and wider board members, friends and supporters of ATD and others including David Donoghue, Irish ambassador to the UN.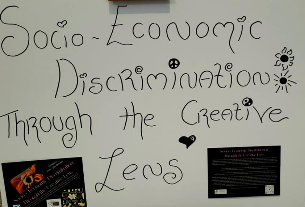 The exhibition began with a speech by Martin Byrne who welcomed everyone to the exhibition.  Martin reflected on the famine statues which have been erected across the road from the EPIC centre.  Although the struggles of 1846 to 1848 are not the same as today, there are still people today who can relate to that sense of desperation, hopelessness and fear.   However, in addition to this, each generation enjoys its own set of liberties which are clearly evoked in this book alongside the hardships such as "love of parents, love of home, equality, respect, dreams, dignity, community, standing together, to be able to breath without a mask, a world free from war, free from discrimination".
Martin reminds us to not overlook the immense value this book has; the contribution it brings to society and the rich knowledge we can take from it.  "The very generous writers who gifted their poems to this book are gifting us insights into humanity".  
Martin also took an opportunity to have a moment of silence for Brendan Core and all those we have lost during the lockdown.
Martin then introduced ATD community activist Andrew who took part in both projects.  Andrew shared some of his reflections on these projects and what they meant to him personally.  Andrew recited an uplifting poem about a dark period in his life entitled 'Depression'.  See Andrew reading this poem here: https://youtu.be/3MAbF_DfCjE and find in the Lockdown Liberties book.  Andrew uses this poem and his clay sculpture of a volcano to reflect on the societal pressure placed on men to bottle things in and not be open with their emotions, and the crippling effects this can have.  "Growing up people say that men aren't allowed to cry they aren't allowed feel, they're not allowed to show emotions, you have to be strong for your kids or your wife and your family".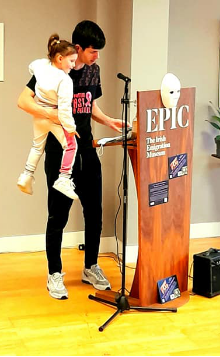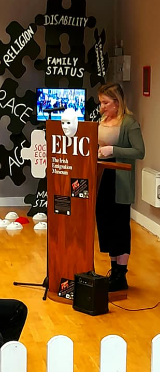 After this Emma from 'Working Class Writers Archive' who have been supportive of these creative projects spoke a few words.  Before Martin finished speaking, he referenced Senator Lynn Ruane's words that "poetry is a mirror and a validation".  Emma expands upon this idea, discussing how the creation of art can relieve our personal feelings of despair by transforming them into a "collective cry for justice".  Emma also spoke on how art created by those from working class communities or with experiences of poverty often does not receive the same recognition or validation as other art.  Working class art needs to be cherished in the same way and be afforded the same value as other art and literature.  It needs to preserved as a "record of our social history and it's a record of our activism, our philosophies and our ideas".
ATD Ireland founders Stuart and Isabelle graciously attended this event and Stuart shared a tribute to community activist Brendan Core who inspired the beginning of ATD Fourth World in Ireland.  Brendan was key in establishing the Acorn group in Ballymun "which provided an extraordinary sense of community for people with a long history of poverty and (had been affected by) mental health issues".  Brendan's work inspired hope in those he encountered and he provided an invaluable community and sense of belonging for those who were struggling.  Brendan was a founding member of the Irish 17 October Committee and strongly upheld the belief that the voice of those experiencing poverty should remain central on the day. The legacy of the acorn group continues with the Lockdown Liberties project as remaining funds from Acorn were used as a contribution to the Lockdown Liberties writing group.  Read more about Brendan's life and his contributions in the Lockdown Liberties book.  

We were very fortunate to have some of the artists and writers available at the event launch. We had some time for an open mic for participants to reflect on their art and recite poetry. As was pointed out many times throughout the launch event, poetry is often meant to be spoken aloud and it was a joy to be able to experience that at the launch.   Inspired by Stuart's words about Brendan Core, Jimmy started off with a rap he just created in the moment about Ballymun where he grew up and his experiences of homelessness.   
"I'm homeless, I'm just the same as all of you"
Christina then recited 'Snowie' which is featured in the Lockdown Liberties book about her and Jimmy's puppy who helped her through some tough times.  
"We love him, we love him, we love him and all together our hearts will always be with him-
Wherever he goes …"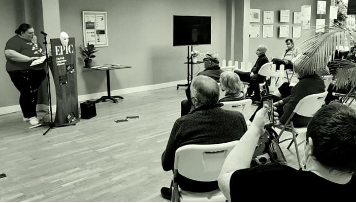 Veronica and David, who took part in the SED art workshops then shared some reflections on their clay pieces.  Veronica created a mortar and pestle, which reminded her of her upbringing in Mexico. "I figure this part of me. I could prepare a meal with this tool and share with somebody who made not have a meal today".  She also created her hands and the boat of life which was inspired by the idea of us all "going out into the world, sometimes without a paddle- but together in the same boat".  Veronica created her hands and was also part of the group who created mural piece.
"I believe that it not only represents us being of different backgrounds that if it wasn't for this, the workshop that we had the opportunity to participate in, thanks to ATD our paths would not have ever crossed, but here we are united as part of one race, one world."
David created the bowl of abundance.  
"When someone is born into the world of scarcity that is poverty it is very difficult for them to see abundance actually exists in the world".
He also created, with Kiara, the broken ladder piece, inspired by Philip's broken picture. The broken ladder represents the obstacles and hidden dimensions of poverty that can exist in one's life when we are born into a life of poverty.  The hands represent those "who wish to see a more equitable world". The tranquil image atop the ladder reminds us to continue to work towards the goal of achieving an equitable world where poverty is not just accepted a fact of life.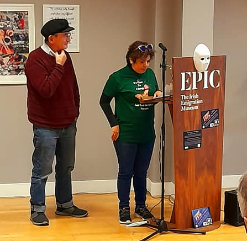 Andrew then shared a poem written by his wife Lorraine 'I'm Still Human' https://youtu.be/9-cAujnAaYo The pride and wonder he has at reading his wife's poetry shows the importance of the Lockdown Liberties group, not only in instilling personal confidence but also in providing opportunity for peer support and encouragement and in inspiring each other.
"Will anyone even notice me or will they say 'aw just let him be'"
We then heard some words from Barrister at Law, Ade Oloborode, who is running as a senator. Ade spoke of the importance of the #addthe10th campaign and of her experiences of discrimination.
It is hoped that this exhibition brought to the wider public a deeper understanding of the lived experience and daily realities of poverty. Further this artistic exhibition should serve as a comfort to those who relate to its themes, and also as inspiration that anyone has the right to engage with arts, culture and literature and the creation of art is not reserved for a select minority. It can be a place for those from all facets of society to bond and learn from one another. It is also hoped that this exhibition will serve as a call to action for those who came to view it. It is hoped that it will motivate people to return to their own communities and make some contribution to the goal of eradicating poverty.
ATD Ireland would like to thank EPIC for hosting our exhibition. We would also like to thank IHREC for supporting the projects and to everyone who came to view the exhibition and launch and made a generous donation.
Reflections from guests and artistic participants
"Absolutely amazing, brings creativity and insight into people's lives and stories."– exhibition guest
"Hope only, to change yourself, the world will follow."- Exhibition guest
"Best exhibition I've ever been to."- Exhibition guest
"I'm not into poetry or long texts…but the way the work is presented here is excellent… the short, painted texts. Sound and film … it feels like a call to action." – Guest
"I lost someone in my family through addiction… very hard. This exhibition is full of hope." -Guest
"This exhibition challenges us on many interconnected fronts, discrimination, the redistribution of wealth… it's a real positive experience… yet rooted in suffering." Guest
"I was very happy to be able to show my parents the work we have done in the book and the film… really great".
Christina Poet
"It makes me want to cry… with tears of joy and pride… but also frustration… we need things to improve". Guest
"The aim of the exhibition was to create a space where the viewer could understand better what poverty and socio-economic discrimination is and feels like."
"What we have seen this week was truly special- this exhibition became not just a place of reaction, contemplation and viewing, but a space of sharing, discussion, conversation and collective action … questioning society and acknowledging a genuine need for positive change."– Dann ATD Ireland Coordination
"I'm so proud of what we have managed to achieve here…. it's amazing."– Andrew Artist & Poet
"This exhibition reaches out at an emotional level… very powerful." – Guest