All Together in Dignity Fourth World (ATD Fourth World) is an international human-rights movement that works through grass-roots projects in partnership with people living in poverty. ATD Ireland is excited to announce a new educational resource and workshop called 'The Hidden Dimensions of Poverty.' This educational tool seeks to raise awareness and open minds to the daily realities of poverty. The Hidden Dimensions of Poverty Educational Resource will be publicly launched on the 17th September 2021 at 2pm over Zoom, click here to register with us.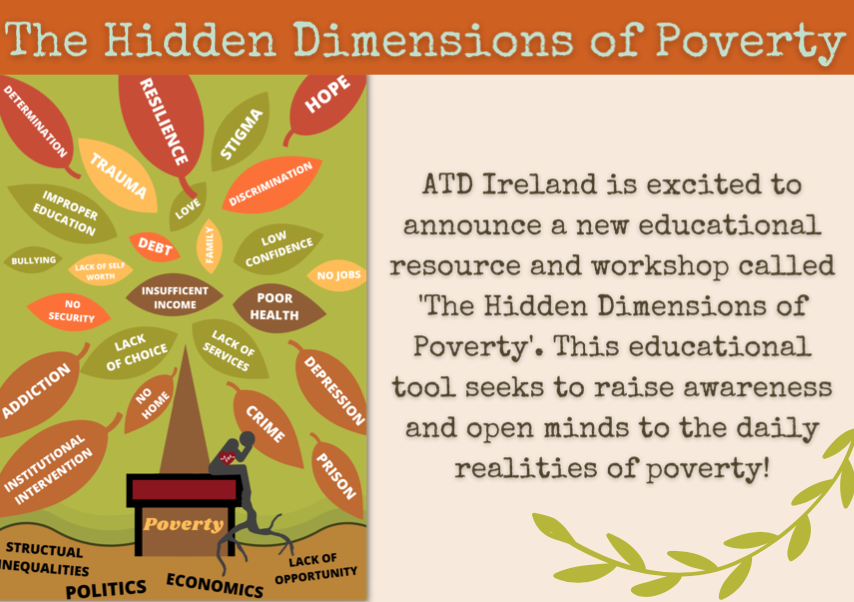 Invitation to this new event launch:
Time: Sep 17, 2021 02:00 PM Dublin
Location: Online Zoom Meeting
Register in advance for this meeting:
https://us06web.zoom.us/meeting/register/tZ0rf-CtrjIpG9DJoWXL9YkO93JKztSY-ouy
After registering, you will receive a confirmation email containing information about joining the meeting.
The resource is intended to expand students' understanding of poverty by bringing attention to those hidden dimensions of poverty: such as feelings of shame and powerlessness, damaged health and well-being, a lack of control over choices as well as the failure to recognize the skills and contributions of those living in poverty. The content of this resource has been designed to be engaging and accessible to all age groups and educational levels. Attached to this email is an 'Educator's Toolkit and Guide' which will assist you in how best to deliver this lesson. 'The Hidden Dimensions of Poverty' educational resource, which can be viewed here, features 12 sections (mostly short) that you should become familiar with prior to delivering this presentation. You may want to change some of the order, omit or include certain content, develop other resources or indeed deliver it as it is. It has been designed as a small website that can be added to your homescreen on your phone/tablet and it will work like an app. It is easy to navigate (clicking each part as you go) and invites engagement through a series of ice-breakers and brainstorming sessions. It also includes video testimonials from those with direct experience of living in poverty. The lesson will round off with the creation of a 'gratitude tree', where each participant is given two leaves that they will design and attach to the tree to indicate: something they are grateful for and some new action they might take, now that they have had the experience of the day. We will leave this tree with them as a reminder of what we are all grateful for and encourage the staff to hang it in a place of prominence in the school to encourage others to add to it or at least reflect upon what it means. In developing this educational resource ATD Ireland seeks to raise awareness of the daily realities of poverty, mediated in part through the direct experiences and conversations of people in poverty. It enables a positive learning exchange of views and insights into this important contemporary issue in Irish society.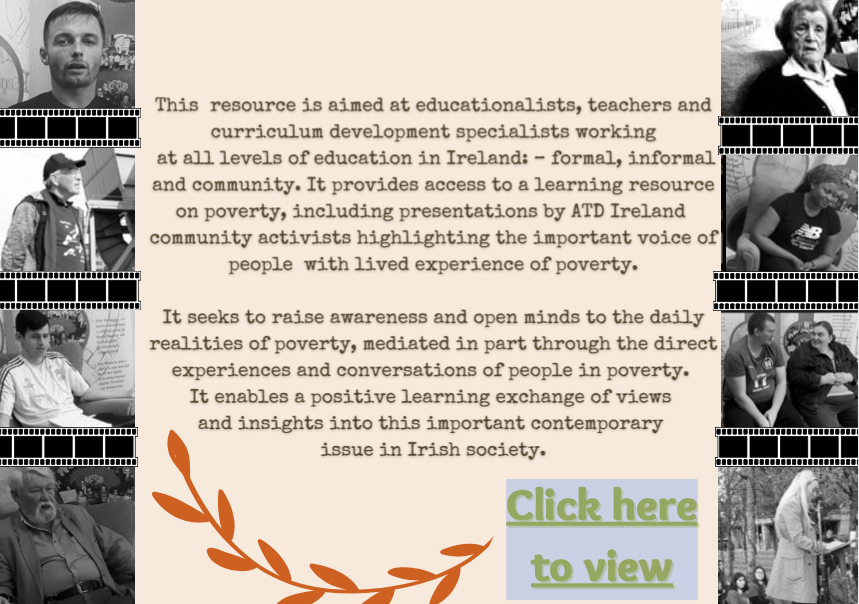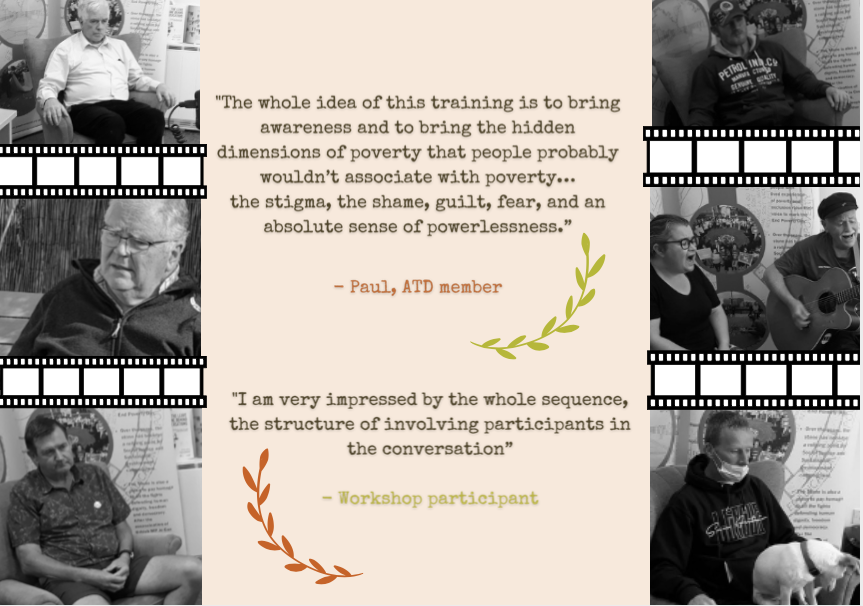 If you have any questions about the 'The Hidden Dimensions of Poverty' educational resource please contact us at info@atdireland.ieor call +353-1-8558191.