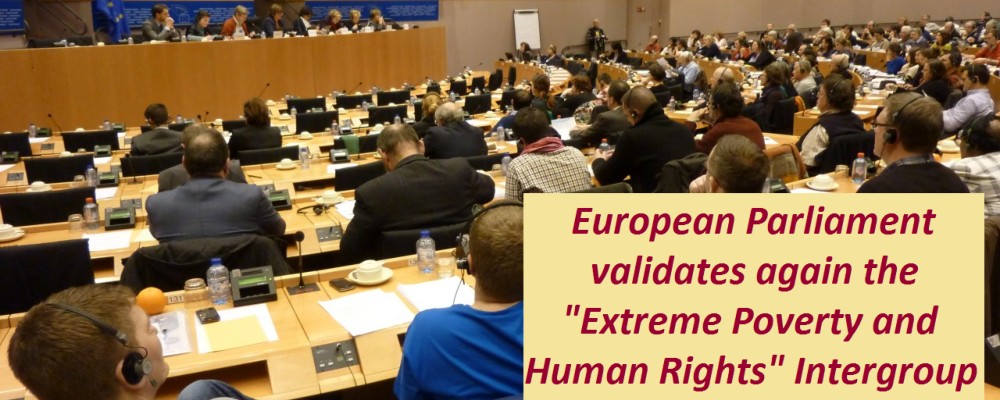 On Friday 11 Dec, the European Parliament's main political factions agreed on new intergroups for the current mandate (2014-2019). Intergroups have no legislative power, but are formed to promote exchange of views – on subjects as diverse as animal rights or youth – and are often used as a single point of contact by lobbyists.
Among the 28 groups, the continutation of the Intergroup on Extreme Poverty and Human Rights was validated. This Intergroup – chaired between 2009 and 2014 by Sylvie Goulard (The Alliance of Liberals and Democrats for Europe (ALDE – FR) – works to draw  policy makers' attention to the importance and urgency of the struggle against poverty. The increase in poverty and inequality cannot be tolerated in a Europe that was created to improve the living conditions of the European peoples.
This Intergroup collaborates with the ATD International (who led to his creation during the 2nd mandate of the European Parliament, 30 years ago) and other anti-poverty networks and NGOs (EAPN, FEANSTA,…).
Transcending political boundaries, it brings usually t together more than 40 Members of the European Parliament from different backgrounds like in the last mandate, Jürgen Klute, representing  the Unified European Left Group (GUE), DE, Verónica Lope Fontagné, from the European People's Party (PPE), ES, Silvia Costa, from the Socialist and Democrat Group (S&D), IT, and also Jean Lambert, from the Green party, UK.
Contact in the EP is  MEP Sylvie Goulard: sylvie.goulard@europarl.europa.eu
The list of 28 groups is due to be validated on 11 December by the Conference of the Presidents of the European Parliament's political factions. This is an increase on the 27 groups of the previous mandate.
The proposed intergroups for 2014 to 2019 are as follows:
Ageing and intergenerational solidarity
Anti-racism & Diversity
Sustainable Hunting, Biodiversity, Countryside Activities and Forests
Children's Rights
Climate change, biodiversity and sustainable development
Public Goods and Services
Creative Industries
Digital Agenda
Disability
Extreme poverty and human rights
Development of European Tourism, Cultural Heritage, Ways of Saint James and other European Cultural Routes
Freedom of Religion, Belief and Religious Tolerance
Integrity – Transparency, Anti-corruption and

Organised

Crime
Lesbian, Gay, Bisexual & Transgender Rights –

LGBT

Long-term investment and

reindustrialisation

Rural, Mountainous and Sparsely-Populated Regions
Seas, Rivers, Islands and Coastlines
SME "small and medium-sized enterprise"
Sky and Space
Social Economy
Sports
Trade Unions
Traditional National Minorities, Constitutional Regions and Regional Languages
Urban Issues
Welfare and Protection of Animals
Western Sahara
Wine, Spirits and Food Quality
Youth Issues
More about Intergroups here.