On Thursday November 24th ATD Ireland were invited to the Dublin City PPN (Public Participation Network) plenary at the Rediscovery Centre in Ballymun.
The event was attended by various members of Dublin city PPN and it was an opportunity to get to learn about some of the work done by the different community and voluntary organisations around Dublin city.
Roger Warburton, from the Rediscovery Centre, welcomed the PPN, and told us about their work, their plans for the future, and about the circular economy.  Mick Keegan spoke about being on the Secretariat, and the Disability Thematic Group.  Gary Kearney, Traffic and Transport Representative from Dublin City PPN, talked about the Purple Lights campaign. 03 December is the UN International Day of Persons with Disabilities and wearing purple/lighting buildings purple is a way to support with the 650, 000 people Ireland who are disabled.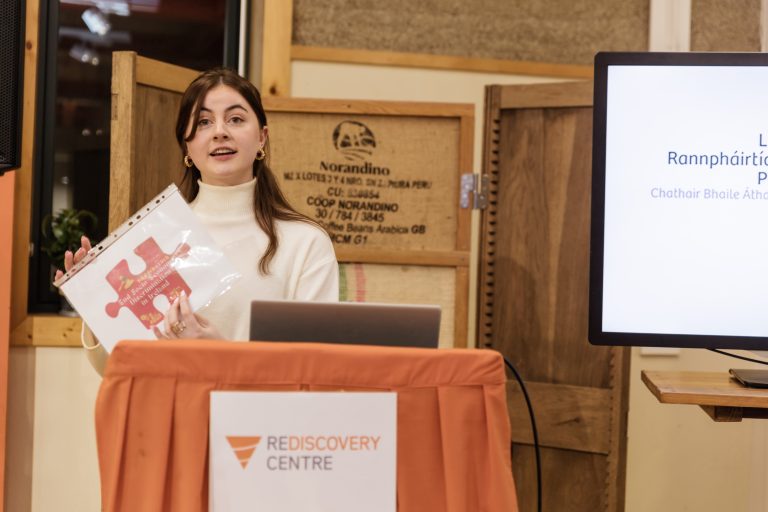 "I'm here tonight to talk about the add the 10th campaign and the reasons why you're seeing the jigsaw piece in a lot of places.

ATD Ireland is a part of an international, non-governmental organisation. It has teams in over 33 countries and in Ireland, we're just a small group in a basement. 
We are part of an alliance who are running an online campaign seeking to have socio-economic status recognised as the 10th ground of discrimination in Ireland's equality legislation. So, what does this mean? Essentially the Ireland equality legislation makes it illegal for discrimination to occur in the provision of goods and services, accommodation, employment and education. There are 9 grounds including race, gender, sexual orientation etc. and the government are currently reviewing this legislation. I would just like to quickly highlight that the other 9 grounds are extremely important in Irish law and we do not wish to minimise the discrimination people face, we just wish for socio- economic status to be included as well. 
"We went to a fast-food place in town to get something to eat and we were just standing in the queue and the security came up and approached me and my brother and said 'Sorry you have to leave; we don't serve junkies'! Then when we asked to see the manager, the manager agreed with the security guy and we had to walk away. So, we just left and we never went back. Why would he even assume that we're junkies? – I don't even take drugs; I never have in my life. We're just normal people coming in for something to eat."
 "I went through the Trinity access program. At this time, I was getting my social welfare payment and I got a bursary off the college. It was part of me being part of the Access Program. They help support you going through there because they were getting people that weren't regular people to come to college, so that was grand. So, I got the cheque and it had Trinity College Dublin on it. When I had the cheque and went to cash it in the bank,
because of my accent and because I wasn't a typical Trinity College student, the manager was called. He came and asked me where I got the cheque, and was I sure that it was mine? They didn't associate my accent with having a cheque that said 'Trinity College Dublin'. So, I had to call another manager. It was discrimination about my accent. I didn't fit into what was the stereotype of a student, and because I had the D1 accent! I had ID and everything with me, but they just didn't like the look of me. They more or less put it to me that it was robbed, just because I had a working-class accent!"
"It actually hurts me when I'm walking down the street. And because of me appearance, because I can't go in and buy new clothes when I feel like it and that you know. Like I actually feel people looking at me. It's not looking at me, it's actually looking at me appearance. It's just not nice you know. I don't think it's fair. The effects it has on me anyway is physical and mental. The judgement hurts, the shame … it's all to me embarrassment."
Having socio- economic discrimination in Ireland's equality legislation would provide people experiencing this type of discrimination with a way of seeking legal redress for their mistreatment. In other words, it offers them protection. 
Yesterday some of our activists and other members of the alliance went to speak at Leinster house. (Read more about this here).  It is a novel step in policy-making for people with lived experiences of poverty, exchanging critical thoughts and solution-based ideas with politicians and having their voices be heard at the forefront of this campaign. This was a positive and powerful moment and another step closer to enshrining this pivotal piece in Irish law".
Thank you very much to Dublin City PPN and especially Ruth for inviting us to this event and for being so supportive of the #Addthe10th campaign.  We hope to get involved in more Dublin PPN activities next year.