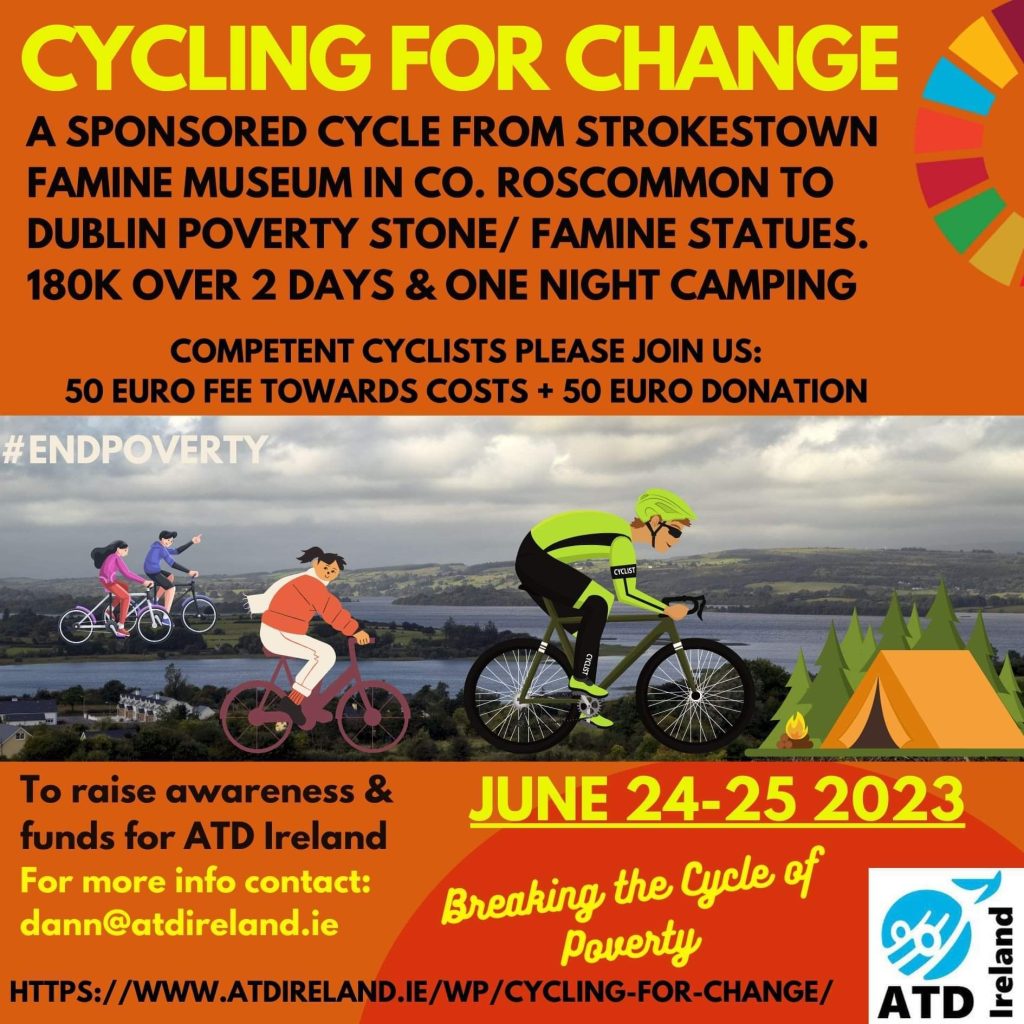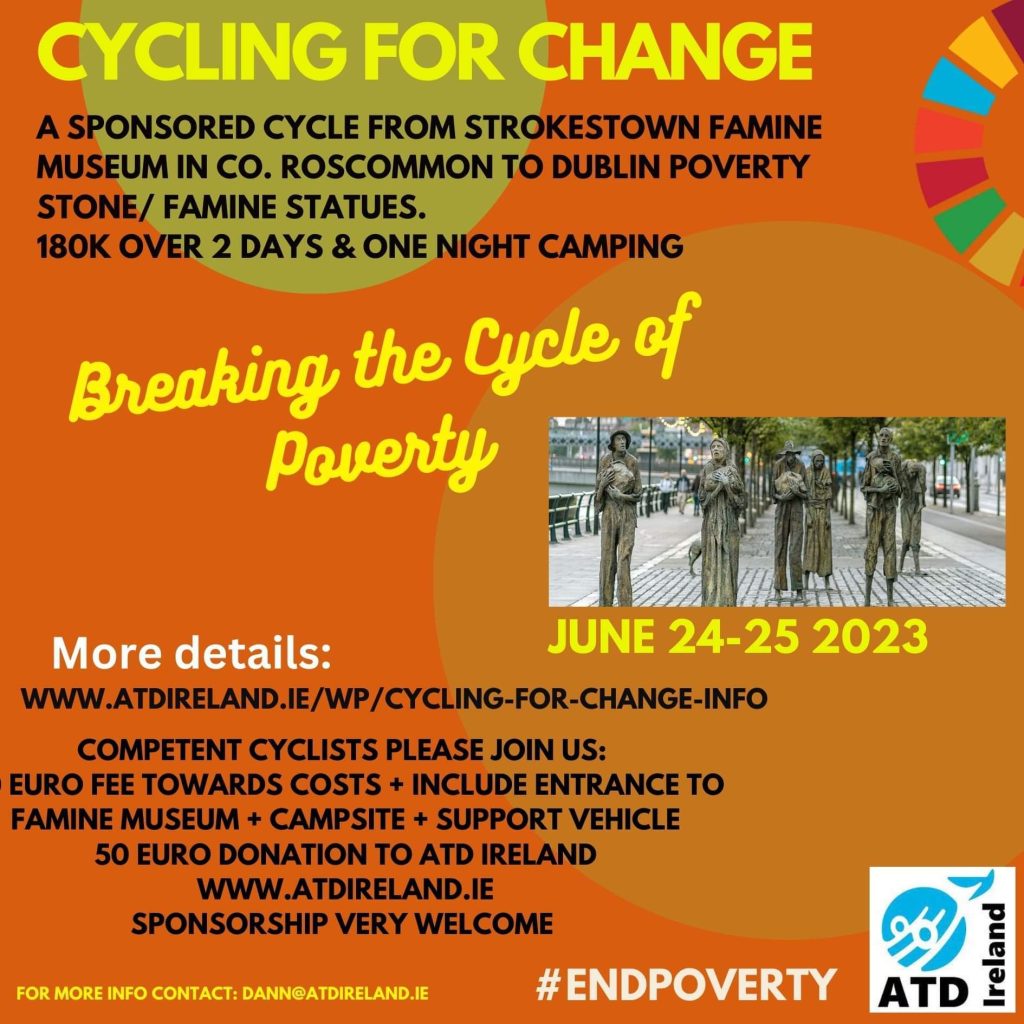 Breaking the 'cycle' of poverty!
ATD Ireland are organising a sponsored cycle from the Famine Museum in Strokestown, Co. Roscommon to the Famine Statues and Poverty Stone Customs House Quay Dublin. The cycle will take place from June 24th to 25th. It will cover 180 km and will take place over two days with one night camping right beside the beautiful Lough Ennell.
This event is for competent cyclists only. 80km on Sat 24th and c.100km on the Sunday. Average cycling speed will be 20km+ approx. The route is a mixture of country roads, the Royal Canal Cycleway and some urban and main roads as we approach Dublin. ANY BIKE will do. Touring/hybrid bikes are probably best but road bikes (racing bikes with skinny wheels and dropped handlebars) are fine and even mountain bikes will do the job. The main thing is that participants are able to cycle at a reasonable pace for a few hours non-stop and obey safety rules. You will need to get to Strokestown famine Museum by 11am approx. on Sat.24th June by whatever means suit you. Train and bus, donkey and cart or shared cars ….. nearer the off, people may partner up with lifts.
DISCLAIMER: This is a private event not covered by ATD Ireland insurance. You must sign that you are responsible for yourself and agree to follow the rules of the road etc. You may have your own insurance cover but ATD Ireland are not responsible for you. Each cyclist will need a bicycle in good working order and you maintain and repair your own bike, including punctures on route. Each cyclist will cover their own food supplies and camping equipment. We will have a van to transport your tent & bedding etc. Some tents may be available from ATD Ireland but we advise cyclists to bring their own tent and sleeping bag.
THE SCHEDULE:
· Arrive in Strokestown before 11 am on Saturday morning 24th June. (20km from train route.)
· Famine Museum tour from 11am to 12 noon approx. Lunch in the café – very nice and reasonable by current standards. You pay for yourself.
· The "CYCLE for CHANGE" rolls out of Strokestown @ 1pm with c. 80km to go over main roads, country roads, the Royal Canal Walkway (50km on mainly tarmac) and turn off to our campsite south of Mullingar on the shores of Lough Ennell.
· We will have 30min coffee/food breaks along the way. You may feed yourself home-made sambos or pay for your coffee and scones etc. Some famine related short stops, short talks, mad singing, poems and stories along the way will hopefully make this a great trip. No pressure to perform!
· On arrival at campsite, have an optional lake dip, a hot shower, pitch your tent and have food – probably a take-away from Mullingar? This will be followed by a campsite session of stories, a sing along session and alcohol is permitted but the session must be over by midnight.
· Up by 8am, your own breakfast and on the road before 9am for a 100km spin to Dublin Docks.
· The route consists of 15km by country roads, 50km along the canal turning inland at Maynooth and going through the Phoenix Park via Castleknock and along the docks all the way in cycle lanes, but with great care, to the Famine Statues beyond O'Connell St and the Customs House.
· Make your own way home following a Cúpla Focail (few words) at the Poverty Stone.
· A support vehicle will track the cyclists for breakdowns and emergencies.
The COST:
There is a €50 fee to join. This will go towards camping costs and entrance to the Strokestown Famine Museum and support along the way. We are also asking for another €50 as a donation to ATD Ireland. €100 cost overall. Sponsorships very welcome! You could ask friends and wealthy relations to sponsor you for €1/Km and hay presto, you could make $180 for ATD! All sponsorship monies will go towards supporting ATD Ireland activities. The purpose of this event is to raise awareness and funds for ATD Ireland and help in the overall aim of ending poverty in Ireland and worldwide.
Contact dann@atdireland.ie if you are willing to join in or for more information. Click here to donate!