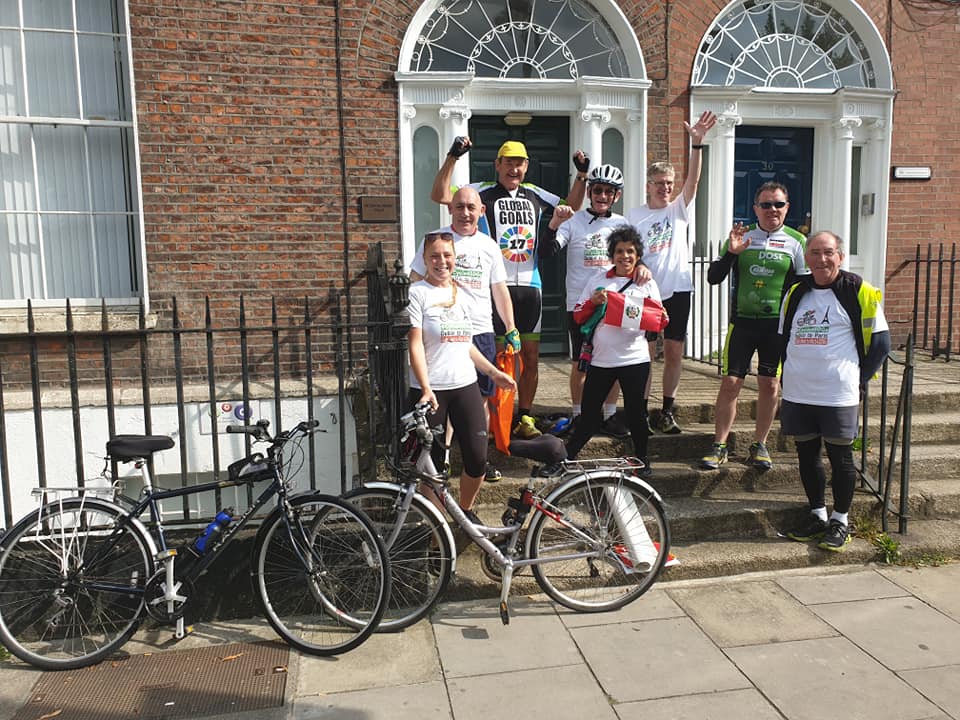 A fantastic adventure organised by ATD Quart Monde! 475km from Dublin to Paris over 6 days as part of the international week of action and awareness for the Sustainable Development Goals (#Act4SDGs). A team of eight Irish cyclists took the boat from Dublin Port to Cherbourg and were joined by a number of French cyclists, including some local authorities, along the way. The purpose of the trip was to raise awareness for SDGs Week, to highlight the strong alliance between Ireland and France in SDG implementation, and to promote France's recent adoption of a new Roadmap for the 2030 Agenda.
The route took the cyclists through the beautiful Normandy countryside with its half-timbered houses, apple orchards and agricultural lands, where they passed 11th century chateaus, basilicas and abbeys. They also visited a number of WWII memorial sites, including Utah and Omaha beach and the WWII Memorial in Caen. The team was welcomed by local elected representatives, mayors, residents and media in a number of the cities and towns along the way, including Cherbourg-en-Cotentin, Sainte-Mère-Église, Caen, Lisieux, Graye-sur-mer, Le Bec-Hellouin, Méry-sur-Oise, and Paris, where there was a grand reception outside the Ministry of Ecological Transition before riding down the Trocadéro and on to the Champs Elysée.
The journey symbolically marked the 21st September, the UN International Day of Peace, beginning at the Poverty Stone in Dublin and ending at the Poverty & Human Rights Stone in Paris, opposite the Eiffel Tower. After making their way down the Seine to the Arc de Triomphe and along the Champs Elysée, the team added their 'virtual' prints to a graffiti mural representing the 17 Sustainable Development Goals, on which 3,000 citizens had added their handprints. They were met under the Eiffel Tower by Yak, 'digital ambassador' for the SDGs, who signed their posters and t-shirts and spoke about the significance of such initiatives in raising awareness for the SDGs. The team averaged 80-90km per day, with the longest day consisting of 110km. Despite a few tough days of intense rain, wind and some steep inclines, the team made it back to Dublin in one piece to close SDGs week with a triumphant return! 
Words by Aoife Franklyn.
Well done to all involved – keep cycling 🙂