ATD Ireland community activist Andrew was recently invited to join the international 17 October committee as part of the Irish delegation.  He spent a week working with other members of the international 17 October committee, including ATD activists from across the world.  Andrew and Belinda Nugent from ICON flew into Paris together on Monday June 6th for the ninth gathering of the International Committee for October 17th.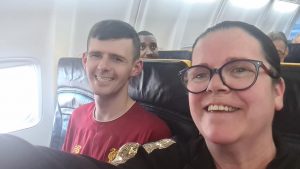 Belinda said of the importance of being involved in the 17 October preparations this year;
"This year we come to share our knowledge and experiences in the fight against exclusion. Full participation of those who are most excluded is paramount and must be a priority".
Meeting the international 17 October, and particularly the community activists from across the world, was really empowering for Andrew.  It also ignited greater solidarity between those struggling with poverty in different contexts across the globe.
"The experience in France was unbelievable. To see the passion and drive of some of the people from other countries was brilliant to see. Like, there's some, we don't know how lucky we are because we have government officials on our side and stuff like that. There are some countries, government's over there, and the police and everything is corrupt, and they're still fighting for a better society, even though it is corrupt. So, their drive and passion is like, unbelievable".
He was impressed by their commitment and determination to the cause;
"There's people there that have been there for over 30 years. That's how long I've been on this planet. And what I learned from them, they're still doing what they're doing, even though like some of them said to me that poverty won't be eradicated by the time I've gone".
He also spoke of Aye Aye Win, President of the International Committee,
"The way Aye Aye Win spoke.  She's so passionate and she's so funny. And her drive and motivation to actually get people on board".
In a press release, Aye Aye Win wrote of Andrew;
"We are very proud that Mr. Andrew Kelly is joining the Committee. As a community activist with ATD Ireland and having heard him articulately speak out at a number of meetings, Andrew is making clear that wherever men and women are condemned to live in extreme poverty, their human rights are being violated. Andrew's personal experience, knowledge and talent will enrich and strengthen the work of the Committee to promote and support the spirit and objectives of October 17."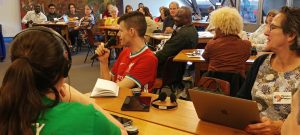 On day three Andrew spoke of the Lockdown Liberties project, the community it built and how it gave the participants an opportunity to share their feelings and thoughts through poetry and short stories.
Also shared was the poverty aware practice module carried out with social work students in Trinity College Dublin.   They also partook in a meeting about the international hidden dimensions of poverty research.
Andrew and Belinda also outlined our important and ongoing campaign to #Addthe10th ground of socio- economic status in the Equal Status Act and the Employment Equality Act.
They then shared the incredible work that takes place every year at the replica of the poverty stone in Customs House Quay in Dublin.  Each year we hear the voices of those left furthest behind as they share testimonies of poverty, homelessness, poor education and so on.
Further they took part in the main purpose of the gathering- to plan for the upcoming 17th October event which will be the 30th year anniversary of the International day to eradicate poverty.
They also got the chance to take part in fun activities such as Irish dancing and eating the amazing food provided to them.
On day 4 there was a public roundtable discussion on Poverty Fighters/Peace Builders: 30 Years of the International Day for the Eradication of Poverty at Conseil Economique Socialet Environnemental.
The group then marched from CESE to Trocadero Human Rights and Civil Liberties Plaza. This place is where the Human Rights Declaration was first spoken. They also marched on the day Joeseph Wresinski spoke about where any person is living in Poverty, then their Human rights are violated too.
"Well done to the Collectif youth and organisers from France Artistic & Solidarity Activities commemorating the 30 Years of the International Day for the Eradication of Poverty".
Andrew had the opportunity to speak at the Commemoration (Original Commemorative Stone – Trocadero).  Belinda read out the declaration in Irish.
This was the highlight of the trip for Andrew, speaking to "150 people in front of the Eiffel Tower.  That was brilliant".  He particularly noted how he didn't feel nervous doing this and how he was made to feel comfortable by the group there.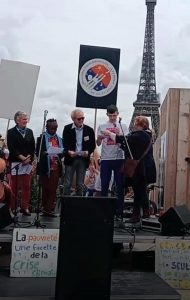 He felt proud of himself and how he has grown in his confidence since becoming an activist with ATD.
"When I used to speak, I was like, I could shake and you wouldn't understand what I was saying because my hand would be up by my face. I wouldn't look you in the eye, I was looking on the ground".
He hopes his journey can be a source of hope for others for others who may wish to make meaningful changes in their own lives.  When asked for advice he would have for others who would like to take the steps he has taken but do not yet have the confidence he says;
"Just go and listen, you don't even have to open your mouth.  I was where you were. Eventually, people are so welcoming. They're welcoming and you will get the confidence little by little, step by step. It will build up. And your nervousness.  I feel you won't remember nervous you used to be compared to who you are today. This way I feel I can remember how nervous I used to be".
Overall, there was one resounding takeaway from the trip to France;
"It made me want to fight more for what we're doing here. And actually, eradicate poverty before my kids turned 30. So, yeah, for me, it's then fighting for my kids, so they don't have to face what we have faced".
ATD Ireland are very proud of Andrew for his contribution to international 17 October committee and look forward to preparing the Irish celebrations for the 30th anniversary of the UN International Day for the Eradication of Poverty.