For the past year ATD Ireland as part of our Leave No One Behind: Series 3 programme (funded by Concern), have been hosting a Choose-Day Tuesday event each week. The ATD staff have been delighted to see some new faces, and to welcome back familiar ones each week to share our space and to learn from each other from our variety of skills/interests. The idea behind this was to give participants the autonomy to choose what different activity, workshop or outing they would like to organize and take part in, every Tuesday.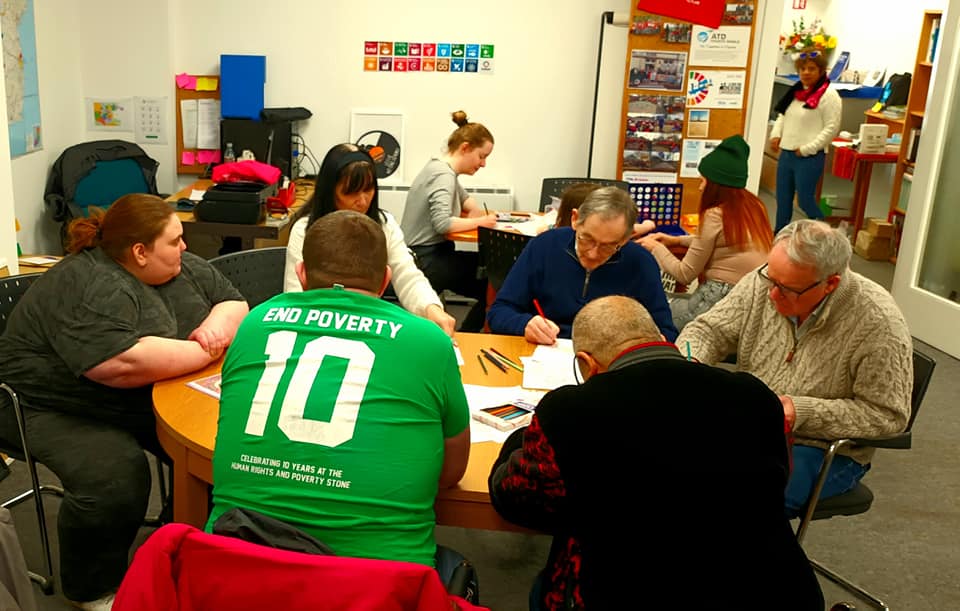 "You'll see that a lot of people and families within disadvantaged communities, all stay within those communities – no one ends up venturing out because they are afraid of not being accepted. It stops you progressing in life and getting the better jobs, or going to college. It stops you doing all these things that you have the potential to do, because of judgement and stigma – it stops everything." – Melissa Lynch (Friend of ATD)
The vast amount of creativity and quality conversation that has taken place on these days has no doubt been productive for the mental and physical health and wellbeing of participants. Those living in poverty can experience physical and psychological barriers to branching outside of their everyday surroundings and everyday routine. This can result in feeling trapped and excluded from the things others in society gain so much from experiencing. This experience was exemplified during the pandemic. The social, holistic and creative elements of these Tuesdays has thus been essential for some people, especially coming out of a period of global isolation.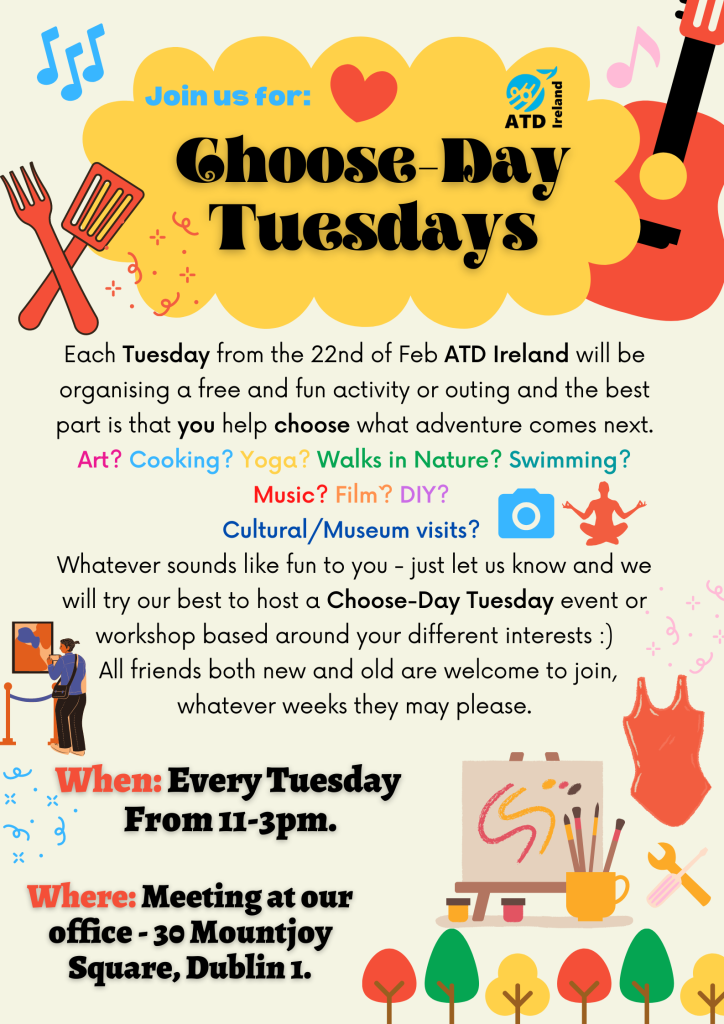 From mosaic, woodwork, tie dye, crafts and painting to music, writing, games, gardening and cinema, to exploring cooking together by having a new chef in the kitchen each week – the variety of activities offered is a fun way to interact and the consistency of having an open day each week has been important in how it provides a safe, secure and supportive place for people from the Dublin 1 community and further afield to come together. Outings to museums, galleries, exhibitions, meaningful places as well as out in nature have also been taking place, which adds to the importance of breaking the isolation and mental health struggles felt by many, especially in recent times. Further, living in inner city areas can restrict your access to nature, which can be so important for our physical, spiritual and mental wellbeing. Trips have included to scenic areas such as the Wicklow mountains, cultural outings such as to Dublin castle and the Hugh Lane gallery as well as to the sea life aquatic centre in Bray.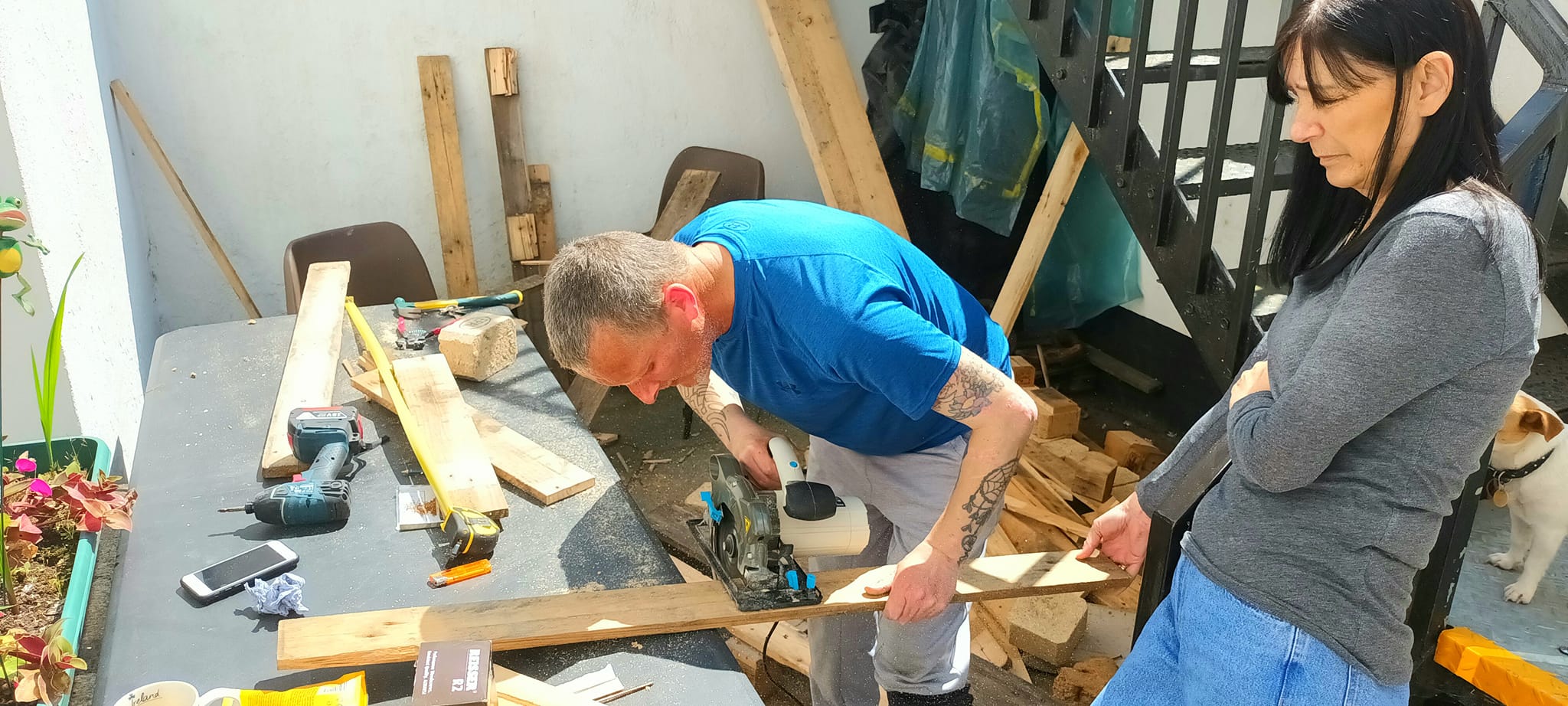 "When you keep people in their particular areas, nobody can learn how the other person is and they don't accept that we are the same. They see each other as separate or different and have that 'oh they're posh' or 'they're poor or they're common'. You can't be what you can't see." – Melissa Lynch (Friend of ATD Ireland)
ATD's Chooseday Tuesday event are for everyone, regardless of background, gender, age, race, religion, sexuality etc. We pride in our workshops as being open and accessible for all and in our space as being one of non judgment, where peoples voices are heard and no one is left behind. Our intention is that everyone in attendance feels comfortable enough each week to be themselves and to express their individuality and personality without fear of stigma or shame. We also hope that through our policy of inclusivity, people from different backgrounds and experiences have the opportunity to meet, to share knowledge and to get to know each other on a human level, without the typical societal barriers. In doing this, perhaps allowing people who would not usually have the chance to do so, to come together in unity and as one in the fight against poverty.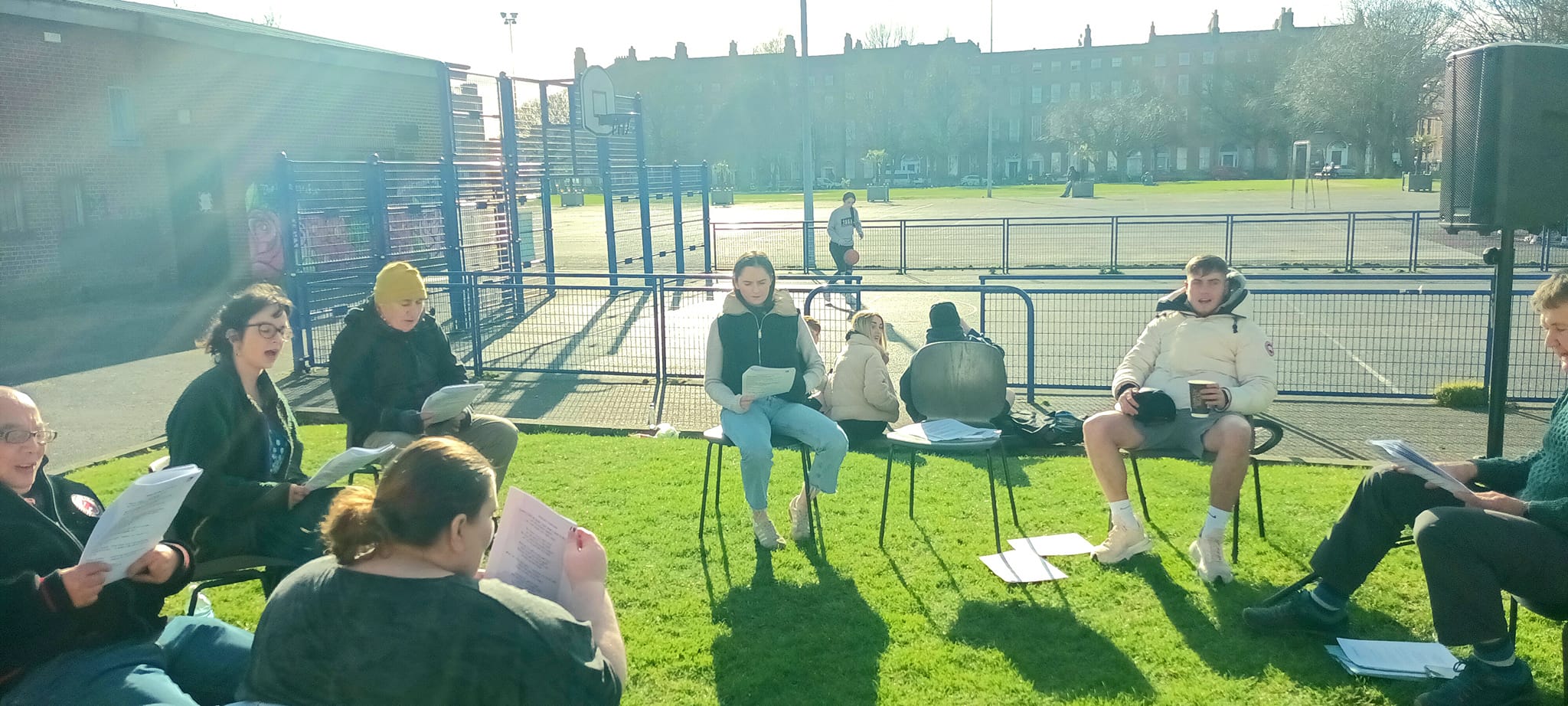 "I feel it is important because first my kids love it and so do I the amount of amazing talents and stories that has come out of it I'd be lost without it to be honest I look forward to it every week the art the cooking the stories and the bond my daughter* has with everyone." – Choose-day Tuesday participant
"I think this is a great thing you started with people dat struggle with mental health it's a place to come and feel free an safe an supported its also a big part in family's. And it's teaching people different skills weder it's painting or wood work planting flower pots all different opportunities to learn plenty of interests but most of all witch I think is most important it brings us TOGETHER as one. Not many people have family's or a place to go were they feel safe they can express them self's true art music weder it's poetry working with plants wood .. its a great experience for all an without it many be lost" – Choose-day Tuesday participant
"It's not only important to bring people together in a safe and caring environment but beneficial for the community at large – the creative side is a great benefit to all involved" – Choose-day Tuesday participant
"It has connected well with the community and people who are involved, feels like home" – Choose-day Tuesday participant
"It has helped me with my anxiety in the past my anxiety was very bad but the Tuesday group has really helped I now don't feel afraid I can come to the office and be myself and see all my friends in a safe environment and I have Learned a lot too and make some great friends some have gone but I always have the chance to meet new ones – thanks ATD" – Choose-day Tuesday participant
We are delighted with the positive impact our Chooseday Tuesday events seem to be having on the health and wellbeing of participants within our community network. It's also been a real pleasure for the ATD staff to help organise and take part in the various workshops and in turn get to know more the many talents, passions, skills and wonderful personalities of those who have been taking part. We hope to contine them for as long as people choose.
"You have to acknowledge the barriers but you also have to show all the things that people from disadvantaged communities have to offer. That they have agency, thoughts and ambitions. That they have things to offer. That they're artists, that their poets, that they're writers." – Melissa Lynch (Friend of ATD)