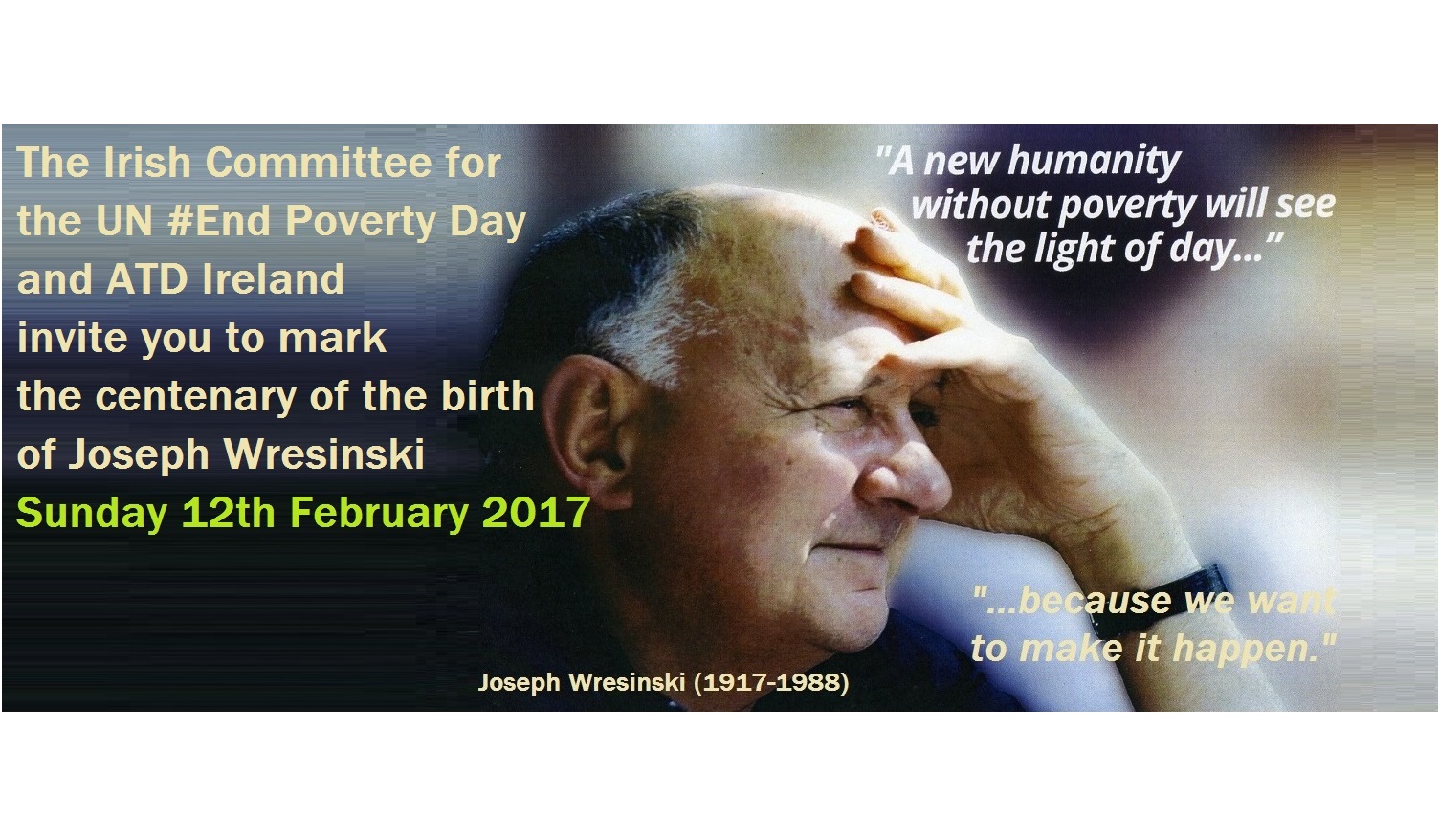 On Sunday the 12th February 2017
Join ATD Ireland to mark the
Centenary of the Birth of Joseph Wresinski (1917-1988)!
Come and join us to make this centenary, a day of action!
Programme of the Day

At 3pm – Symbolic gathering at the 17 October Human Rights and Poverty Stone
on Custom House Quay to pay homage to Wresinski as initiator of the UN Day for the Eradication of Poverty and launch of the campaign "We are ONE to STOP POVERTY"!

From 4pm to 7pm – "Open House" at ATD Ireland's office with first presentation
of the "Wresinski Legacy" travelling exhibition.

At 7.30pm – Catholic Mass celebrated by Father Peter McVerry sj paying homage to Wresinski at "Saint Francis Xavier Parish Church" in Gardiner Street with special guests (TBC): the Ambassadors of Poland, Spain and France, the Archbishop of Dublin Diarmuid Martin and with the Gardiner Street Gospel Choir

At 8.30pm – The Gardiner Street Gospel Choir performs songs to celebrate the centenary and invites attendance to sing together – with a 4 minutes presentation of Wresinski's legacy – at "Saint François Xavier Parish" Church in Gardiner Street

From 8.45pm to 9.30pm – informal presentation of Joseph Wresinski (life, approach, vision) at "Saint François Xavier Parish" Church
Who was Joseph Wresinski?
Wresinski was born in France in 1917. He grew up in a poor neighbourhood, where his family experienced extreme poverty and social exclusion. He became a priest in 1946, at the age of 29. In 1956, Wresinski's bishop suggested that he becomes the chaplain of a camp for the homeless on the outskirts of Paris. Here Wresinski was struck by the terrible poverty faced by the families. Having never forgotten the feeling of shame and exclusion experienced during his own childhood, Wresinski vowed to make his life one with the families of the homeless camp. With the help and support of these families, Wresinski founded All Together in Dignity what is now known as the ATD International ovement. An organisation that works with and learns from those who face persistent poverty. In 1987, a few month before his death, Wresinski initiated a Human Rights Defenders rally on 17 October 1987. Later this day was recognised as UN Day for the Eradication of Poverty.
What are the main elements of the Wresinski Legacy?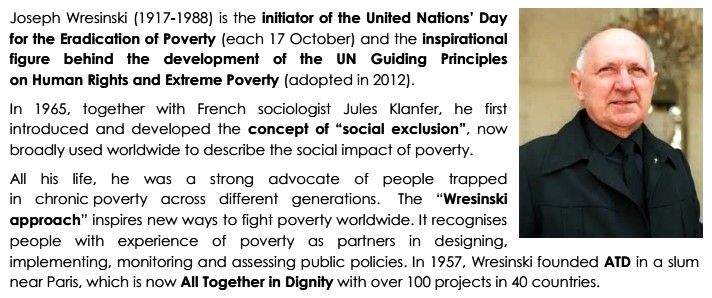 More about Wresinski here!