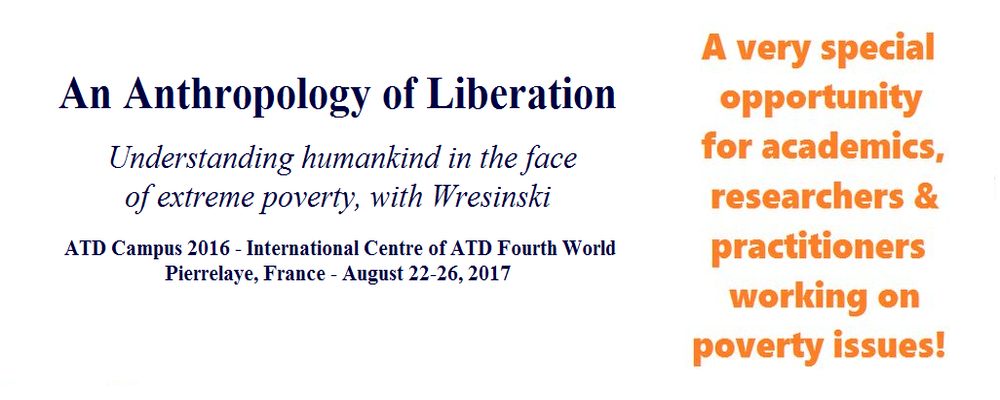 The ATD Campus is an annual seminar of ATD International, organized by its Research Centre.
It offers researchers and professionals an opportunity to share their work and their questions related to chronic poverty and the commitments necessary to bring poverty to an end.
Using an interdisciplinary approach, it offers also the opportunity to study in depth how the ideas of Joseph Wresinski (1917-1988), founder of All Together in Dignity, are relevant to today's issues.
Research and various approaches related to chronic poverty and social exclusion raise ethical, methodological and epistemological questions. Discussion sheds light on these questions in a new way for academics, researchers and practitioners at various levels.
Their highly diverse backgrounds ensure a dialogue that is both open and rooted in real
life. Ever since its first session in 2003, each annual ATD Campus has been an opportunity to learn from one another while remaining open to the questions raised by the expectations of excluded populations.
Campus is also a convivial time with opportunities for informal meetings and discussions. For this reason participants are invited to stay at the International Centre of ATD in the Val d'Oise area of France, outside of Paris for the duration of the seminar. The seminar can accommodate sixty participants. In 2015, the working languages will be English, French and Spanish.
Campus 2016 will take place from 22 August to 26 August 2016 at the International Congress Center of ATD Fourth World located in Pierrelaye (Val d'Oise). It's central question will be:  An Anthropology of Liberation –  Understanding humankind in the face of extreme poverty
Read more about this central question…
"As we approach the centenary of the birth of Joseph Wresinski (1917-2017), we would like, during the next Campus, to think about the human condition with those who have the direct experience of extreme poverty, including Wresinski (he came from poverty himself, died in 1988 leaving a vast legacy of his experience and thinking in written and audio-visual forms).
For the five days of the ATD Campus, as we « live together in order to think together », we want to share and merge our insight on the human being: a being of many relations, where the family dimension and that of a people have particular importance, like communities of hope rather than of conditions; where the liberation of each person is a condition for the liberation of everybody.
Researchers and practitioners, new volunteers in training from ATD worldwide, students working on their theses, are all invited to think together about what it means to be a human person facing unbearable poverty today. Such poverty tends to deeply dehumanize us: not only the men, women and children who suffer it, but also those who tolerate it, and even contribute to it.
In a communal effort against what tends to dehumanize us, all minds count, starting with the intelligence of those who are most excluded. How can this be taken into account so as to build with the intelligence of everyone a society that welcomes everybody? How can we end this incredible waste of intelligence and sensibility, so often ignored, when it conceals a treasure of inventiveness for resisting difficult situations?
Facing this situation that some believed to be hopeless, Joseph Wresinski collected many acts of resistance to poverty, firmly convinced that deep down every human being rejects poverty for himself and for others. What kind of resistance are we called to, from the resistance of those who are living through poverty? How can we withstand the ignorance that we have about each other, which seems to be at the root of exclusion? Is it an anthropology of liberation that Wresinski offers, a notion of mankind in the act of finding freedom? These are the questions which will guide the reflection of Campus 2016!".
Contact: etudes.recherche@atd-quartmonde.org