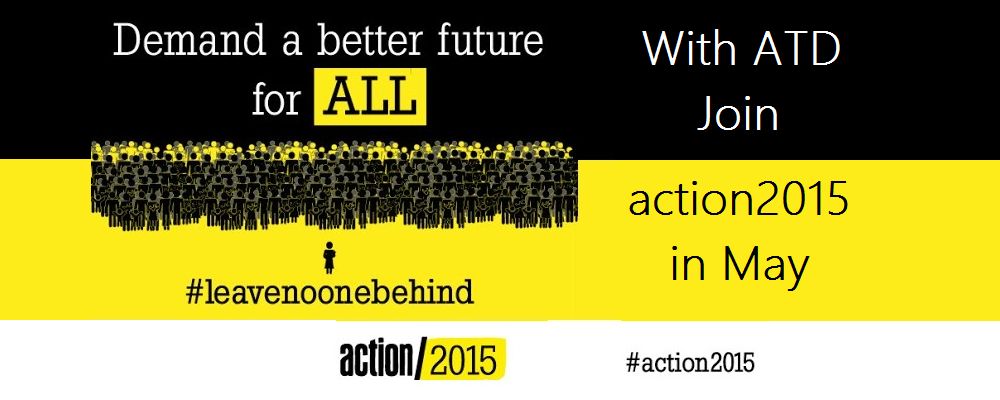 ATD Ireland is joining women, men and children from more than sixty countries who are taking to the streets, markets, workplaces and online throughout the month of May to demand that world leaders take ambitious actions this year to end poverty, inequalities and climate change.
Some 15 million people from every region of the world are expected to participate in the action/2015 May Month of Actionunited by an overarching call to the world's nations to adopt ambitious anti-poverty and climate agendas at two major forthcoming UN summits.
action/2015 brings together more than 1600 organizations from some 130 countries, united by a common belief that the decisions taken in 2015 are critical for our future. 
The month of May was chosen for this mass display of People Power because governments are right now negotiating the texts that will be adopted at the Post-2015 Sustainable Development Summit in September and the COP21 climate negotiations in December.
The action/2015 May Month of Action will feature 12 Global Action Days – organized on themes of accountability, African unity, ageism, child health, citizen participation, climate justice, decent work, faith and climate change, gender equality and hunger and nutrition – as well as hundreds of events including marches, concerts, flash mobs, workshops and debates throughout the month.
"The world we live in is increasingly complex, and so there are no simple fixes, which is why this display of people power represents the diversity of issues that need to be addressed," says Amitabh Behar, co-chair of the Global Call to Action Against Poverty.  "Citizens who participate in this month of action are doing so filled with hope and an unwavering belief that a new world is within reach, a world where our economies create prosperity for all and not a select few, where extreme income inequality is overcome, governments, people and the private sector respect the rights and dignity of all people and treasure the planet so that it will be habitable for current and future generations."
About the 12 Global Days of Action
The 12 thematic days for action are:
1 May – labour rights
5 May – child health
12 May – accountability
13 May – gender equality
15 May – hunger and nutrition
16 May – citizen participation
17 May – faith and climate change
22 May – All ages Day
25 May –Africa day
28 May – gender equality
30 May – climate justice
About action/2015
action/2015 is a global citizens' movement calling for pivotal change in 2015 for the future of people and the planet.
action/2015's success could lead to transformative outcomes, such as
•    an end to poverty in all its forms and development and economic systems that benefit everyone – not only the few
•    an end to the soaring levels of inequalities and discrimination which destroy the lives of many, especially women and girls
•    ensuring that everyone's fundamental rights are met and realised, including access to nutritious food, clean water, essential services and decent employment
•    an accelerated transition to 100% renewable energy so that a safe climate and sustainable economy – with all its benefits for people and planet – is possible
•    a world where everyone can participate and hold their leaders accountable.
action/2015 envisions a transformational shift that ensures gender justice and enables everyone to live their lives in dignity, free from hunger and from the fear of violence, oppression, discrimination or injustice in a way that protects the planetary systems required for survival of life on earth.
More information at www.action2015.org, facebook.com/action2015 and @action2015.