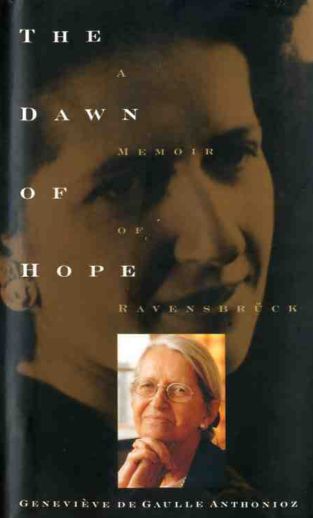 On 27thMay, the remains of Geneviève De Gaulle Anthonioz, the niece of General de Gaulle, will be placed in the Pantheon in Paris with three other people for their role as leading members in the French resistance Movement during the Second World War. The Pantheon is dedicated to famous and important French citizens, whose lives are recognised for their exceptional action .
From 23rd May to 1st June 2015, ATD Ireland plans to organise a week of events highlighting the life and commitments of Geneviève De Gaulle Anthonioz.
This special week will be dedicated to making her more widely known and an opportunity to explain the role she took as former President of ATD Fourth World France for 35 years .
ATD will organise the following activities:
An exhibition about the life of Geneviève De Gaulle Anthonioz in the multimedia library of the Alliance Française (Kildare Street) will offer resources showing her courage as a member of the French resistance movement, her subsequent capture and later imprisonment in Ravensbruck concentration camp. It will illustrate her very influential political activism after the second World War and how it led to her supporting Joseph Wresinski in founding ATD, a Movement with families experiencing chronic  poverty.  The  exhibition will include books, a significant visual presentation and the screening of videos in which Genevieve De Gaulle Anthonioz talks about her life.
Pupils/students of the French Lycee and the German School (with support from the French Embassy) will be involved in creative workshops about Geneviève De Gaulle Anthonioz and her active citizenship.  ATD Ireland is preparing a resource kit for teachers to use with their pupils or students.
A public event will be organised with partners in Dublin to mark the entry of Geneviève De Gaulle to the Panthéon. The major theme of this event will be "active citizenship" and taking place ahead of the Climate Summit in Paris (December 2015) the UN Summit in New-York on the Post 2015 Sustainable Development Goals (Sept 2015).
ATD will also contact Irish authors/academics who wrote about the De Gaulle family and about their Irish family links to involve them in the week.
On 1st June 2015, the women's 10 km mini marathon will take place in Dublin. ATD wishes to mobilise a female public to run wearing a T-shirt calling for "Active Citizenship" which will relate to  the citizen commitment of this inspirational woman.
A specific ATD meeting with the members and supporters of ATD Ireland is also planned during the week. It aims to examine in more detail, the role she played in the development of ATD France and this impact on French social policy.
For people interested, please contact pierre@atdireland.ie