On the 4- 6th March team members Ciara and Tara, along with community activist Gavin travelled to Wijhe, the Netherlands for to take part in a meet up for the ATD European Youth Dynamic. The purpose of this trip was a preparatory weekend for a larger youth meet up in July which will hopefully lead to young people from this dynamic having their voices heard at the European Parliament in Strasbourg in 2023. The weekend in Wijhe included countries from Ireland, France, the Netherlands, Poland, Belgium, Luxembourg and Spain. We stayed on the peaceful ATD farm Zwervel, which is ran by ATD team members.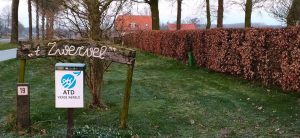 The weekend began on Saturday morning with some fun icebreakers and an opportunity for the teams to get to know each other. The young activists went on a 'European shopping trip' to learn more about the different European countries and the different groups. We were treated to a delicious lunch of some typical Dutch tartines!
After lunch Gavin did an excellent presentation of ATD Ireland's work on socio- economic discrimination and what it has meant to him to be an advocate for this cause.
"I really started to develop my voice because I was sick of stigma, you know, because [it was always] where I come from, where I come from
"I decided amongst groups to start taking an action and it's just to not have fear, it's just to bring, you know what I mean, your voice matters. And your voice is powerful, never think that it's not. Using you voice can get you to many places, to many tables, around government settings, the European parliament settings and other UN settings, you know. These issues can be dealt with, the 10th ground can be passed"
"From a guy who comes from such an impoverished area. If anybody was to ever ask; would this individual have the capabilities to go and do such achievements, like the statistics people would tell you no its impossible, but I'm here standing here today telling you that it's not impossible, your voice and through standing up and talking for what really matters, changes can be made.
I will always continue to use my voice to represent people from my community and all other communities across Europe".
We then went into small groups to create a 'coat of arms' of issues which the young people thought would think be most important to bring to a European minister. These smaller groups were a great way for the young people to have more in depth discussions and for everyone to feel comfortable sharing their thoughts.
Some of the most prominent issues which arose included mental health, and in particular isolation and loneliness. There is a need for more easily accessible, holistic and person- centred mental health services. The lack of educational opportunities afforded to young people living in poverty was also addressed. Many of the youngsters agreed that their educators do not have enough understanding of their circumstances as a result of living in poverty. Another group had a discussion of discrimination within the criminal justice system and how imbalances of power in society often impact those struggling the most. We look forward to discussing similar themes more thoroughly during the meeting in France in July.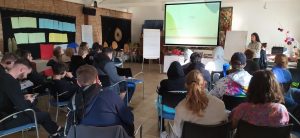 We then had some time to relax, participate in bracelet making workshops, collect firewood for a bonfire or cook dinner for everyone, which is how we ended the night with some 'blind test' music games!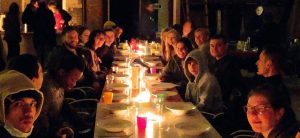 On Sunday we discussed how best to communicate our message and reach further young people across Europe. The young people expressed the importance of social media in communicating to youngsters and we discussed how the teams may get involved in making social media content. We also talked about how to reach young people who may have less access to technology.
The group then had an opportunity to collectively choose a logo for the European youth dynamic.
Overall, a great weekend was had by all. The Irish team were invigorated and inspired to meet other young people from ATD groups across Europe and found it an immense learning process.
Thank you very much to the Dutch and European teams for their hospitality and for creating such an inclusive, engaging and enjoyable weekend.