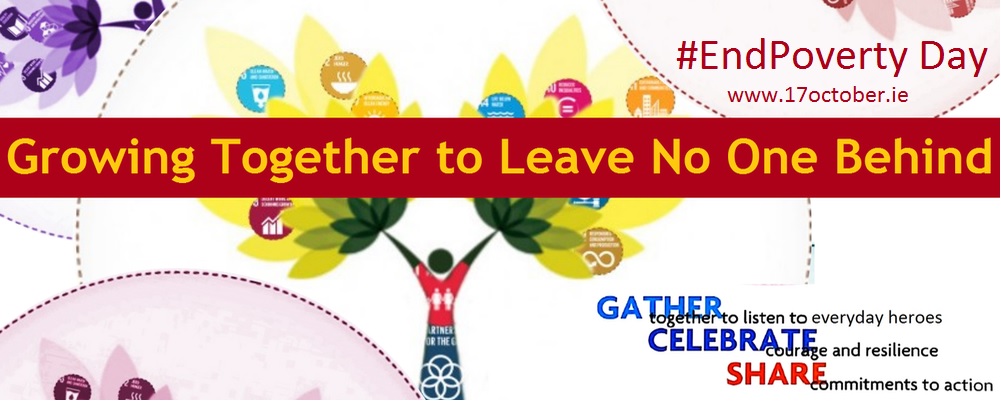 ATD Ireland as well as 23 other projects around the country are supported by the Social Inclusion Division of the Department of Social Protection to mark next UN Day for the Eradication of Poverty, around next 17 October.
As usual, ATD will be involved with the Irish 17 October Committee in the preparation of the national commemoration at the Human Rights and Poverty Stone in Dublin (close to the Famine Statues on Custom House Quay, Dublin 1). This commemoration will take place on Monday 17 October 2016 from 11am to 12.15pm. On the eve of the UN Day, on Sunday 16 October 2016, the Committee organises also a candlelit vigil at the Dublin Famine Statues starting at 7pm.
To follow the observance of the UN Day in Ireland and worldwide:
In Ireland, the theme of the Day will be: Growing together to leave no one behind! This theme focuses on the challenge for many stakeholders to come together and learn to collaborate and transform themselves in order to achieve by 2030 the new Sustainable Development Agenda. Goal 17 of the SDGs is one major 17 October goals: to grow together to achieve partnerships for the #GlobalGoals! One partnership that is at the centre of the UN Day message is the partnership with the people affected themselves, that is why the national commemoration will focus, as it always did, on creating a space to listen and learn from people with experience of poverty.
The 2016 International theme of the day is also connected to the Global Goals and the challenge of creating genuine participation of the people and populations affected by poverty. The theme this year is 'Moving from humiliation and exclusion to participation: Ending poverty in all its forms'. You can read more about this theme on the Irish Committee Website.