You Can Make A Difference
in 2019!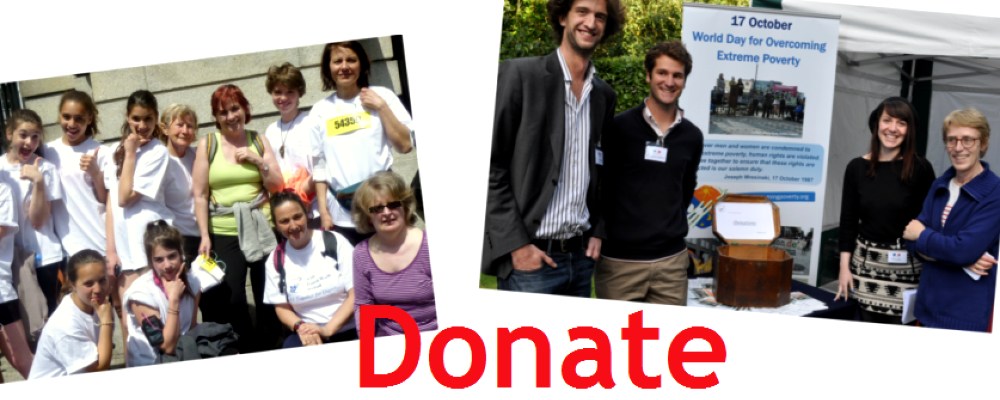 Donations on-line can be made via PayPal
Help us to meet the challenge!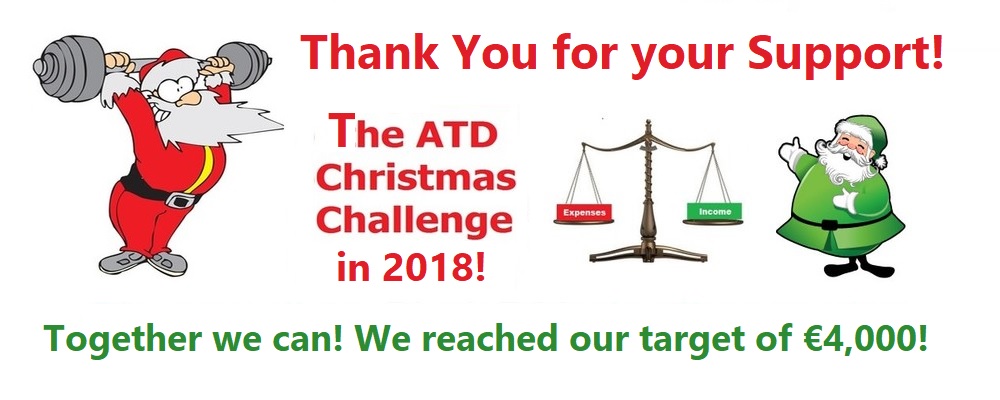 From 24th November to 24th December 2018, 40 friends and supporters of ATD took part in our 2018 Christmas Raffle and helped us collect €4,000 to make ends meet.
A total 503 raffle tickets were given out (for €2,515 donations). A Christmas Small Grant from the FORSA-Impact small grant scheme added €1,000. €190 came from a donation by our great neighbours in Mountjoy Square: the Dublin Adult Literacy Centre! The remaining €300 came from the sale of ATD Christmas cards! Thank you again!
These €4,000 collected will cover some 2018 costs of the following activities:

– the "Youth Group" project involving young people from various background (including early school leavers and unemployed youth) to meet and develop solidarity projects (€1,000)
– the awareness projects promoting the new 17 Sustainable Development Goals and the 70th year old Universal Declaration of Human Rights (€1,000)
– our home support visits to households facing hardships because of poverty and the preparation of a delegation of "poverty experts" who will speak to Members of the European Parliament in February 2019. (€2,000)
Continue to donate on-line via PayPal
Help us to meet new challenges in 2019!
We make your financial support go further! 92% of all funding received goes directly to anti-poverty projects.

If you entered the ATD Special 2018 Christmas Raffle you can discover the winners (10 different prizes) of the raffle here.
or visit our charity page with Altruism Ireland

Our projects focus on the sharing of knowledge among people of different backgrounds in an atmosphere of mutual respect and dignity. We then seek out and create forums where the voice and experience of those in poverty can influence public opinion and policy.
Programs and projects are based on three basic principles:
The inalienable dignity of each human being
The necessity to learn from families living in persistent poverty
The responsibility of all people to unite to overcome the injustices of poverty
Our work would not be possible without the generous financial support of ATD supporters around the world.
ATD Fourth World Ireland (registered as Charity with the Charity Regulation Authority and with the Revenue) is committed to the highest standard of efficiency and transparency in our financial transactions.
ATD staff members (all are members of ATD International Volunteers Corps) agree on a salary that is decided upon together and which is the same for everyone within the same country, regardless of seniority or responsibility. For Ireland in 2018, this salary is the minimun legal wage (36 hours a week) and is €18,000 gross a year along with the possiblity of health insurance.
Read more: ATD Charter of financial ethics
Make a regular gift to ATD
Giving regularly by direct debit is an easy and affordable way of giving to us. Regular gifts reduce our administration costs and their reliability enables us to plan efficiently for the future. Contact us if you wish to support us in this way!
Or simply make a once off gift
You can donate on-line via PayPal or you can send a cheque payable to ATD Fourth World-Ireland Ltd to ATD, 26, Mountjoy Square, Dublin 1.
You can make a direct bank transfer using the details below: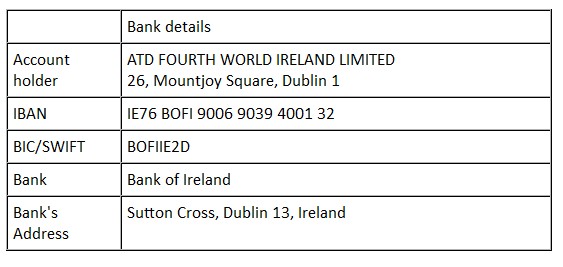 Credit Card Online Donation via PayPal!
You can also support via Altruism Ireland

Thank you.
Tax Relief on Donations
Donate at No Cost To You – All We Need Is Your Signature! If you make a donation of €250 or more in any calendar year and are either a PAYE or self-assessed tax payer, then ATD can reclaim the tax on your donation at a flat rate of 31%. This means that your donation could be worth an extra €112.32 at no cost to you.
This applies to you if you have made either one-off donations or installments such as monthly donations by direct debit. We can, however, only claim tax back on personal donations – not money raised through sponsorship.
At the end of the year, we will send you the appropriate form that we need to claim back the tax.  Or you can simply download the form here, fill in your name, PPS number and signature and return to .
You are living abroad!
Support us Online from the USA! When donating, fill the field " Dedicate this donation" with the key word IRELAND! Thank you!
Support us Online  from the UK! When donating, fill the field "Leave a message" with the key word IRELAND! Thank you!
Support us Online  from the French €uro Zone! When donating, chose in list of countries "Irlande"! Thank you!